Photos of Wigan
Photos of Wigan
Album Contents
Album Contents
Wigan Album
saddle junction
16 Comments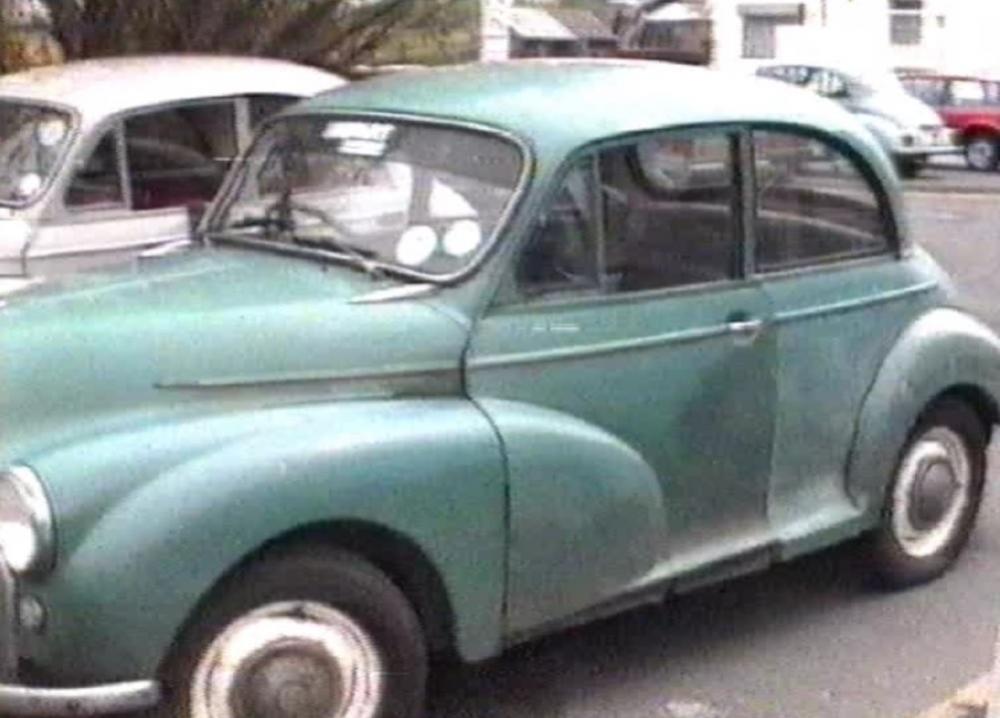 Morris Minors, Saddle Junction, 1992
Photo: Al
Views: 1,712
Item #: 32655
A couple of Morris Minors at Saddle Junction in March 1992. There was a Morris Minor auction taking place at the time somewhere around Frith St.
Comment by: Julie on 18th August 2020 at 08:08
My dad used to have the morris minor estate it was was awful I hated going in it in the 70s.
Comment by: Veronica on 18th August 2020 at 08:53
Would this car have been around in 1967, it looks like one my boyfriend owned, even the colour is the same.
Comment by: Al on 18th August 2020 at 09:46
Most cars of that era were awful. Awful steering and they rusted to bits in no time at all. Despite those things they did have alot of charm and soul about them. Today's square boxes are devoid of any soul and character.
Comment by: Garry on 18th August 2020 at 12:38
Veronica, yes the moggy Minors were in production from 1948 until 1971.
Today they are a sort after car. I've owned two myself.
Comment by: Veronica on 18th August 2020 at 13:58
Thanks Garry, I thought it was. I remember coming home from somewhere in the dark in Winter with the side windows open it was freezing, so the windows could clear. I don't remember a heater in it!
Comment by: Garry on 18th August 2020 at 17:24
Al , What you've got to remember is progress and technology.
Yes older vehicles did corrode at that era, some more than others.
Only top of the range cars had power steering, most cars didn't even have rack and pinion steering but a steering box...you would have to turn the steering wheel several times to each left to right lock. The biggest problem for MOT at that time was corrosion, to day modern vehicles are more likely to fail test on emissions or warning lights.
Comment by: James Hanson on 18th August 2020 at 22:15
The most common MoT failures today are ball-joints, suspension bushes and broken springs. A legacy to the condition of the roads and the standard of parts used.
Comment by: Arthur on 19th August 2020 at 09:37
Well it shouldn't get to Mot in that state, James. These defects should be seen on routine services. I have a VW Golf mk5 2004 over 100, 000 miles, never had broken springs, ball joints, track rod ends or anything else. Past MOT every year and no advisories. Always serviced.
Comment by: Garry on 19th August 2020 at 09:47
Suspension and steering joints have always been an issue for Mot not just now. Broken coil springs never had one break yet.
I've had rear spring leaves snap on my old Morris Minor many years ago.
Comment by: MikeW on 19th August 2020 at 09:57
You can criticise todays soulless square boxes as much as you like but I in the event of an accident I would prefer to be in one than anything that pre-dates 1990. I read recently that more people had died in minis than any other British car. Part of this will be down to the sheer number of them that were once on the road but no doubt the majority of them were caused by the total lack of any safety features in the design.
Comment by: MikeW on 19th August 2020 at 12:17
I would guess the most common reasons for MOT failure are down to components that have a short life span, bulbs, tyres, wipers, brakes.
Comment by: Garry on 19th August 2020 at 16:36
Mike w is half correct, genuine parts will last much longer than spurious components . I understand genuine part cost more but last much longer and more importantly safer.
Comment by: Arthur on 19th August 2020 at 17:21
Brakes, tyres and wipers is down to the driver to how long they last.
Comment by: Mr X on 21st August 2020 at 21:52
The survival rate of Morris Minors is very high compared to nearly every other car from the 1950s/60s. You still see the occasional one out and about from time to time and I've seen at least twenty in Wigan alone this year. In 1992 there were still thousands of them alive in Britain as a two and four door saloon, Traveller estate, van and pretty little convertible called Tourer, but you hardly saw an Austin A40 from the same BMC stable with the same 948cc engine that was also in the early Triumph Heralds. The main dealer for BMC cars in Wigan was Timberlakes in Library Street.
Comment by: Garry on 22nd August 2020 at 13:26
Comment by: Maureen on 30th January 2021 at 11:52
My first car was a little Moggie and the one I learned to drive in,I didn't like it at the time and couldn't wait to exchange it , but I would love to own one now...the reg no was MLG which my F-I-L said stood for Mo's little gallopy.