Photos of Wigan
Photos of Wigan
Album Contents
Album Contents
Wigan Album
McCURDYS STORE
9 Comments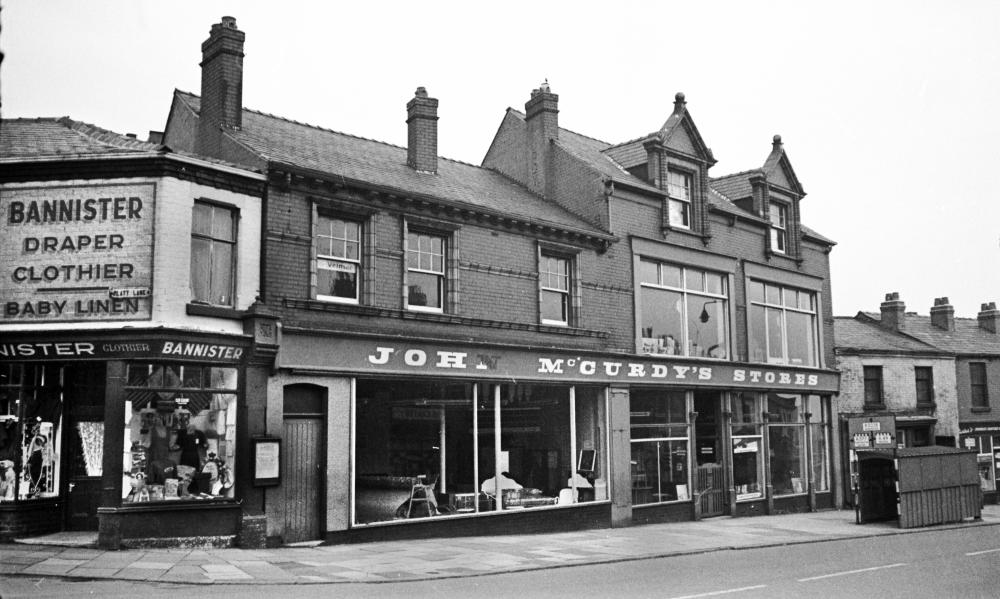 McCURDYS STORE
Photo: Frank Orrell
Views: 1,962
Item #: 31835
McCurdy's shop in Scholes in 1967
Comment by: Veronica on 24th January 2020 at 04:20
Every morning for about 5 years I waited for a coach to Euxton at the bus stop. Most of my mothers furniture came from here as well. It was good solid furniture. I went with her to choose a sideboard with mirror, 'China' cabinet, tables and chairs and a kitchenette. She loved it after getting rid of my grandmother's old dark wood furniture. Many memories of the sixties here. Thanks again Frank for these images.
I have a warming-pan on my chimney-breast that was bought from McCurdy's when I got married in 1974. McCurdy's was in Hallgate by that time and the warming-pan was £20....a lot of money then. It is in front of me as I type and has hung there for 46 years on Sunday!
Comment by: Donald Underwood on 24th January 2020 at 21:10
I have a very handsome sideboard in honeyed oak bought by my parents from McCurdy in 1922.It was reduced to £5 because of a mark on the topIt has six drawers .One of the bottom drawers was always the repository for presents for forthcoming weddings.Next door at the corner of Platt Lane is Ethel Bannister's Haberdashery.Further down was John Marsden's butchers where I was sent for undercut steak.Price's bread shop,Ted Worthington.s Temperance Bar & then Sherrington's hardware at the corner of Schofield(Scoffin to old Scowsers) Lane.All gone but not yet beyond recall
Comment by: Emc on 24th January 2020 at 23:20
I remember going to the butcher's for under cut when I was about 13.Mc Curdy's was my mother's favourite shop,and also Ethel Bannister's too.There were so many shops in Scholars you didn't need to go into town.Going into town was a Saturday treat.
Comment by: Veronica on 25th January 2020 at 01:29
After my mother and dad died, most of the furniture bought at McCurdy's, including a highly polished drop leaf table and the sideboard with four drawers and two cupboards, I believe were sold and shipped to America. It was my job every Thursday after work to polish all the furniture and clean the 'front' room. It was my mothers pride and joy. On top of the sideboard at each end was a cut glass vase and in the middle was a fruit basket with silver leaves and handle a glass bowl in the middle. My dad for some reason used to put his trilby ( only worn at weekend) on top of one of the vases !!! ;o)
Comment by: Philip G. on 25th January 2020 at 11:04
Mr Catterall might have had a grasp of the Still Life, knowing that his trilby plonked on top of the fruit below would ne'er sit as well. He might, also, have backed the winner of the Chester Vase - I'd like to think that he'd mastered both.
Comment by: Veronica on 25th January 2020 at 11:42
If Only I'd had my wits about me Philip, I could have done a drawing of it! In fact I remember every piece of furniture and how it was placed - perhaps one of these days I might do...
Comment by: RON HUNT on 25th January 2020 at 15:23
A PROPER bus shelter. Not like the open glass ones today which get vandalised every couple of days. How much must it cost in continually replacing that glass? and I bet it isn't cheap.
Comment by: Veronica on 25th January 2020 at 23:47
There was quite a few of us got on the coach for Euxton in the early morning at 6'o' clock, if it was raining or snowing we all huddled in the shelter. On Summer mornings we stood in a line near the shop window.
Very happy memories of that time for me... Very friendly nice folk from Scholes.