Photos of Wigan
Photos of Wigan
Album Contents
Album Contents
Wigan Album
MAKINSON ARCADE
7 Comments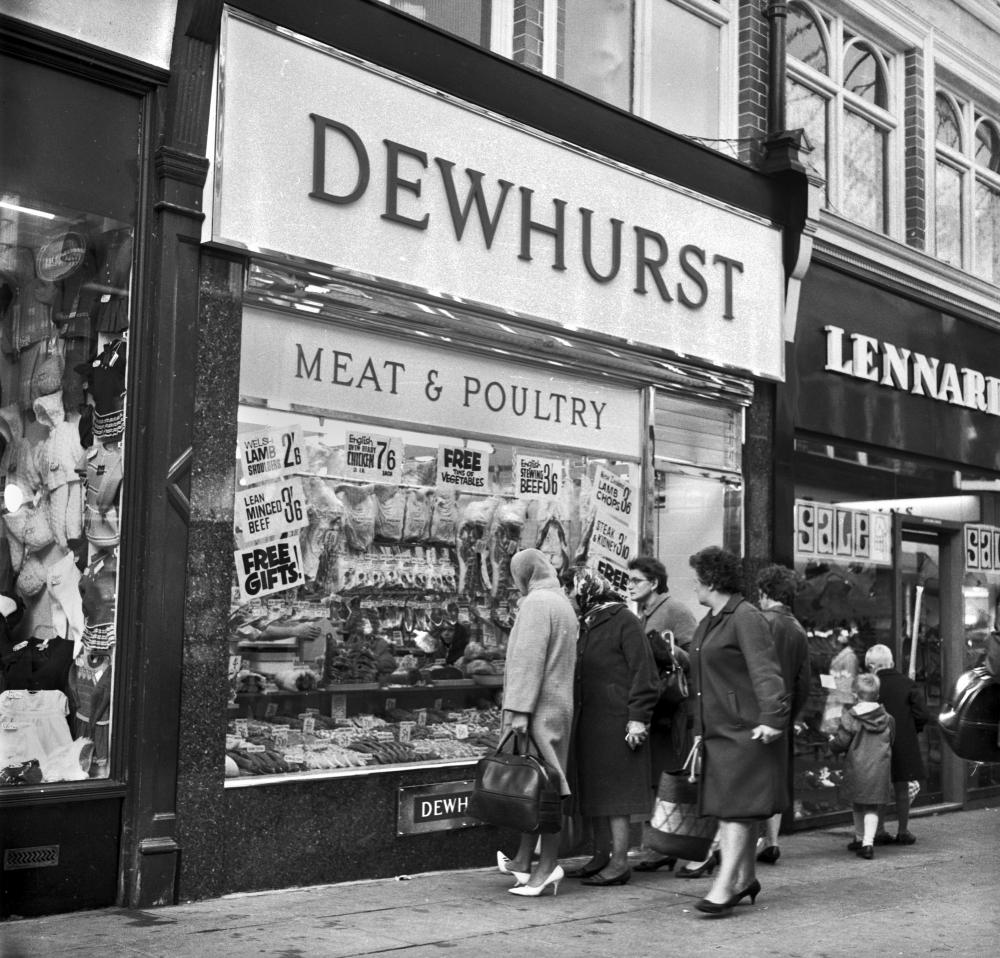 DEWHURSTS BUTCHERS
Photo: Frank Orrell
Views: 1,784
Item #: 31833
Dewhurst's butchers shop in the Makinson Arcade in 1967
These photos are fabulous. I remember Dewhurst's Butchers….there was one on Ince Bar where my Mam shopped.... but I had forgotten Lennard's Shoe-Shop. We owe so much to Frank Orrell for taking these brilliant photos. Thankyou.
Comment by: cyril on 24th January 2020 at 15:42
Dewhurst butchers in the arcade always had very nice joints and meat portions on display, however you never got any from the display, what you did get was from the back and when unwrapped at home was found to be full of gristle and fat, though a good point is they did keep the butchers in the market hall busy where you could get what you saw on display.
Thanks for all your comments. I can't take the credit for all of the pictures that I put on here. It's because of the kindness of Wigan Observer editor, Janet Wilson, that I've been allowed to search the photo archives at the paper. As I progress with my new book I'll post some more pictures but it's becoming painfully slow because the archive files are a bit of a jumble to search through.
Comment by: priscus on 24th January 2020 at 21:54
Cyril,

When my mother sent me to buy meat, I was always instructed to demand one of the cuts that he was keeping under the counter, and insist upon inspecting it prior to purchasing.

It was very difficult as a child, to be assertive with the butcher, but nothing compared with the wrath I would have encountered had I returned with a bad buy.
Comment by: Cyril on 25th January 2020 at 14:00
Yes Priscus, rather the waving of the meat cleaver from an irate butcher than the thick ear from off the mother.
Comment by: John D on 26th January 2020 at 09:32
Yes great set of photos, the Wigan Observer had some great photographers in the 1960s the were early pioneers in newspaper technology and put Wigan in the forefront of local newspapers around the country hence the quality of these photos. Thanks to the Wigan Observer and Frank for his time and dedication.
Comment by: Arthur on 26th January 2020 at 13:04
Thank God we were able to capture photos like these that we grew up with. I feel sorry for the younger generation who can't see and feel the great atmosphere we had. But these photos can tell a story of the real good times we had in and around Wigan. Wigan World is made for these photos and with respect to all these are the best.