Photos of Wigan
Photos of Wigan
Album Contents
Album Contents
Wigan Album
Hippodrome
13 Comments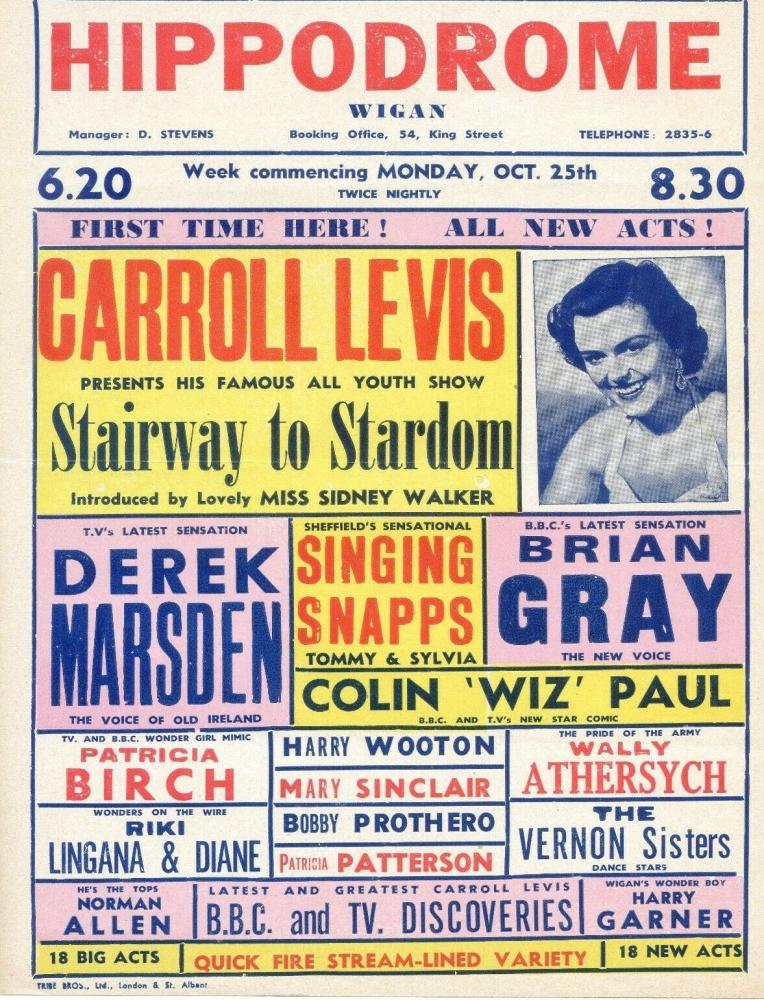 POSTER 1954 CARROLL LEVIS. YOUTH SHOW
Photo: RON HUNT
Views: 2,721
Item #: 31718
ADVERTISING POSTER 1954
Comment by: Philip G. on 21st December 2019 at 22:29
Went through the names without a pause I did, Ron. The power of 'The Turn'.
Comment by: Veronica on 22nd December 2019 at 00:12
It would be that year I saw the pantomime 'Dick Whittington. I don't remember any of those acts though, although the name Carroll Levis sounds familiar. Also a lady prancing about with two feathered fans without a stitch on - so it seemed...very exciting going to the Hippodrome, a treat now and then.
Comment by: RON HUNT on 22nd December 2019 at 14:02
I HAVE THE POSTER FOR DICK WITTINGTON PANTOMIME, SOMEWHERE? I THOUGHT IT WAS ON THE SITE BUT I CANT FIND IT? I'LL DIG IT OUT AND PUT IT ON.
Comment by: Veronica on 23rd December 2019 at 08:38
It will be very nice to see the poster Ron if it's the same panto, with photos of the cast. Might even jog my memory a bit more ... Thanks.
Comment by: Maureen on 23rd December 2019 at 12:56
I distinctly remember my Dad taking me to see "Jane Eyre" and being frightened to death..and my Mam telling him off for taking me..I would have been about eight or nine..poor Dad.
Comment by: DTease on 23rd December 2019 at 13:09
Carroll Levis was around when the B.B.C first took off in the early fifties (Largely due to the Coronation). Prior to that we were entertained by the radio with such stars as Al Read, Ken Platt, Jimmy Clitheroe, Arthur Askey, Charlie Chester and many others.
Some of these made the transition to television successfully but others didn't and had to give way to T.V programmers like Amos and Andy, Sgt Bilko and What's My Line with Gilbert Harding and Isobel Barnet.
I like to imagine that the B.B.C owns a large old Warehouse somewhere, a dark and dusty place covered in cobwebs and presided over by a wretched old crone who has been driven totally bonkers by playing recordings of these long forgotten stars of the past over and over and over.
One day she will be found with her cold, dead eyes staring fixedly at a screen showing Arthur Askey singing the Busy Bee song on an endless loop.
May she be granted eternal rest.
Comment by: Veronica on 23rd December 2019 at 19:42
I first read 'Jane Eyre' when I was 14 Maureen and must have read it a dozen times since over the years, it still remains my favourite classic of all time. I liked the film with Joan Fontaine from the 40's as well. The best line in literature - ' Reader I married him'....! :0))
Comment by: Keith Beckett on 23rd December 2019 at 20:50
D'Tease
If there was an award for the contributor of the year to the album you would get my vote. Interesting photos often equalled by the accompanying description. If he was more in attendance Ozy would be the runner up.
Comment by: Veronica on 24th December 2019 at 12:35
I agree Keith, especially when they are being comical. At the same time you don't do so bad yourself with you interesting photos and information.
Comment by: Scaramouche on 24th December 2019 at 16:48
Keith, you can't be serious. Ron Hunt puts more interesting stuff on here than anyone. Not just from the past 20 or 30 years but from way back. Just check out the amount of photos he has put on here over the years. Only for him this site would have disappeared years ago.
Comment by: Veronica on 24th December 2019 at 19:46
I took Keith's meaning to be more about the comments Scaramouch (rightly or wrongly). I don't think anybody can compare with Ron's archive of photos - it goes withou saying.
Comment by: Keith Beckett on 24th December 2019 at 21:33
Scaramouche

Ron's a friend of mine. Many of the photos he publishes he gets through a part time occupation. He's also written some very interesting stories about his life in Wigan. Unfortunately WW doesn't provide an outlet for the stories to be aired.
With D'Tease his published photos are his own. His comments are entertaining and sometimes quite funny.
It's a case of the talented amateur taking the spoils with the semi professional not eligible by virtue of his work.
The lady with the two fans and nothing else, was Sally Rand. An American dancer and actress. More details on YouTube. I was at that show too. Inspirational for a 10 year old!