Photos of Wigan
Photos of Wigan
Album Contents
Album Contents
Wigan Album
Garswood Hall colliery
29 Comments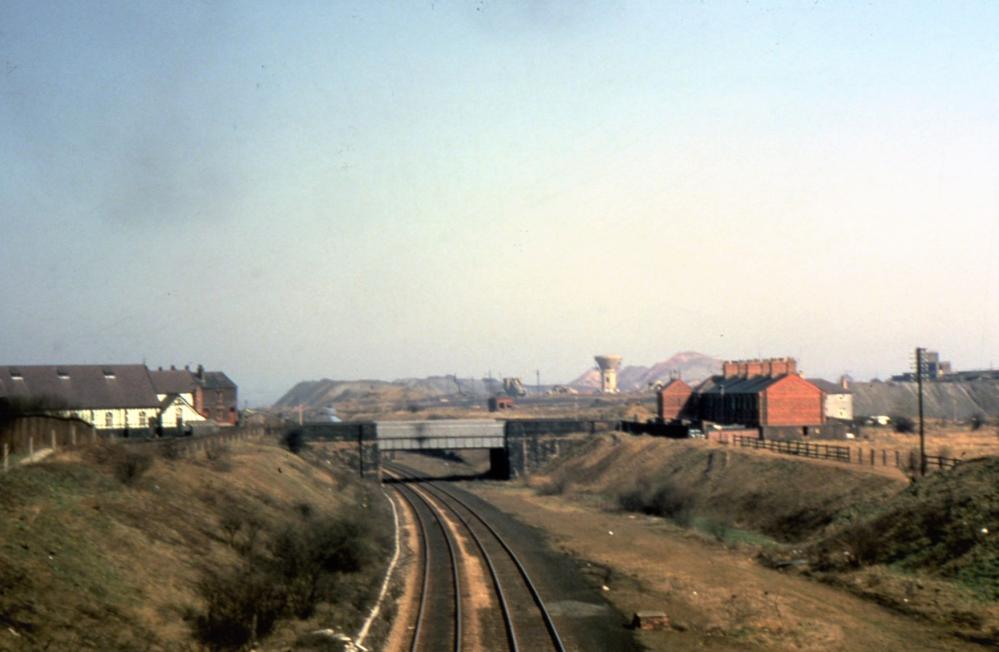 Site of Garswood Hall Colliery (1)
Photo: Mike Barton
Views: 2,196
Item #: 31571
Taken from the A49 Bryn Station Bridge during demolition and clearance; I am not certain of the exact date but I think it's around the early 70's around 1973/74, but may be earlier. All that appears to be left standing are the remains of the concrete settling cone that was part of the Coal Prep Plant (washery) and what I think was the baths. The old St. Peters Church can also be seen - I don't know when it was demolished but that date may help to tie down when this picture was taken.

I'm told that the old church was still standing when the new one was consecrated in 1961 - but that the fire which led to its demolition was not long after. Which puts your photograph at around that time at the latest.
Comment by: baker on 5th October 2019 at 15:52
think the goods line track was taken up in the late sixties
Comment by: Mike Barton on 5th October 2019 at 18:44
Thank you both for your comments. I am fairly certain (for reasons that would be too long to go into detail here) that these photo's were taken after 1965. They may well be late 60's rather than early 70's.
Comment by: Philip G. on 6th October 2019 at 09:50
So, this is where the old church had stood. A nice photo Mike.
Comment by: whups on 6th October 2019 at 10:52
i remember that old conning tower very well . funny how things change as the only thing thats still there is the church ? . i wonder mike if you took the photo & standing near the old rabbit run if potters tobacconists & pillings garage were still there ? .
Comment by: Mike Barton on 7th October 2019 at 12:57
Sorry Whups I am not from Bryn, I don't know the places you mention.
Whups - the church in view went decades ago - replaced by a brick and concrete building just to the left of the old church. This second church will be demolished very shortly - the usual story of 1960s concrete....
Comment by: Kenee on 7th October 2019 at 16:46
If this was taken at the same time as the other Garswood Hall Colliery photos I'd say it was 1964 give or take a year.
Comment by: . Ozy . on 7th October 2019 at 16:54
The ' rabbit run ' that whups mentions is the path visible to the left of the shot that runs along the top of the railway embankment.
It used to be a short cut between Wally Bishop's long demolished pub,...I've forgotten the name of the place now,....and Long Lane.
The rabbit run is totally overgrown and impassible now, and has been for a number of years.
Comment by: Joe Maplin on 7th October 2019 at 17:37
Ozy,Wally Bishops was the Brittania
Comment by: . Ozy . on 7th October 2019 at 19:54
I'm unable to pinpoint the precise year that the goods lines were lifted , but I'm absolutely certain that they remained in situ during 1964, as both tracks between Spindle Hillock and Arch Lane at Garswood at that time were crammed with both condemned goods wagons and passenger coaches awaiting scrapping.
There were also a handful of guard's vans among the miscellaneous assembled rolling stock, replete with their potbellied stoves and other ancillary equipment...i.e. chains with plates embossed BR interspersed between the links, lamps, and all manner of stuff in fact.

Some of the older non - corridor , or ' suburban ' passenger coaches still retained their netted overhead luggage racks and had framed pastoral scenes attached above the seats....each one worth a fortune nowadays no doubt.

Some items were marked ' COND O ' whilst others bore the symbol ' COND X ' . Other than ' Condemned ', I was never aware of what these codes were meant to indicate.
They remained there for some time. Quite a a long time in fact . Well into 1965 probably , or possibly even into ' 66....Beyond that I can't say, but if I were to be taken hostage by cannibals in New Guinea and my only hope of avoiding the stewing pot was by correctly guessing what year the goods lines were lifted in Bryn , I would say 1971.

Just seen your post Joe, and you're right, it was the Britannia. Blimey, how many years since that one went eh? I think there's only the Bath Springs left now. Oddfellows .....gone. Golden Ball....gone. Star....gone. Drum and Monkey...long gone. Park Lane club.....gone. Spion Kop....gone. S&S. gone. Village club. gone. The Rag,, you may not remember The Rag Joe, but it doesn't matter, as that too has long gone.
All the best mate. Ozy.
Comment by: g p on 7th October 2019 at 21:26
once the buildings had all gone the slag heaps where brought down by John Jones from stockport,who later became part of the Northwest Holts group from Bootle,the spoil was used to create the Nichol Mere Drive estate,if my brain is working right i thing this would be 1969/70 this is where i had my first taste of driving cat scrapers,the white houses just to the right of Railway Terrece where police houses.
Comment by: Joe Maplin on 7th October 2019 at 23:08
Oz,was a frequent visitor to the rag 70s/80s..was in the day Fred relaunched it ad Flanagans..prefared the Oddies myself
Comment by: . Ozy . on 7th October 2019 at 23:46
I reckon you're about right with the year there g p.
When they levelled this place, I knew there was a Liverpool outfit involved, as one of their staff members, a scouser called Brian moved into the area.
I can't recall his surname, although a mate of mine ended up marrying his daughter.
You may well have known the bloke. He used to drink in the Wigan road legion.
I'm not sure what position he held within the company but I'm reasonably certain that he wouldn't have been a machine operator as the bloke was lazier than a Mexican village in my view.
Hang on, it's coming back to me now. Davis, that's the bloke, either that or Davies.......Bent as a nine bob note.
So there you go, sue me if you like, see if I care.
Comment by: . Ozy . on 7th October 2019 at 23:59
Blimey Joe, I wouldn't be surprised to learn that you knew my old mate Bert. He lived almost directly opposite the Oddies, or his son did. Haven't seen him for years. I understand he's had a few health problems of late. Hope he's in decent fettle. Maybe whups knows. Apologies for going off thread Mike.
Comment by: Joe Maplin on 8th October 2019 at 09:29
Church was used for allsorts after its closure...dog training,boys brigade,dances,that sort of stuff...burnt down circa 1970
Comment by: . Ozy . on 8th October 2019 at 12:40
After the war and well into the late 50s, at the far end of the dirt rucks alongside the railway line and on the right hand side heading towards Wigan, there used to be a flooded area full of war surplus rubber dinghys. There seemed to be hundreds of the things as they were clearly visible from the train.
All the big lads from the village used to walk there to mess about on them.
I have no idea how they came to be there, who they belonged to, or what ultimately became of them. The name Littler appears to be lodged in my brain for some reason however , but I'm probably wrong about that. Maybe someone else remembers them.
Comment by: whups on 8th October 2019 at 14:26
ozy the bert in question would it be bert thompson ? . the brian you mentioned maybe had a yard facing the church if it is i think his name might be sherington . on the year it was taken could be in the late 60s as a mate of mine john sherman lived in those houses at the back of the church & we went down to see them demolished around the late 60s.
Comment by: priscus on 8th October 2019 at 14:29
Sid Littler. I do not recall the dinghies, but he did have a lot of war-remnant scrap. I remember lots off aircraft wings, and lots of wooden-bodied trams.
Comment by: . Ozy . on 8th October 2019 at 15:46
That's the lad whups, Bert Thompson. I haven't seen him for years but I heard that he'd been having a fair bit of bad luck recently...and the Brian I mentioned was definitely Brian Davis. The last that anyone heard of him, he'd opened a bar in the south of France and was shot to death during the night when he disturbed an intruder. All this took place about thirty years ago.
Thanks for that priscus, it was Sid Littler. I never knew who he was, or what he did, but I heard his name mentioned frequently, so he must have been quite well known in the area. Cheers. Ozy.
Comment by: Keith Beckett on 8th October 2019 at 19:33
Ozy

Syd was a demolition contractor. His photo is on item no.29643. If you put the number in the search box on the log in/ register line all will be revealed.
After the war Syd's sister lived in the house between Levertons and the old post office. It was used as a meeting place for the local quality street gang to see if there was any advantage in securing government and local authority contracts.
Comment by: Pw on 8th October 2019 at 20:10
With regard to the dinghies there was a rubber dump at the side of the Central line between Hindley and Ince and it to was full of what we called dinghies and aircraft tyres The dinghies were made of reinforced rubber about 3/4"thick.They were oblong shape about 6'x4'X2' perhaps larger and totally enclosed with an aluminium frame.I was told later they were extra fuel tanks for bombers but was never sure.These to were dumped in in the middle of nowhere and I presume they were taken by train and dumped.They always were catching fire and we used to collect the melted aluminium frames and weigh it in.
Comment by: . Ozy . on 8th October 2019 at 23:24
Thanks for the info both Keith and Pw , most interesting.
This great shot also takes me back to the AGS cross country runs that were a weekly event back in the early 60s.
Our route took us down Nichol Lane , then alongside Ashton hospital past some kind of golf links onto the Garswood Hall site.
Being unsupervised, this gave us the opportunity to have a couple of Woodbines then sail each other's plimsolls and throw stones at them on the long and narrows, before strolling down to Landgate lane, and returning via the shortcut over Baldwin's fields.....Carefree days.
Another demolition man has just come to mind as his bungalow was in Nichol Lane.....Arthur Ormshaw,...his yard was behind The Star for many years.
Comment by: whups on 9th October 2019 at 00:25
phil gormley iv,e left a blog for you on people .
Comment by: Philip G. on 9th October 2019 at 18:40
Whups, I guess that the 'blog on people' is most recent and could have escaped my attention. Where exactly can I find it, please.
Comment by: Philip G. on 9th October 2019 at 20:38
I've located your blog, Whups. And yes, my older brother and I had known about your cousin Paul having passed-away. Paul was a bit younger than myself.
Comment by: bert on 10th October 2019 at 22:09
Hi OZY Yes it is me who thy talking about and yes i am still here ,it is lovely to see you on here and doing well
Comment by: . Ozy . on 11th October 2019 at 15:15
Good lad Bert, keep makin' 'em 'ave it mate.
Comment by: Cromp on 16th November 2019 at 15:49
Hi Oz
I remember the (improvised) cross country runs very well.Just a select few of us if memory serves. Just lucky Don Gullick or the Yetty never found out or it would have been another case of "Bad Mark Book over the motorway bridge". Sorry I couldn't make it to the Bay Horse last month,it would have been a tonic seeing you again.