Photos of Wigan
Photos of Wigan
Album Contents
Album Contents
Wigan Album
TOWN HALL
8 Comments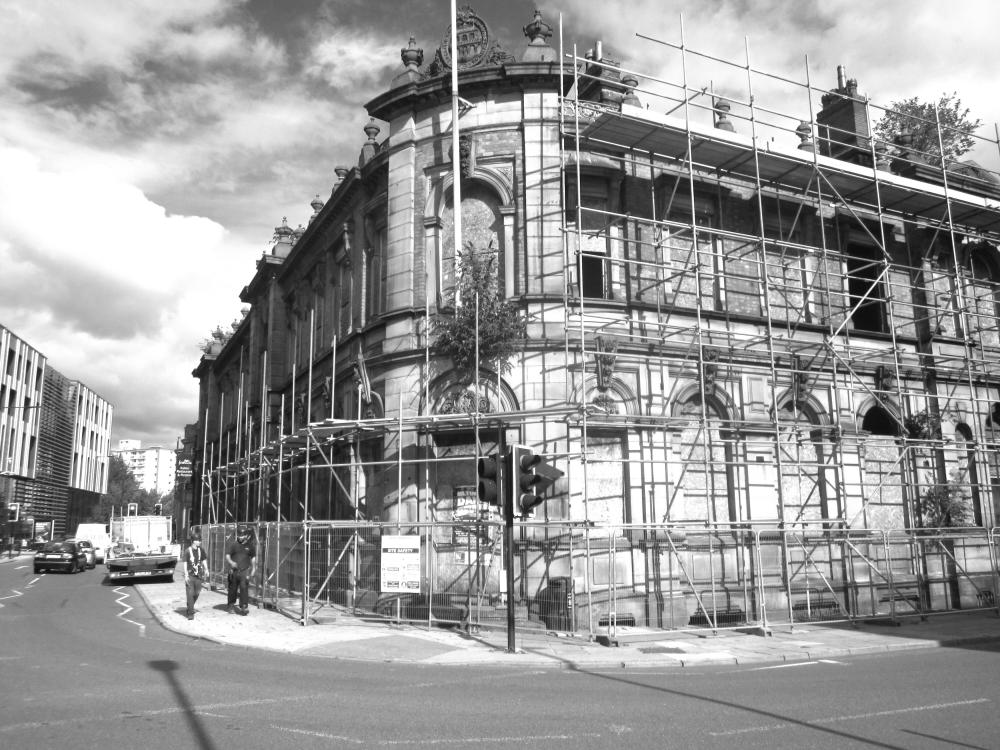 Old Town Hall
Photo: TOM WALSH
Views: 1,536
Item #: 31536
Photograph taken 6th September 2013
Comment by: emblem on 23rd September 2019 at 15:19
Another fine building deliberately left to go to rack and ruin just so they could pull it down.
Comment by: Maureen on 23rd September 2019 at 18:31
It's absolutely disgusting isn't it...such a beautiful building,it had more soul than the people that agreed to its demise.
Comment by: Veronica on 23rd September 2019 at 19:12
The building could have been made into luxury flats - what a waste, the way towns are going with empty shops that's what will happen in the future.
,
Comment by: FWhere on 23rd September 2019 at 19:12
Gone forever ,
Gone with a bunk ,
Turned into something else ,
Bet it'll be junk .
One more piece
Of a jigsaw now lost ,
Replaced by progress
But tell me the cost .
You really don't care
you men in grey suits ,
As longs its moving
and filling the boo.oks .
As long as its shiny ,
and looks really new
Replacing the old ,
that dirty old crew .
We'll put in nice windows ,
Heating as well ,
Paint it nice colours
With a modern nice smell .
It will look good in the sunshine ,
no longer this gloom ,
An era of the modern ,
Fed up on a shiny nice spoon ..
Comment by: Veronica on 24th September 2019 at 09:00
The thought occurred to me, if and when town shops are converted into living space, we might, paradoxically, find corner shops 'creeping' in again!
Probably not in my time...but who knows.....
Comment by: Alan on 24th September 2019 at 10:01
Now that's what you might call "A good Wigan photo"
Comment by: WIGAN 1971 on 21st October 2019 at 00:00
Just my opinion,but why are we allowing this so called WIGAN council .... free to destroy so much of our history? Our town centre is a ghost town with an up to date .... millions of pounds bus station.....hoping to bring in customers to a ghost town...... The galleries ???? mesnes street...... 70% of shops closed???RENTS TO HIGH??
MY WIGAN HAD A AN AINCIENT MARCKET HALL WERE THE FLOORS WERE UN-EVEN.... AND THE SMELL OF THE FISH STALL.... THE CHICKEN STALL.... DE ROMAS ICE CREAM....THE ROOF HAD A FEW LEAKS BUT WE LOVED IT....MEMORIES OF MY CHILD HOOD WHICH SHOULD STILL BE GOING ON TODAY......GREED .... IS THE WORD ...... PROFIT BEFORE HERITAGE ....
Comment by: allan wood on 30th November 2019 at 14:22
So sad that we allowed the so called planners, to knock down our towns history. The councillors should hang their heads in shame.What is left of our history should be left alone.