Photos of Wigan
Photos of Wigan
Album Contents
Album Contents
Wigan Album
Coppull Lane
10 Comments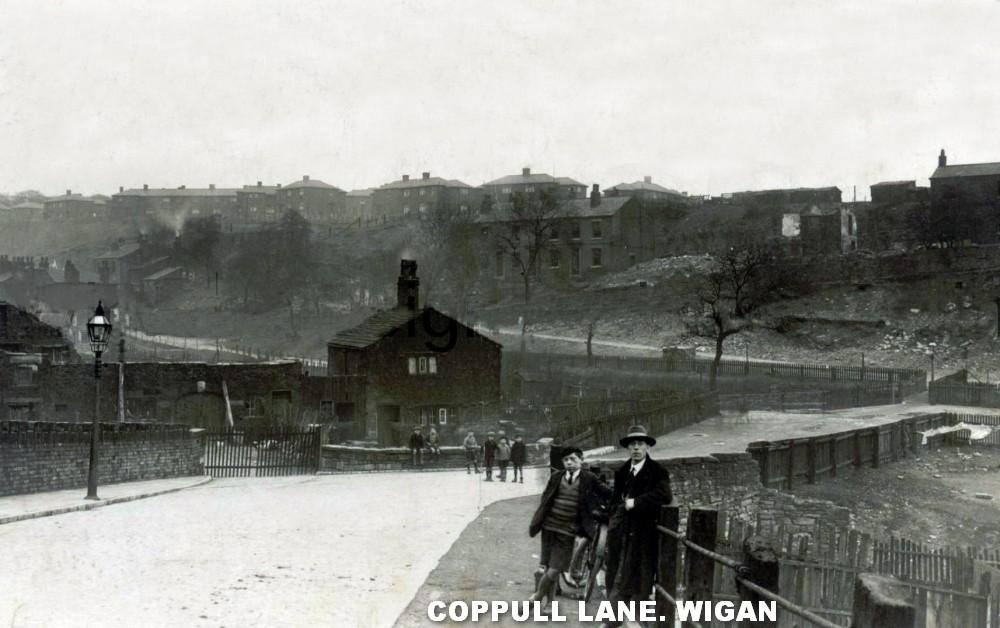 Coppull Lane 1930's
Photo: RON HUNT
Views: 2,420
Item #: 30046
Photograph taken looking towards Bottling Wood
Comment by: irene roberts on 9th January 2018 at 13:03
Love it! Fantastic photo. Thanks, Ron. x.
Comment by: Cyril on 9th January 2018 at 14:04
A very interesting photo, I couldn't have imagined that so many houses were on the river bank down there, I remember whilst walking our dog down there in the early 1980s there was a large ornamental blackcurrant bush growing on the river bank, I thought that maybe it had grown there wild but seeing this photo it must have at onetime been growing in the garden of one of those houses.
Comment by: Veronica on 9th January 2018 at 14:14
lovely photo and to be able to see those well known paths so clearly - which can't be seen nowadays.
Comment by: Wiganer on 9th January 2018 at 14:59
Another interesting photograph of a community known as Bottling Wood, long gone. Thanks again to Ron who over the years has contributed some fantastic photographs. I don't care how or where he gets them from, in my opinion photographs were taken in order to share them, and Ron is doing just that. Keep them coming.
Comment by: Maureen on 9th January 2018 at 15:34
Wiganer,I totally agree with your comments re-Ron..plus he's a very nice chap as well.
Comment by: Ian. on 10th January 2018 at 10:02
Another absolute classic photo. I've never seen a view of Coppull Lane like this before!
Keep them coming, Ron.
Comment by: Ben on 10th January 2018 at 11:21
I think we can all agree that Ron is the epitome of "wigan world" - long may it continue. The enjoyment he brings to fellow Wiganers is priceless.
Comment by: Helen of Troy on 10th January 2018 at 16:07
Another great image Ron, makes you want it to come to life !
Comment by: Robert Howe on 11th January 2018 at 08:20
Fantastic Photo! I didn't know the old Bottling Wood and the 'New' estate existed at the same time! Love it!
I was born and lived in Coppull Lane until 1978. By the time I was growing up in the 50's and 60's the community at Bottling Wood had gone but my mum who moved there in 1930 aged 13 remembered it well, including the water mill at the bottom of Coppull Lane and the pub.