Photos of Wigan
Photos of Wigan
Album Contents
Album Contents
Wigan Album
John Street
10 Comments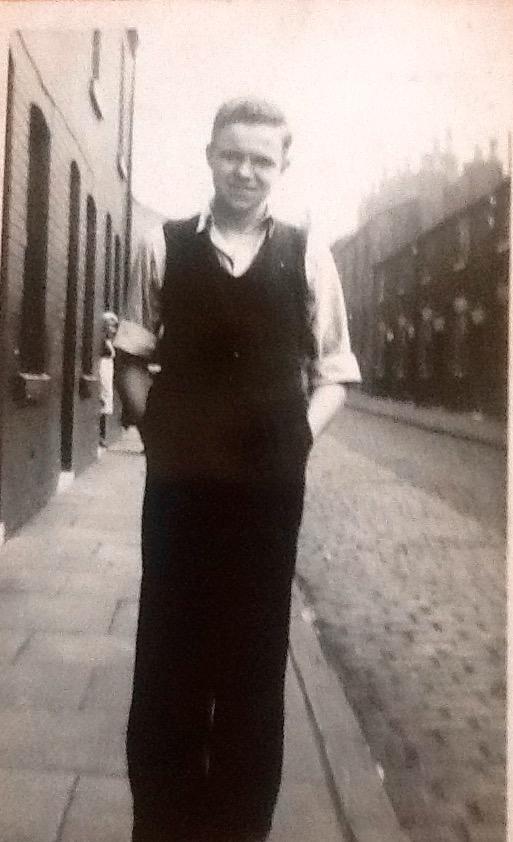 Tom Penman 1940's
Photo: TOM WALSH
Views: 2,304
Item #: 28753
Photograph taken in John Street 1940's

Comment by: Vb on 10th December 2016 at 22:36
My old street-ran up and down there many a time. If only Tom had moved to his left a bit! : -). : - )
Comment by: Carl on 11th December 2016 at 19:49
Would he then be related to Agnes and Mary Penman and the Carneys from Scholes who all went to St Pats ???
Comment by: Vb on 12th December 2016 at 09:04
Tom lived in those smaller houses on the right they were a lot older than
all the rest of the houses on the street. The Carney's and the Penmans also lived in them. Tom was more than likely to be related. When I see those cobbles I recall Mr Humphreys the green grocer from the top of Belvoir St charging down the brew on his Horse and cart with his trilby on the back of his head. We used to think he was Gabby Heyes being chased by 'injuns'! I can smell the tar between the cobbles just looking at them!
Comment by: kevin dunleavy on 30th March 2020 at 01:24
i remember the penmans and carneys i was born at 55 john street in mrs mathers house my grandmas
Kevin Dunleavy. My cousin. It's jJoe here.
I was born next door at 54. I've put my email address so that perhaps you may get in touch?
Could you tell me if John street is still standing. My grandad, George Sheridan, lived at 48 John Street Wigan when he got married in 1929. His mother was Mary (Polly) nee Penman. His father was Patrick( known as Pee or Peter) Sheridan. I was trying to find baptism records and wondered if anyone could tell me which was the nearest Catholic church to John Street. My grandma Jane Cashan lived at 20, Victoria street Wigan when she got married and I would like to know which is the nearest Catholic church to Victoria street. Thank you
Comment by: Ken on 25th April 2021 at 10:55
The nearest Catholic church to John St Is St Patrick's and the nearest to Victoria St would be St Edward's.
Hi Ken,
Thankyou for giving me the name of the catholic churches near John Street and Victoria street. When I get chance I will try to find the churches and light candles for my Wigan ancestors.
Much appreciated,
Dawn
Comment by: Ken on 1st May 2021 at 12:14
I'm afraid you won't be able to light candles at St Edward's, Dawn, as it is now closed, maybe knocked down. The original one near Victoria St was closed a good number of years ago and a new one built in Scot lane but that is now closed. However St Patricks is still going strong I believe.