Photos of Wigan
Photos of Wigan
Album Contents
Album Contents
Wigan Album
Billinge
20 Comments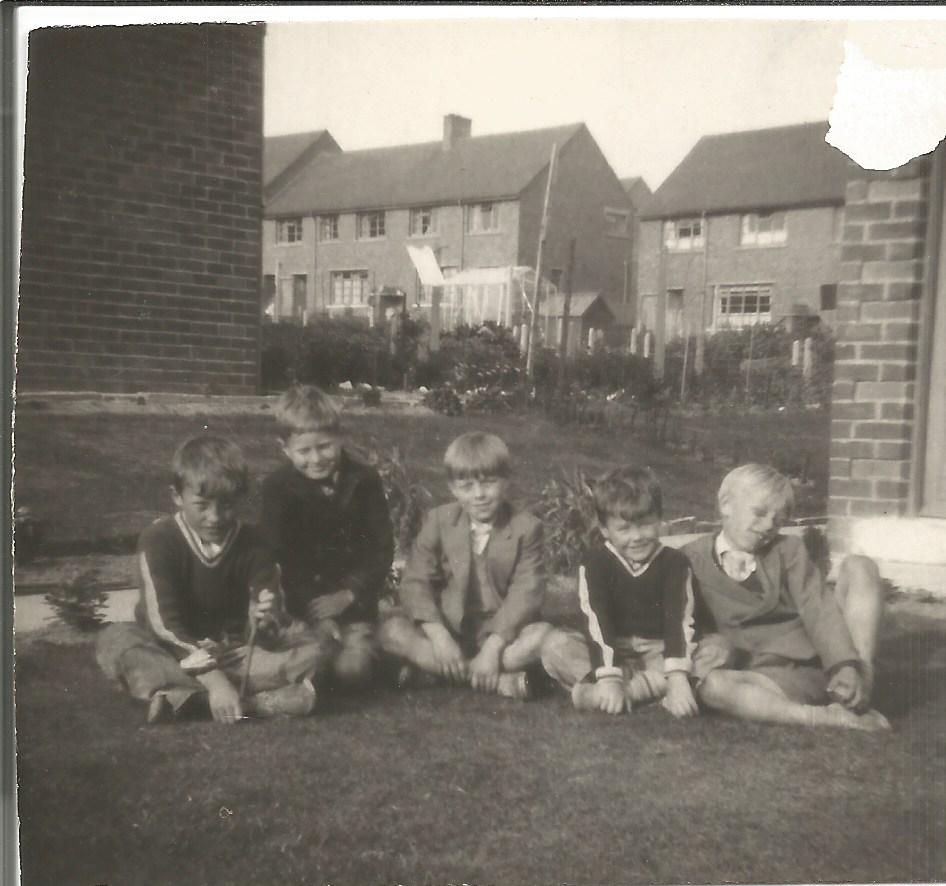 Hunter-Gatherers (part-squad) - 1958. l to r: J. Boardman, T. Rimmer, S. Gormley, B. Burke, P. Gormley.
Photo: Philip Gormley.
Views: 2,508
Item #: 28578
The photograph was taken in the front garden of the house that I've lived in since I was 4 years-old. It also shows John with his almost obligatory acquisition. Soon after starting our travels we would sit in the same dingle and muse about things of all manner, but the cry of "I know, let's ...!", always lifted our gaze towards the upstanding and all-important proposer, and whether the next 'big idea' seemed in any way daring dodgy or just plain daft the motion would be carried, albeit in the guise of a hastily planned course of action. Showing scant regard for the greenness of procured tinder and having no knowledge whatsoever of Scottish seed, we sometimes created a tasty snack using newly strewn 'convenience' potatoes which had later been roasted, patiently, on a slow fire, and when ready, complemented with onboard cordial; a derivative of Urtica Dioica, belonging to the Rosales order of plants. Having found contentment throughout all our travels, whatever distances had been covered, we occasionally found time to look for an almost obligatory acquisition ie a stem of Cow Parsley a cluster of Bluebells a prized sprig that met the criteria befitting a competition whip dart ..., each with its own story to tell. Whip dart competitions were played out across open land by any number of 'men', and after a modicum of common sense had been applied by each competitor the darts would be launched alternately from the orderly line of committed pseudo defenders. Recovery of the projectiles was made without fuss soon after, by the strewn line of morphed marching men, while those having landed at similar distances (dead-heats having been deemed unfathomable beforehand) paved way for the relenting individual to be met with the smugly delivered "Hard Cheddar", causing him to tramp back to the line where he would muse about adopting a more forceful approach during any further 'close-call' discussions; and similarly, to where the sometimes inconsolable individual that had been the first to return would muse about the perplexities of himself becoming a skilled fletcher. But then, modification and reparation have always been within the compass of the hunter-gatherers. 'Golden Days'.
Comment by: DTease on 30th October 2016 at 23:47
Philip, this photograph and your story make me wish that I could go back and do it all again.
Comment by: Helen of Troy on 31st October 2016 at 09:19
What childhood was all about.
Getting on your bike with a bottle of water or pop & a jam sandwich....the world your oyster. Great times !
Comment by: RON HUNT on 31st October 2016 at 10:46
In those days we had all the RICHES IN THE WORLD without 1d in our pockets. Children today will never experience the happiness and friendships we had.
Comment by: whups on 31st October 2016 at 16:26
does p.gormley have a brother called stefan ? .
Comment by: Philip Gormley. on 31st October 2016 at 18:42
Whups - My older brother Stephane is on this photo, and not too long ago told me a little more about your sporting prowess - I didn't know you'd reached County standard! Thanks.
Comment by: Jarvo on 31st October 2016 at 19:14
Which estate is that then?
Comment by: Philip Gormley. on 31st October 2016 at 20:24
Jarvo - I guess your question has been put to me and, by extension, where exactly have I dropped anchor. Come along, Jarvo, don't be shy - you're celebrated in ballad literature.
Comment by: whups on 1st November 2016 at 12:53
hi phil. yes i did reach county standard & beyond. i got nominated to play for england then along came the miners strike. how,s stef doing . seen him a couple of yrs ago in ashton?.
Comment by: Philip Gormley. on 1st November 2016 at 15:24
Whups - Glad you like the photo, and my thanks for your kind reply. Nominated to represent your country as well, were you, my word! It's a pity your hopes were dashed due to unforeseen ....., but heartening to find no pomposity or bitterness in the brief account you've given. 'That's the spirit.' Steph's doing ok, he takes me to the shops almost every day, and sometimes keeps an eye open for anything coming over from O'Brien's Ballydoyle stable. Regards.
Comment by: . Ozymandias . on 1st November 2016 at 20:09
You mention the word ' Dingle ' Philip; The word ' dingle ' doesn't appear to be a word commonly used in this area. However, there's a short section of sunken roadway historically referred to as ' The Dingle ' not far from Blackleyhurst Hall. Having been raised in Garswood, and being reasonably well acquainted with the area, I'm just wondering if this is the same place that you refer to. Just curious.

Regards. Ozy.
Comment by: Philip Gormley. on 2nd November 2016 at 00:28
Ozy - Thanks for your response to my photo. You've good reason to be curious about the word 'dingle' occurring in contemporary language; it does indeed appear to have fallen out of favour - unless used in specific texts concerning Farming Agriculture Landfill ..., It's a pity, though, as I still regard it as having some appeal - 'piccolo'. The Dingle near Blackleyhurst, which you refer to, is unlikely to be the hollow ground we shared as 9/10 year-olds and which, while maintaining its shape, now plays host to part of the footpath surrounding the play area of Bankes Park. Other melting pots were The Rec' - situated near Billinge Med. Practice, and The Pingot - not only the eventual home of The Royal British Legion Club, but a once veritable source of guaranteed-straight Privet. Your mention of Blackleyhurst also encourages me to put the name of Henry Fothergill Chorley to you; he was born there and, like yourself, quite a scribe. Maybe you'd like to look him up. Continued regards.
Comment by: John Brown on 4th November 2016 at 13:12
Urtica Dioica eh? I'm a gardener, but I admit to never having heard of this plant. . . until I looked it up that is. Great picture by the way - takes me back years.
Comment by: whups on 6th November 2016 at 16:48
phil did you ever catch the bus into ashton to shop ? .
Comment by: Philip Gormley. on 7th November 2016 at 20:56
Whups - Thanks for your query. Yes I have used the 157 Rainford to Ashton, many times, but not of late. I do recall speaking briefly to you on that particular run but that was quite a while ago now - I trust you're keeping well. I've also been trying to locate a newspaper-cutting that's hidden somewhere on this site but haven't had much luck - maybe yourself or Alan Horton could help? The cutting shows the 1971-72 football presentation night at the Village Club with Brian Labone as chief guest; the season we won the Third Division Championship - I had just one, maybe two, seasons there but didn't play as well as I would liked to have done. I remember Sammy once giving an opposing winger a fair amount of stick, the poor lad was almost toothless but that didn't stop Sammy saying "an' another thing, clean thi' teeth." Regards.
Comment by: whups on 8th November 2016 at 12:40
yes phil i can help. it,s on the sports section under north ashton village club . when i spoke to you we was on about phil taylor & i told you what was going on with the PDC. i,m a bit crocked at present as iv,e tore a calf muscle in my right leg. but we,ll soldier on as we do.
Comment by: Philip Gormley. on 8th November 2016 at 14:37
Whups - Thanks for locating the photograph for me. Unfortunately, the photograph 'seems' to concern the 70-71 4th Div. Winners? The sought after ...cutting definitely concerns the 71-72 3rd Div. Winners. I also seem to recall the ...cutting being in one of the other sections ie Forum Stuff Communicate - I'll have another look for it there. Unfortunate you should have become 'crocked' during the cold spell, as the cold may hamper your recovery a bit - hope it doesn't take long, though. Regards.
Comment by: whups on 9th November 2016 at 12:32
Comment by: whups on 14th November 2016 at 12:18
where was this pic took phil. my relations still live in billinge & they used to live in holt crescent .
Comment by: Philip Gormley. on 14th November 2016 at 13:05
Whups: Photo was taken in the Claremont area - just behind The Stork.
Comment by: whups on 15th November 2016 at 12:44
you may know them phil. paul,kevin & anne roper.