Photos of Wigan
Photos of Wigan
Album Contents
Album Contents
Wigan Album
Marsh Green
11 Comments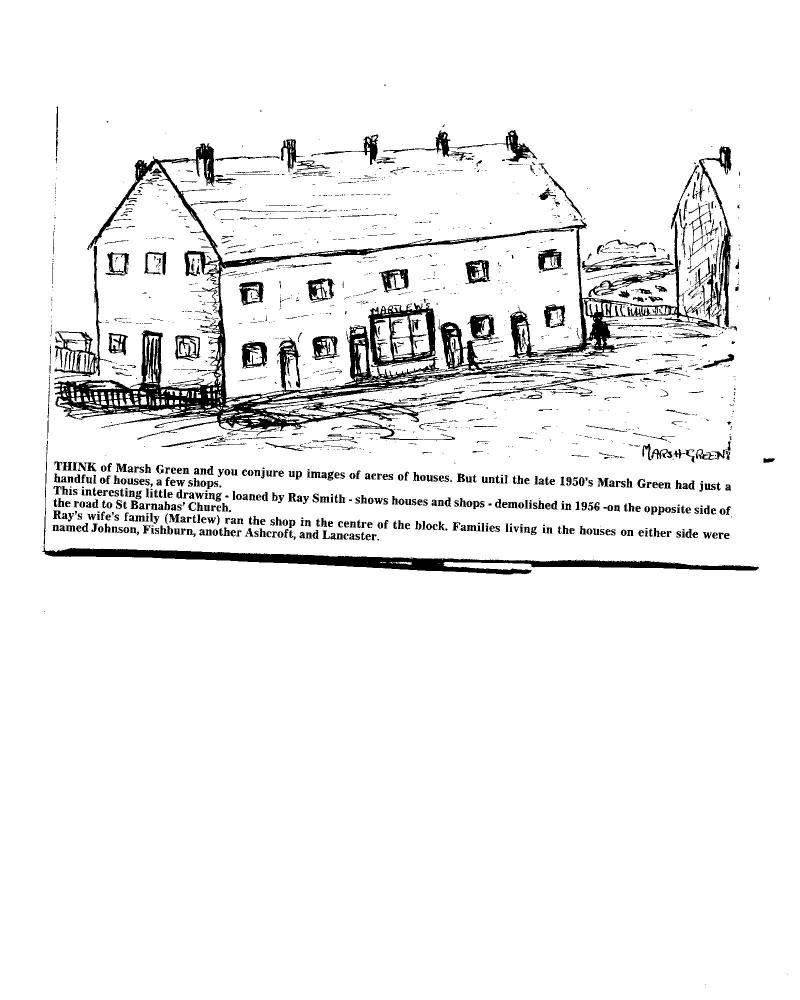 Old Marsh Green
Photo: Ray Smyth
Views: 2,741
Item #: 27905
This pen and ink drawing came to light in 1997,
Geoffrey Shryhane put it on his page in the
Wigan Observer,March 26th 1997. Coming up from
what was the Bridgewater Pub,this row of houses
and shop was approx 100 yards on the left.




Comment by: Maggie K on 23rd May 2016 at 17:29
Do you know where the families from these houses went to live? There are still a handful of the old Marsh Green houses.
Comment by: Robbie on 24th May 2016 at 20:51
Comment by: GW. on 25th May 2016 at 06:16
It just needs colouring in Robbie.
Comment by: Cyril on 25th May 2016 at 12:38
It doesn't matter if it is a poor sketch, the person who took the time to do this sketch has recorded a piece of history that folks can look back on; just the same as if it had been a photograph.
Comment by: Jarvis on 26th May 2016 at 05:34
Those cottages once housed the entire family of Red Cloggs. Hard to believe, but actually true.
Comment by: Fred on 29th May 2016 at 13:51
I delivered papers for bakers paper shop in Newtown in 1956,and that area of marsh green was one that I delivered to,it was OK in summer but in winter cold on the hands and very dark with limited lighting
Comment by: Margaret Smyth on 29th May 2016 at 17:50
Hi Maggie K, Most of the families from that row of houses
came to live in Severn Drive,Norley Hall. I moved to Severn Drive from there in 1957,and I still live in Severn Drive.
Over the years,most of them moved elsewhere,and many of them
will have passed away by now. Marsh Green was a great place
to live,when I was a young child.
Comment by: Margaret Smyth on 29th May 2016 at 18:00
Well said Cyril, Excellent comments to some one who has
nothing better to do but criticise the efforts of the artist. It is a piece of Marsh Green history
Comment by: Margaret Smyth on 29th May 2016 at 18:08
I lived at Number 6,which was our house,and also my parents
shop and bakery. After moving to Severn Drive in 1957, my mother,who was a time served baker and confectioner,kept the
shop going,helping to supply hot meals to the builders,who
worked for McGeoch of Wallasey,Merseyside.
Comment by: Pauline on 31st August 2016 at 09:26
My ancestors lived in those cottages in the late 1800s. Gaskells. I remember walking across the Red Ash from Norley Hall to visit Uncle Peter. He also moved to Severn Drive
Comment by: Nadine foy nee sharp on 20th October 2017 at 22:37
All 5 of us jim,dave,phil,mandy & me was born & need in marsh green,sadly our dave recently passed away