Photos of Wigan
Photos of Wigan
Album Contents
Album Contents
Wigan Album
Unknown
17 Comments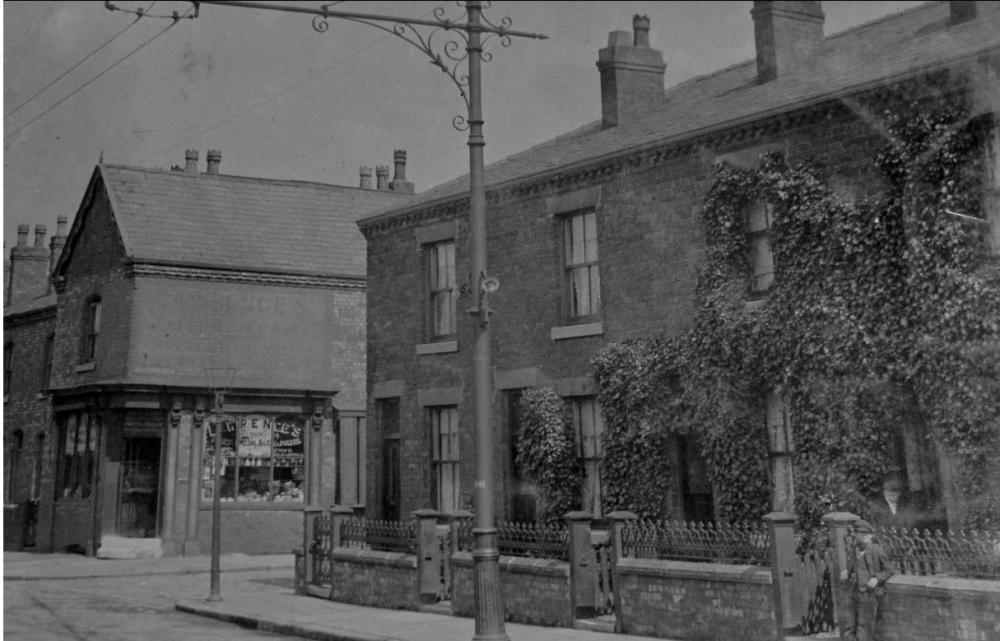 Believed to be somewhere in Wigan area
Photo: Roger
Views: 3,015
Item #: 27836
Shop known as Lawrences, maybe 1900s?
Comment by: Pw on 8th May 2016 at 08:54
Looks like Atherton Rd in Hindlley
Comment by: irene roberts on 8th May 2016 at 11:08
What a lovely photo, and how clean the road looks! People would have been out sweeping and mopping, "doing the front" as it was said. They probably hadn't much money but took aa pride in their homes.
Comment by: ArthurP on 8th May 2016 at 11:56
I think it may be Liverpool Road, opposite the Stangeways Inn. No 249 Liverpool Road was an off-licence on the corner of Douglas (?) Street. The presence of the trolley bus lines definitely suggests Liverpool Road or Atherton Road.
Looks like the end of Trafford Rd on Wigan Rd Hindley
Comment by: Maurice on 8th May 2016 at 14:00
It looks like Wigan Rd Hindley,the corner shop later becoming Bisbrowns,and the side street Trafford Rd.
Comment by: Pw on 8th May 2016 at 14:58
Arthur,I think you are spot on it is Liverpool rd .Mr and Mrs Ashton had it in the 50/60s
Comment by: GB on 8th May 2016 at 15:59
That is quite definately Wigan Rd ,Hindley it led to trafford rd,later, dead certain .
Comment by: Josh on 8th May 2016 at 20:20
I wouldn't have a clue either way as to whether it's Wigan Road or Liverpool Road, but having looked at present day google maps and at the two places mentioned, Trafford Road and Douglas Street, I'm inclined to plump for the Liverpool Road one.
Comment by: English Electric on 9th May 2016 at 03:49
Don't be misled by the double set of overhead wires into thinking the location must be on a trolleybus route.

A lot of the trackage of the Wigan Corporation electric trams outside Wigan town centre was single track down the middle of the road, with regular passing loops. Despite the single track, they installed two separate, continuous overhead wires - one for each direction of travel. This was because the Wigan trams used trolleys with trolley wheels which were prone to de-wiring when passing over junctions in the overhead wires.

Another clue is the very decorative metal embellishments on the overhead supports. These are very characteristic of the Wigan tram system, including the section in Hindley U.D.C.

And finally the SLT trolleybuses were in use between 1930 and 1958. The original post dates the photo as 1900s, and the scene definitely looks quite a bit older than the 1930s. Wigan Corporation's electric trams first started running along Wigan Road to the Bird i'th' Hand in October 1905.

How do I know all this triva? From a copy of the book "The Tramways of Wigan" by E.K. Stretch.
Comment by: Pw on 9th May 2016 at 07:05
Wigan Road never had trolley wires.When we were kids we spent many happy hour playing in front of this shop at night .The terraced houses to the right are still standing.I can tell many stories of the good times we had down Liverpool Rd or The Lump as we called it.
Comment by: Kenee on 9th May 2016 at 09:59
The shadows are very short indicating late morning or early afternoon. From the direction of the shadows at this time of day the view is looking North to North East, hope this helps.
Comment by: Josh on 9th May 2016 at 11:31
Thank you Kenee, that does help me at least, to "conclude" that the Liverpool Road (Douglas Street) location has the correct orientation which is north, whereas the Wigan Road (Trafford street) one has a South East direction.
Comment by: winder on 9th May 2016 at 12:44
If you look on street view the houses on Wigan Rd have different lintels over the doors and windows, to the ones in the old photo. So it can't be the corner of Trafford Road.
Comment by: Garry on 9th May 2016 at 14:49
They could have been refurbished, Winder. But yes it's NOT Wigan Rd.
Comment by: Pw on 9th May 2016 at 15:40
Good idea Winder.If you put 240 Liverpool Rd Hindley in street view it shows the four terraced houses in the photo and where the shop was located on the corner of Douglas St. An mate of mine from years ago,Jimmy Martindale, lived next to the shop.In the four terraced houses lived a family called Snape who had some sort of joinery shop at the rear.There was a chippy opposite the shop owned by Mrs Wall.Thanks for the photo Roger it has brought back a lot of memories.If you have any more of this area could you please put them on.I have no photos of where I was brought up
Comment by: peter glover on 22nd March 2020 at 14:31
That shop is definately 249 Liverpool Rd Hindley My Aunty Lizzie and Uncle Joe Snape lived in the first house on the left No 251, 253 was Joe's dad and brothers the end house on the right was Elizabeth and Walter Wilson That was from the 50s to the 80s i cant go back before then though