Photos of Wigan
Photos of Wigan
Album Contents
Album Contents
Wigan Album
Mesnes Street, Wigan
12 Comments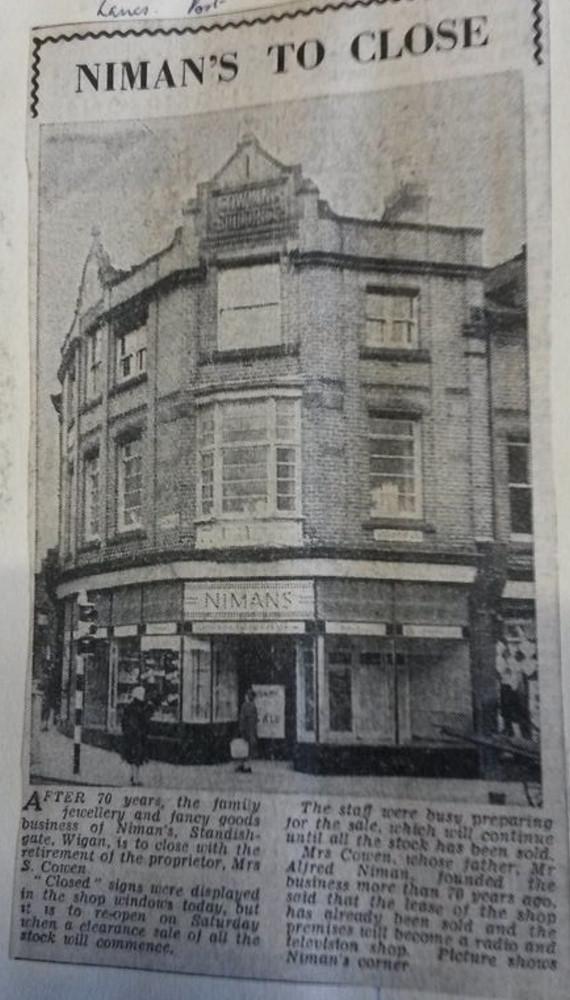 NIMANS shop closure
Photo: RON HUNT
Views: 1,895
Item #: 26996
Newspaper cutting showing a view of NIMANS shop on the corner of Mesnes St. and Standishgate Now a SUB WAY take away shop.
Comment by: lesley frost (nee de Luce) on 13th November 2015 at 21:24
This shop then became Rumbelows t.v. and radio shop.
Comment by: Maureen on 13th November 2015 at 21:42
I love all these photos Ron..thank you very much.
Comment by: Stuart Naylor on 13th November 2015 at 22:09
Before it was Rumbelows, it was Bulloughs, which also sold Televisions, Radios and such like, in the basement there was the Record Department and in between the ground and first floor, there was a landing on the stairs, which the staff became convinced was 'haunted' because several people dropped dead on that landing.
Comment by: A.W. on 14th November 2015 at 10:00
What date is this newspaper cutting Ron?
Comment by: RON HUNT on 14th November 2015 at 10:57
I think the date was in the late 1950's I will have to check
Comment by: Albert. on 14th November 2015 at 12:47
Can anyone recollect the,(I believe it was a drapery shop,) opposite Powell Street. A very kind and gentle lady was the proprietress. When, on completion of seeing the school children across the road at this very busy junction, she would have a cup of tea ready for you, plus a piece of cake. Much welcome, especially on a cold winter's day.
Comment by: DerekB on 14th November 2015 at 14:46
A.W. the closure date must have been 1959 or after as my late sister started her first job there after leaving school in 1959. I can't remember for how long she stayed in that job.
My late wife Edna started work there when she left school at 14. She left when she was pregnant with our eldest son who is now 60.She was in charge of the jewellery section. Cowan's had a large selection of china tea services. They sold a lot of these to the American forces based at Burtonwood.
Comment by: Dave on 14th November 2015 at 22:46
It was Farnworths the jewellers in the early 1900
Comment by: A.W. on 15th November 2015 at 13:32
Comment by: RON HUNT on 16th November 2015 at 22:36
The cutting is dated 9/4/62