Photos of Wigan
Photos of Wigan
Album Contents
Album Contents
Wigan Album
ABBEY LAKES UPHOLLAND
18 Comments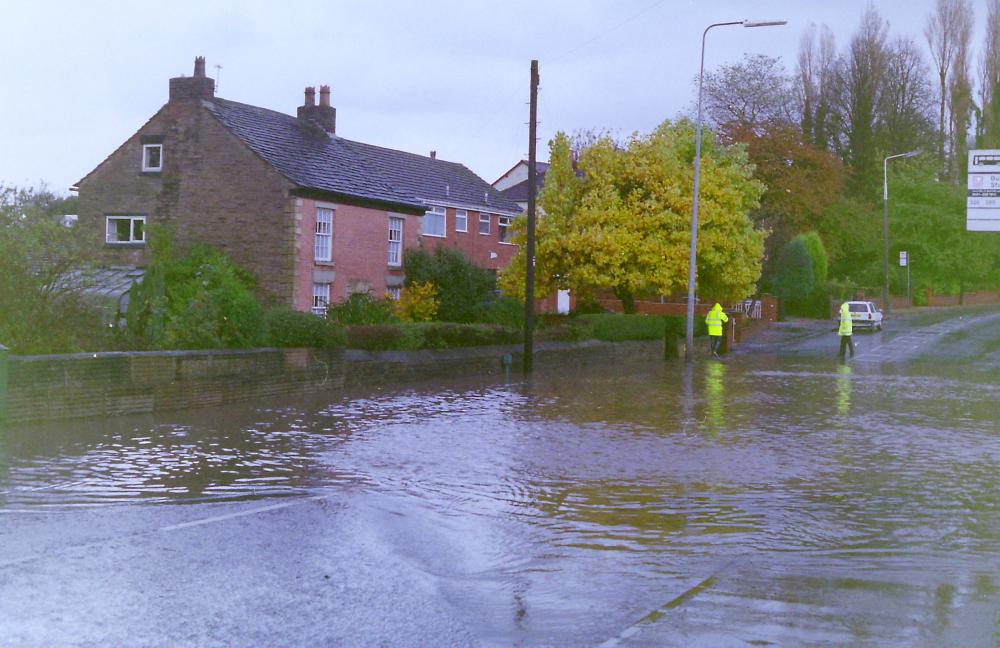 Flooding At Abbey Lakes October 2000
Photo: DUNCAN
Views: 3,423
Item #: 26777
An early snow fall followed by a rapid thaw caused the lake to bust it's banks and flood the road and some properties in the area.
Comment by: Stuart Naylor on 26th August 2015 at 23:12
Duncan
The floods of October 2000 were caused by heavy rain all over the country, 'NOT' by an early snowfall melting, Wallgate under the railway bridge at Newtown, also flooded in October 2000 at the same time as it did at Abbey Lakes :)
Comment by: DUNCAN on 27th August 2015 at 12:03
Stuart, I have checked my diary for 30th October 2000 when i took the above photo. There was indeed a heavy snowfall that morning that did thaw very rapidly and cause the above flooding. It is however true that there was more general flooding at that time caused by rain in some parts of the country, I also noted that in my diary on the same date. I did not note any heavy rain in UpHolland area on 30th October 2000.
Comment by: Garry on 27th August 2015 at 21:22
It's not all that deep, a diesel car would love going through that!
Comment by: Derrick Cunliffe on 27th August 2015 at 22:58
Garry. Please put your brain in gear before opening your
mouth, water makes other parts [IE]brakes and other parts
seize up has a ex spark your not very bright are you. D.C.
Comment by: Garry on 28th August 2015 at 08:57
Derick...I'm an experience ex truck driver, delivering coal to houses in the 1960s. I drove through many deep fords with the Austin truck and also my car. After you've slowly drove through in 1st gear, then keep your foot on the brake for a short time, no problem job done. Has I've always said before, driving is all about common sense. After saying that, I can understand some motorist not wanting to pass through it, but it looks ok to me driven sensibly. Petrol cars would cut-out if you drove too fast..water on the distributor cap and plug-leads. Diesel vehicles no problem...I hope I've been helpful.
Comment by: Alex on 28th August 2015 at 09:02
Snow?? there's leaves on the trees yet. It looks like Autumn time.
Comment by: Duncan on 28th August 2015 at 10:56
Alex, yes, it was a very early snowfall, one of the earliest I can remember in fact.
Comment by: Alex on 28th August 2015 at 15:32
Yes Duncan that explains the rapid thaw in October 2000 and Autumn time. Thanks.
Comment by: Jimmy on 28th August 2015 at 17:04
Garry, if a diesel car went through that, it would conk out as soon as the exhaust went under water.
Comment by: Garry on 29th August 2015 at 10:12
Jimmy, never in a million years would a Diesel engine "conk out as you put it" (you don't sound too mechanically minded with the term, CONK). Even a petrol engine CAN run with the exhaust in water, it would blow it out the way. The only time water would stop diesels is water in the air intake, and that's a fact.
Comment by: Jimmy on 29th August 2015 at 11:41
Garry, I have had a lot more experience of diesel engines than someone who used to deliver coal in the sixties.
Comment by: Garry on 29th August 2015 at 15:49
Well then, you should know that I'm right again!
Comment by: Alan top fitter on 29th August 2015 at 18:35
DIESEL CONK OUT IN WATER....WHAT EVER NEXT. I've heard it all now lol ha ha ha.
Comment by: Jimmy on 29th August 2015 at 19:37
No Garry, you are wrong, if the water was too deep the diesel engine would cut out, I think it would be okay going through the water in this photo though.
Comment by: Garry on 30th August 2015 at 18:16
You can put a diesel exhaust in the sea, and STILL run. I'm not going to comment on this subject anymore...like you it's got boring.
Comment by: Renee on 5th September 2015 at 20:04
Sadly, it's you that is boring , Garry. Your comments are, generally, too inane and childish. Maybe you can't help it...
Comment by: Wiganer on 6th September 2015 at 00:55
Well said Renee I agree with your comments he doesn't know
when to keep his mouth shut he's been a spark, a bargee, a lorry driver, what will he be next god ? I don't think so
Comment by: Garry on 9th September 2015 at 19:51
Renee and wiganner are made up names. Stop being fools.
I've forgot more than you both will ever know on any subject.