Photos of Wigan
Photos of Wigan
Album Contents
Album Contents
Wigan Album
Chapel Lane, Wigan
4 Comments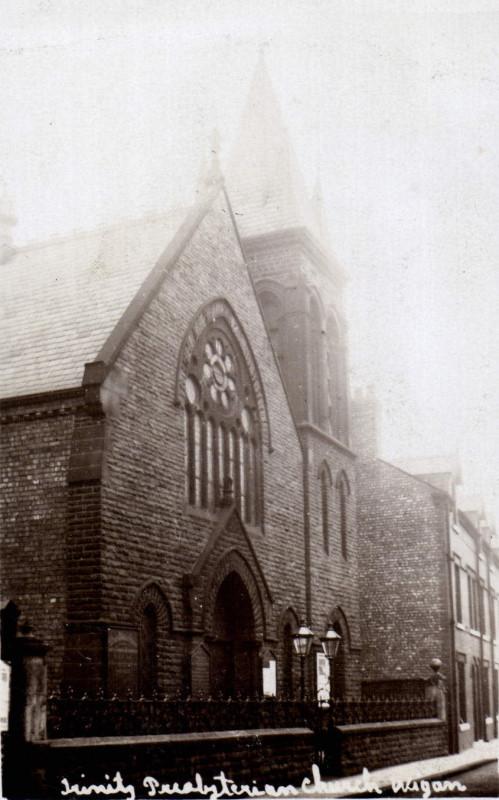 TRINITY PRESBYTERIAN CHURCH
Photo: RON HUNT
Views: 1,454
Item #: 26459
THIS CHURCH STOOD NEARLY OPPOSITE THE OLD FIRE STATION IN CHAPEL LANE. I THINK THAT THE HOUSES WERE USED BY THE FIREMEN WHO WERE ON THE NIGHT SHIFT?
Comment by: Albert. on 7th May 2015 at 15:59
Didn't the entry by the side of the church lead into Harrogate Street?.
Comment by: Helen on 7th May 2015 at 16:35
Nice to see a photo of the Church where my parents were married by special licence in 1930. The next day they travelled by rail to London & the following day they sailed to India from Tilbury on the SS Strathnaver, where my Dad was going to take up a job at a cotton mill. Neither of them had ever been further than Manchester in their lives !
Comment by: Thomas(Tom)Walsh on 7th May 2015 at 17:01
Albert, there was a few houses at the side of The Chapel, but I don't think it went through to Harrogate Street ,there was a ginnel (alley for our southern cousins) further along Chapel Lane that went into Atherton Street which abutted Harrogate Street.
Comment by: Albert. on 7th May 2015 at 19:28
Thanks Tom. I recollect there was an alley that led down to where you could get access into Harrogate Street. One late evening in the late fifties, together with another bobby, I went an address in Harrogate Street, via this passageway, where a domestic dispute was at its height. The chap was a big fellow, pear shaped in stature. His wife was also a large lady, looked as strong as an ox. His main complaint was that she had poured the contents of the chamber pot all over him. He kept on asking me to feel how wet he was. I won't repeat my words of refusal. Like all domestic disputes,it came to an amicable conclusion.