Photos of Wigan
Photos of Wigan
Album Contents
Album Contents
Wigan Album
Mesnes Street, Wigan
10 Comments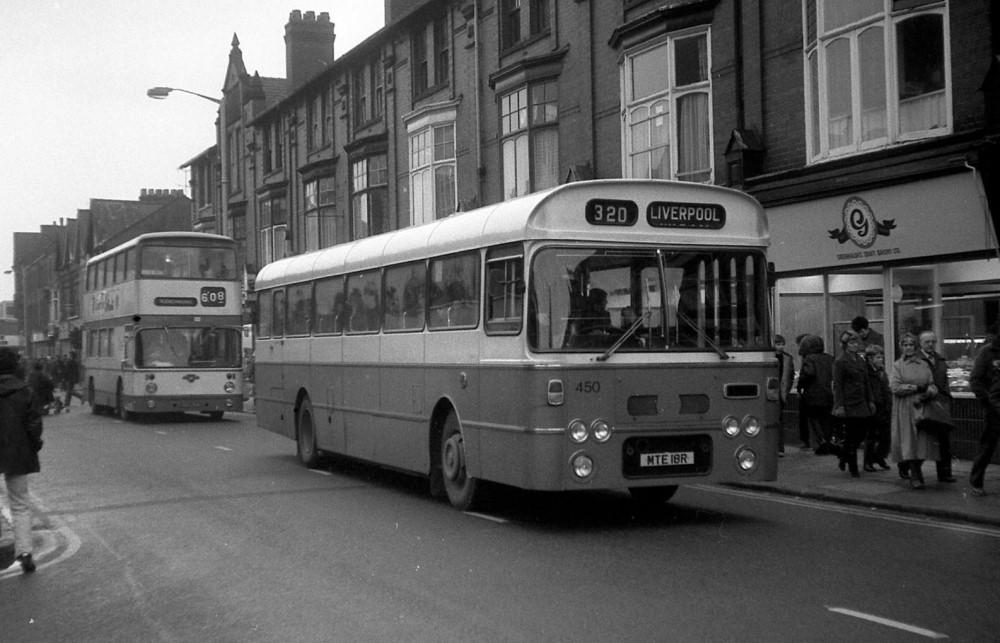 Wigan to Liverpool bus MTE 18R
Photo: RON HUNT
Views: 1,782
Item #: 26202
The number 320 Wigan to Liverpool bus in Mesnes street. 1970's
Comment by: Giovanni on 19th March 2015 at 14:37
Never knew there was a direct service to Liverpool! A bit longer than the train I imagine that I took before I got a car!!
Comment by: John G on 19th March 2015 at 18:53
Take it from me Giovanni,if you ever try it take a cushion I phone and a flask of tea/ coffee,mind you it's the best thing coming out of Liverpool.
Comment by: irene roberts on 19th March 2015 at 20:23
Remember well when the 320 went to Liverpool. 1980s certainly, but not sure how long after that. It only goes to St. Helens now.
Comment by: Jinks I, on 19th March 2015 at 22:52
John,only one good thing comes out of Liverpool ,that's the road to Wigan.
Comment by: Pete Schofield on 20th March 2015 at 10:42
Giovanni The 320 was a joint service ran by Wigan Corporation Ribble and St. Helens Corporation. It used to terminate at St. Johns Gardens' in Liverpool City Centre and took 1 hour and 25 minutes. IT ran through Lower Ince Platt Bridge Ashton In Makerfield Haydock St. Helens and into Liverpool down the A57. Same route on return. It started on the old bus station in Hope Street Wigan
Comment by: English Electric on 20th March 2015 at 12:51
I remember in the 1970s the 320 being mainly red LUT buses with the occasional Wigan Corporation or Ribble vehicle turning up.

I think I read somewhere that at one time (1950s ??) Wigan Corporation bought a handful of buses specially for the 320 route. Outwardly looked like a typical Corporation double-decker, but had more comfortable seats and a set of doors on the rear platform worked by the conductor.
The same journey, using the 320 to St Helens, and then the 10 to Liverpool, takes over two hours, including a wait of over 10 minutes in St Helens. If I remember, part of the difference in running times will be down to the service not being allowed to pick up passengers inward from the Liverpool boundary, or dropping them off outward until the boundary.
Comment by: Joe Thomas on 20th March 2015 at 14:34
Quite correct Pete I used to work for Ribble in 1964-6 it used to run every half hour
Comment by: Mr X on 24th January 2018 at 20:57
The Lancashire United bus 450, MTE18R, on the 320 route to Liverpool is one of 35 Plaxton bodied Leyland Leopards new in 1975/76. This one has just been repainted in GMT orange and white. Behind is an ex Bolton East Lancs bodied Leyland Atlantean, 6788-6795 OBN288-295H that had been moved to Wigan along with ex Salford Park Royal bodied Atlanteans 3150-3159 PRJ304-313G about 1977 to replace ex Corporation Leyland Titans, and is on the 608 route from the Standish Bleachworks.
Comment by: Veronica on 10th April 2019 at 22:38
The date can't be the 70s as Greenhalgh's didn't have a shop in Wigan until quite later. I worked at the Westhoughton branch in 1979 until 1986. They did start to branch out in the eighties though.