Photos of Wigan
Photos of Wigan
Album Contents
Album Contents
Wigan Album
Mesnes Street, Wigan
17 Comments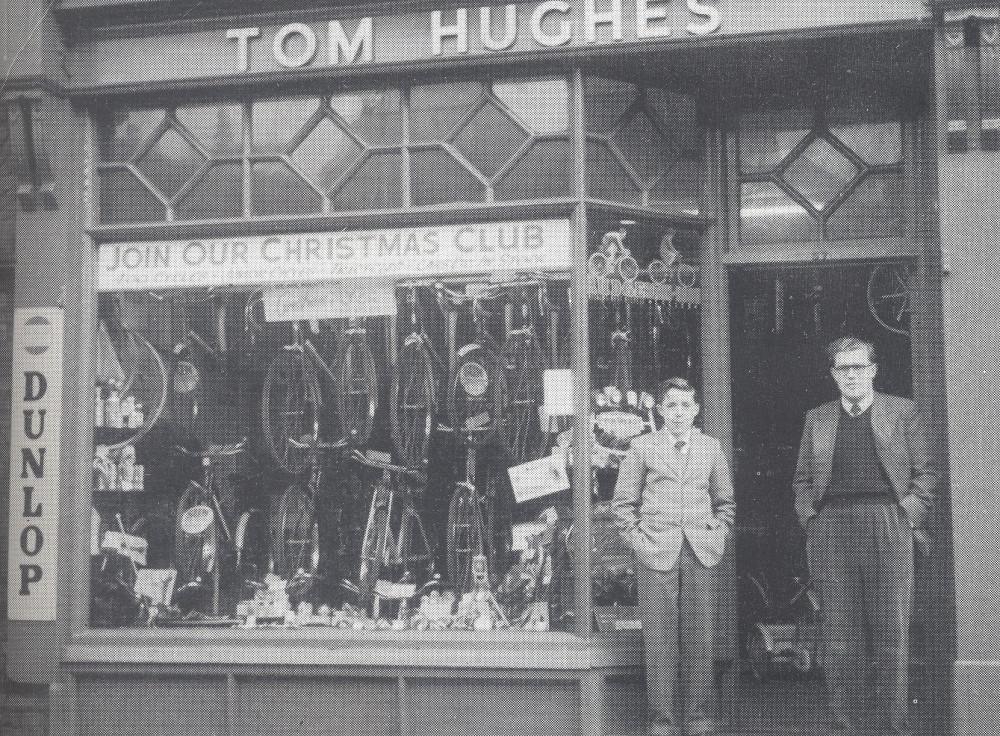 Tom Hughes Cycle Shop 1950's.
Photo: RON HUNT
Views: 3,328
Item #: 25973
Tom Hughes grandson Tom, and his cousin Harry Freeman, in the doorway of Tom's dad's shop in Mesnes street. This shop was later taken over by Oliver Somers
Comment by: Mick on 5th February 2015 at 11:06
Harry later managed Tom Hall's cycle shop at Newtown.
I got my first proper bike there,a Hopper.later on i got my first motor bike from the same chap at Tom Hughes, a Honda 125 Sports.
Comment by: DerekB on 5th February 2015 at 16:06
My first two wheeled bike, bought in the late 40s, was from Tom Hughes when his shop was in Wallgate. At that time the length of Wallgate opposite the canal was largely fronted by terraced houses and his shop was on a corner of Wallgate and one of the side streets leading off it. If my memory serves me right this shop was later occupied by Ledson's the motor factors
Comment by: Bill Kenyon on 5th February 2015 at 16:25
Got a Phillips bike here about 1957. Green with oilbath chain guard and Sturmey Archer 3 speed. Weighed a ton!
Comment by: Baldylocks on 5th February 2015 at 18:10
Bonny looking shop front.
Just look at those upper lights (the top windows)
Comment by: A.WINSTANLEY on 5th February 2015 at 19:14
Well this photo is great ,why you ask? my mother had to save in the Christmas club to buy me my first bike I was aged 10years going on 11 years, I recall it was from the Newtown shop, are you ready for this """ IT HAD 3 SPEED'S IT HAD A DYNAMO FITTED A SADDLE BAG ( which soon came off) oh it was a dream come true,, having to wait till that age
was a drag but back in those days there weren't a lot of cash about. DAD WORKED IN PIT,MUM AT ECKERSLET'S AND FOUR OF US , any way it was well worth the rate ,thank's for showing us these photo's it doesn't half bring nice memories back for us..
Comment by: Jonno on 6th February 2015 at 09:34
Harry's son is keeping up the family 'bike'involvement, he sells cycles and cycling equipment but as a company rep to cycle dealers in the north of England.
Comment by: A.W. on 6th February 2015 at 09:49
This shop, also the herbalist and a number of other good shops were demolished in the 80s when the ring road was constructed.
Comment by: Giovanni on 6th February 2015 at 10:06
I remember Oliver Sommers cycle shop! My first bike was a Raleigh and remember distinctine Viking boat logo on it!
Comment by: Mick on 6th February 2015 at 12:05
Jonno - I remember Paul, Harry's son, but never really knew him. Do you happen to know if Harry is keeping well?
Comment by: AB on 6th February 2015 at 12:42
You are right Derek. The original shop was in Wallgate There is a photo of Tom senior in the album Ref 2280. Tom shown here lived in Standish up to his passing a few years ago
Comment by: DerekB on 6th February 2015 at 14:10
The Mesnes St, shop was modernised in the early fifties. The exterior was finished in in a green substance (similar to Melamine) and the name Tom Hughes above it in chrome or brushed aluminium. Very futuristic at the time!
Comment by: Jonno on 6th February 2015 at 14:36
Mick,i don't suppose we should discuss peoples private lives on here really, suffice to say, i have seen Harry looking much better than he is at the moment, not in the best of health, chest and breathing problems.
Comment by: Mick on 6th February 2015 at 18:34
Comment by: B. on 7th February 2015 at 19:53
Giovanni, still got mine!
I bought a tom hughes racer from this shop about 1955,my dad came with me and I thought he was going to pay the deposit of 2/6d but I was mistaken.it cost me £16 at 2/6d aweek till I had paid for it.enjoyed every minute riding it .not riding on pavements or going through lights on red on the ROAD.
Anyone remember the Smithy down the passage way by Baileys cake shop that later became Smiths ?