Photos of Wigan
Photos of Wigan
Album Contents
Album Contents
Wigan Album
Wigan's Early Rugby Grounds
5 Comments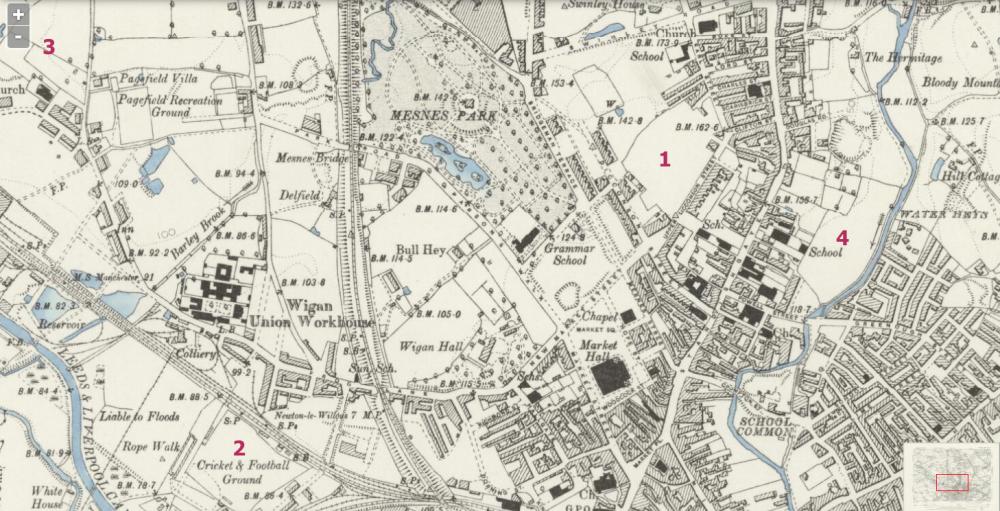 Wigan's Early Rugby Grounds
Photo: Keith
Views: 2,206
Item #: 25818
Wigan's first practice match took place at
1 Folly Field, the Upper Dicconson Street ground, on January 18th 1873 - it was Rugby Union in those days with 15 players in each team. After a bumpy few years they adopted the name Wigan Wasps in 1879 and began charging admission. As an indication as to the growing popularity of the game, in 1878 Halifax played Birch, a Manchester club, under floodlights and the game had to be abandoned due to the 20,000 crowd encroaching onto the pitch.
2 Prescott Street ground was moved to in 1886 and it was here that they hosted the first Colonial side in 1888, the New Zealand Maoris, 7,000 spectators paid £191 at the turnstiles. After the match the Maoris were entertained at Wigan's headquarters at the Legs of Man Hotel and ended with a show at the Royal Court Theatre. After Wigan became founder members of the new breakaway professional code in 1895 they had some good attendances, 10,000 saw them play Oldham but an assault on a referee forced Wigan to close their ground for 3 weeks. As their time at Prescott Street was coming to an end results were going from bad to worse. Their last season here was 1900 - 1901.
3 Springfield Park was used for one season only 1901 to 1902 and here they gained their first honour as a professional club finishing first in the League Championship.
4 Central Park was used for the first time in the 1902 - 1903 season and after their move to this ground they became established as a world rugby force. The rest as they say is history.
Comment by: George on 31st December 2014 at 14:20
Central Park before it was used as Wigan's ground was known as Hill's field (local butcher Joe Hill grazed his cows on it) and the map clearly shows Hill Cottage but this where Councillor John Prescott lived, it was he who had the idea that Wigan could build their home there.
Comment by: Bert on 19th July 2016 at 22:53
Prescott Street was known as The West End Grounds
Comment by: Perkin Warbeck on 11th April 2018 at 22:25
It was also known as the Frog Lane Enclosure
Bert, I think you are getting confused. The proprietor of the West End ground was John Boardman, landlord of the Crown Inn,74 Miry Lane. The ground was used extensively for foot faces, with large amount of monies wagered.
A cinder cycling track wes built in 1892 and used extensively by Wigan Cycling Club. All the contents were sold at an auction in 1902 from instructions by John's widow.
Comment by: Bert on 4th July 2021 at 10:47
PF, Same place mate. All the track sports eventually transferred to Springfield Park just up the road from 1897. The Cricket club bought Bull Hey in 1898 and the rugby club built Central Park in 1902 hence having to play at Springfield for 1901-02 season. The Loco shed were built in 1902