Photos of Wigan
Photos of Wigan
Album Contents
Album Contents
Wigan Album
Plantations and Plantation Gates
12 Comments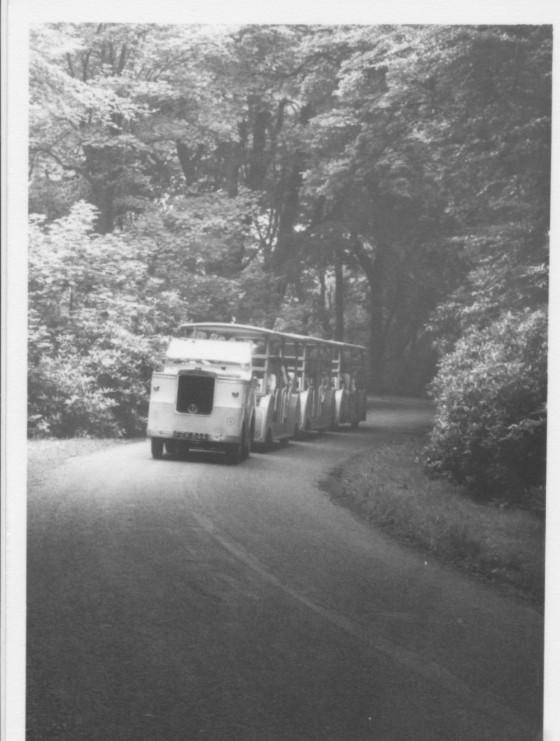 Tractor service Plantations 60s
Photo: Brian Mc
Views: 1,646
Item #: 25437
tractor service from the Hall to Wigan Lane gates
Comment by: A.W. on 11th August 2014 at 11:28
Remember it very well, used to enjoy the ride as much as the day out at Haigh Hall.
Comment by: irene roberts on 11th August 2014 at 15:35
I remember it well, and also the older one with the canvas roof, which a much rattlier ride. It was 3d to go to the hall on the old tractor, and I've never forgotten the thrill of the tractor starting its journey at the plantation gates, and the rush of cool air as it went down the hill under the trees, the ride through the shady plantations, then the hot sun warming you through when you got off at the end of the drive leading up to the hall. Magic!
Comment by: Dave C on 11th August 2014 at 21:38
Someone once told me that the tractors and the trailers were converted WW2 airfield units that ferried the bombs from the munitions store out to the bombers on the base to be loaded. Having seen several b/w films of this operation on TV on the Discovery Channel, I'm sure it true. Anyone else confirm ?
Comment by: Janet (FL) on 12th August 2014 at 01:41
Irene said it exactly how I remember it... I loved those days....sigh....
Comment by: Dostaf on 12th August 2014 at 02:40
Dave C - They were Mercury Tractors, as used on airfields.

Discussed on this old WW thread, which may be of interest.

http://www.wiganworld.co.uk/communicate/mb_message.php?opt=f1&opt2=&msd=284622&offset=2320&subject=HAIGH%20HALL%20TRACTORS
Comment by: LDB on 12th August 2014 at 10:47
i read somewhere that they are going to run them again for one day can anyone confirm this
Comment by: freddy on 12th August 2014 at 16:07
LDB, I doubt if they still exist, one of our treasured councillors will have had them weighed in and pocketed the cash.
Comment by: Cril on 13th August 2014 at 17:38
Yes LDB, I have also heard of that tractor day and I was told that it either coincides with one of the children's activity days or one of the open air dramatic plays up at the hall.
Comment by: Al on 16th August 2014 at 18:56
Hope they bring it back (but I doubt it). Hope it gets in the way of those annoying joggers and bikers that use the path for their daily workout regime; what is it with this stretch of pathway (and other country walkways) with people intent and obsessed with keeping fit with runners and bikers everywhere, the bikers are often annoying as they've no manners and just come up behind you and never say thanks when you let them passed. You can't even go to a nice park without people having to stress themselves out with this rubbish Active living cobblers. That's why we'll never have the tractor back again, you'll get these fitness conformists saying "you need to walk not take a ride". It's knackering as it is walking up through the olantation gates.
Comment by: Bill Kenyon on 21st August 2014 at 20:44
Back in the 50's it was a simple pleasure to ride on this but so enjoyable.Like going to a different world.
Comment by: Stephen Shawcross on 1st October 2014 at 19:32
My grandad, William Shawcross used to drive this tractor and would let me ride with him and I felt so proud! Yes there is a tractor still in existence because I saw it at the Haigh Tractor Fair a couple of years ago.
Comment by: steve lowe on 19th September 2017 at 15:02
As lads in the mid 1950s, early 60s we used to wait in ambush on the bends and then try and jump on the back and see how far we could get before the tractor driver stopped. He could never catch us though. Fast as whippets in those days we were, not any more though, more like tortoises these days, Ah ha, Happy Days