Photos of Wigan
Photos of Wigan
Album Contents
Album Contents
Wigan Album
Market Arcade
19 Comments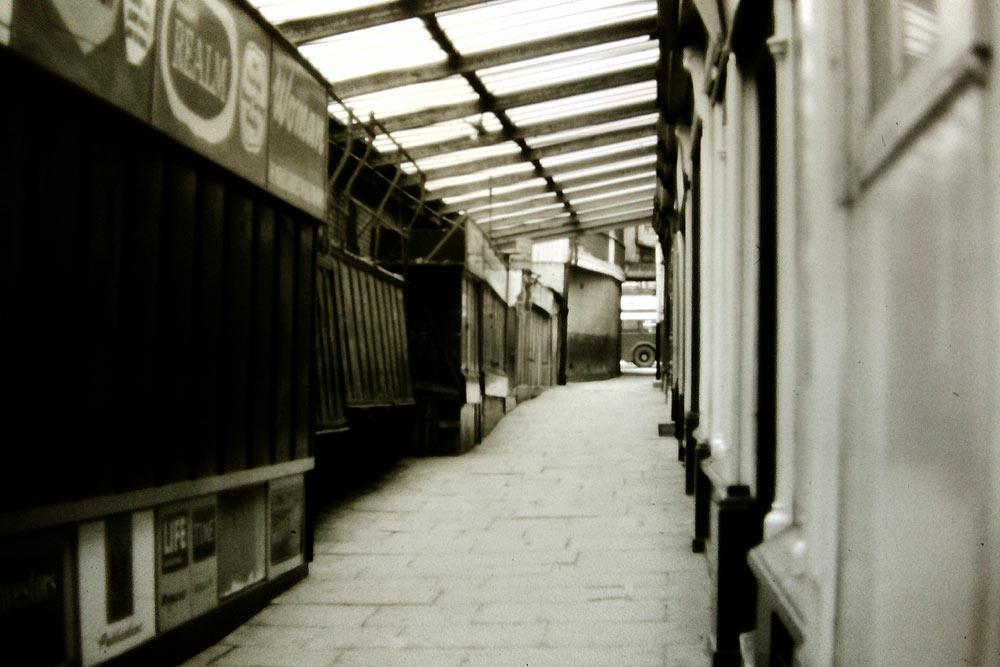 Little Arcade
Photo: Brian Laithwaite
Views: 2,995
Item #: 25282
Market (Little) Arcade
Comment by: Polly on 19th June 2014 at 22:58
Thanks Brian, Great memories. Super set of photos. Brian what year are these?
Comment by: rolo69 on 20th June 2014 at 09:14
"Try your weight now friends"
Comment by: Maureen on 20th June 2014 at 12:27
Gorner's cafe..went in there every Saturday afternoon with my mam,then when I worked at Willbrooks Station road I went there for my dinner every day..Sid Smith's. Margaret Razaks..memories now,just memories,thank you Brian.
and my mam always sat on those scales to get weighed
Comment by: DerekB on 20th June 2014 at 13:29
The newspaper/magazines etc bookstall in view was Smiths, who moved to then new premises in Mesnes St. Now the British Heart Foundation charity shop.
Comment by: daisy on 20th June 2014 at 17:43
wish we still had this little gem
Comment by: Mick on 20th June 2014 at 18:22
Prior to moving into the shop on the corner of Mesnes St and Mesnes Terrace, Sid Smith opened up a couple of doors further along, at 49 Mesnes St. He was only there a short time (circa 1972), and Corlett's Electrical opened up there, after he moved along the road.
Comment by: RON HUNT on 20th June 2014 at 20:02
Sid Smiths shop in Mesnes street (before the one which is now the Heart Foundation) was there in 1965 as Frank(who now has the newsagents in the Market and worked for Sid Smith in the shop) used to save me the Liverpool Daily Post on Mondays, which I would pick up on my way to work at John Englands
Comment by: tricia on 20th June 2014 at 20:25
Maybe I should not admit this long kept secret but my then boyfriend carved our names on the wooden shutter that sticks out a bit..it was painted brown. He carved the usual xxx loves yyy ... Vandals! ..names have been changed to protect the innocent lol I felt guilty for years every time I walked by when the Arcade was closed. The carving lasted longer than the boyfriend though.
Seriously though I cannot forgive them for the loss of this arcade. It had fa much character than the Makinson.In York they would have cherished something like that.
Comment by: Mick on 20th June 2014 at 20:43
Thanks for that Ron - he was clearly there longer than I remembered. I can remember the number because I worked next door at 51 Mesnes St, which was Aspinall's decorators.
I agree trish, there was definitely something good about the little arcade and also of many other places in Wigan. Just been reading a posting showing Greenough St. What gets to me is that there are many people,different people, on here who all say the same thing...that Wigan Council have ruined our towns' character.
Comment by: tricia on 21st June 2014 at 15:11
My puter dropped off line (again!)..typo should read it had much more character than Makinson Arcade.
Comment by: baker boy on 21st June 2014 at 22:34
buried beneath a ton of c//p,how very sad.replaced by the drab and dreary, lifeless galleries.
Comment by: Jemmy on 21st June 2014 at 23:30
Wigan is a 1000 times better today. I'm aged nearly 80, but I'm not sad to see the back of old Wigan. Grime, poverty and tatty old buildings.
Comment by: Eric Bulpitt on 22nd June 2014 at 10:43
Was the pub at the bottom called the legs of man,&rumour had it there was a tunnel ran the length of the arcade that came up in the cellarof the pub
Comment by: Alan H on 22nd June 2014 at 15:18
Eric Bulpitt, There was a passage from the top Legs O'Man situated in the Market Place to the bottom Legs O'Man in Woodcock Street.
Comment by: bewley on 24th June 2014 at 14:32
Freddy Mason, where is it you live in OUR town?
Comment by: anastasia on 24th June 2014 at 16:52
Bewley
And your point is ??????
Comment by: wingate on 1st August 2014 at 12:40
Hi bewley Fred Mason has not lived in Wigan for many a long year, I do believe he has a craft shop in Cumbria somewhere, He seems to be interested in Wigan, perhaps he is lonely up in them there hills, He was an amateur butcher in the old Wigan market in the 50s60s era, left Wigan to go and live in Cumbria.
Comment by: jim 12 on 6th September 2014 at 17:03
if you study this lovely photo you can see why it had to go look how it leads your eyewhith the uneven shops wigan council wont stand for any thing that does not correspondwith banality so sad and morally criminal