Photos of Wigan
Photos of Wigan
Album Contents
Album Contents
Wigan Album
Springs Branch
11 Comments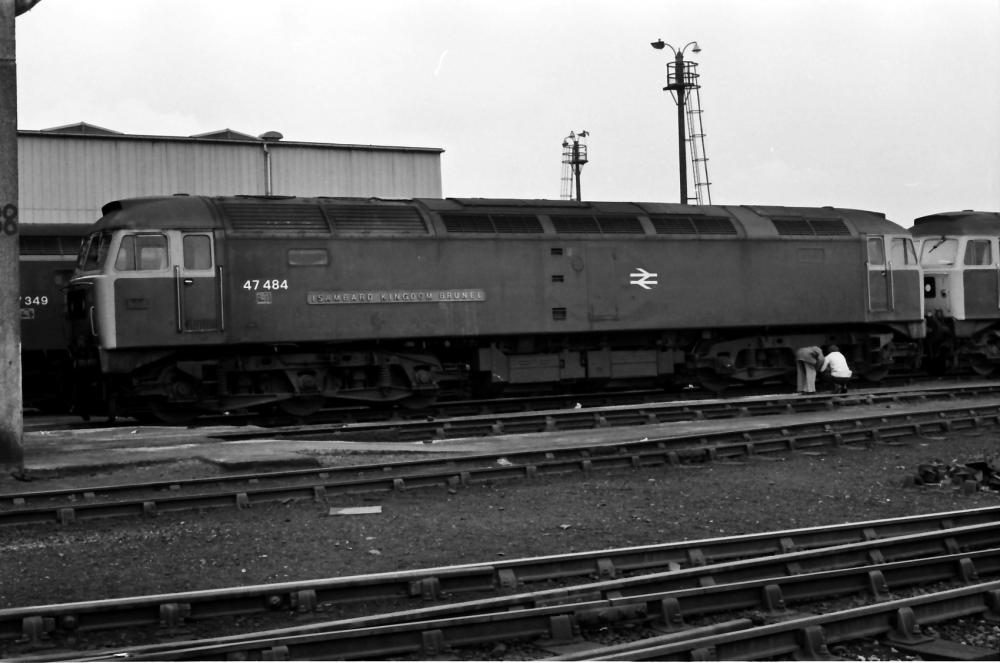 Springs Branch, 1978
Photo: Arthur P
Views: 1,245
Item #: 24158
Photo taken on Sunday, 7 May 1978 at Springs Branch. My son was into train spotting at the time. We called at the office, asked permission to look around, this was readily given. I doubt that you'd get past the gates these days!
Comment by: Carl on 17th November 2013 at 20:51
Not an engine associated with the northwest. Was based on the western region for most of its working life.
Comment by: Ken R on 18th November 2013 at 00:06
Named after a very famous architect, builder, Isambard Kingdom Brunel.
Comment by: cullie on 18th November 2013 at 11:59
nice duff had it a few times for haulage the name plate has been used on 60081 which is now a sorry sight at toton depot in nottingham....and for good measure duff 349 poking its head out as well gggrrrr brush sulzer power
Comment by: Colin Harlow on 18th November 2013 at 12:37
Spot on Carl. Isambard Kingdom Brunel what a Great British genius of a man. A mechanical Civil and Structural engineer a Draftsman. Great Western Railway, Steam Ships and Bridge Genius, such as the Clifton Suspenion Bridge and Royal Albert Bridge to name afew...All done Without computers, he's top man of his generation.
Comment by: irene roberts on 18th November 2013 at 15:09
How right you are, Arthur.....heath and safety would be the excuse, and yet when I was a little girl my much-older brother, when he went for his wages, used to take me up on the footplate of the engines watching his fellow-workers shovel coal into the fire. I feel privileged to have had that experience which would be denied to children now and I certainly never came to any harm.
Comment by: Garry on 18th November 2013 at 16:08
Always think Health & Safety...many young lives lost on the railways.Remember H&S is there for a reason.
Comment by: Garry on 19th November 2013 at 13:44
SUSPENTION Bridge, Colin. you missed the T off.
Comment by: Colin Harlow on 19th November 2013 at 18:11
Garry, let me educate you. There is no T in the word Suspension, and I don't need people like you to tell me how to spell. However, sometimes quick typing or rushing can cause spelling errors, after saying that, I'm sure most people could understand my comment even though I made a spelling mistake.
Comment by: WIGANER on 19th November 2013 at 18:58
Gary "IT IS BETTER TO BE THOUGHT A FOOL THAN TO OPEN YOUR MOUTH AND PROVE IT"... What a plonker
Comment by: Ernest Pyke on 19th November 2013 at 22:33
Excellnt comment WIGANER; Garry should check his spelling.
Comment by: Chris Dunn on 9th March 2016 at 23:01
I always wanted to see this loco but never did. I think it's in a yard somewhere in the midlands waiting to be restored.