Photos of Wigan
Photos of Wigan
Album Contents
Album Contents
Wigan Album
Market Square
14 Comments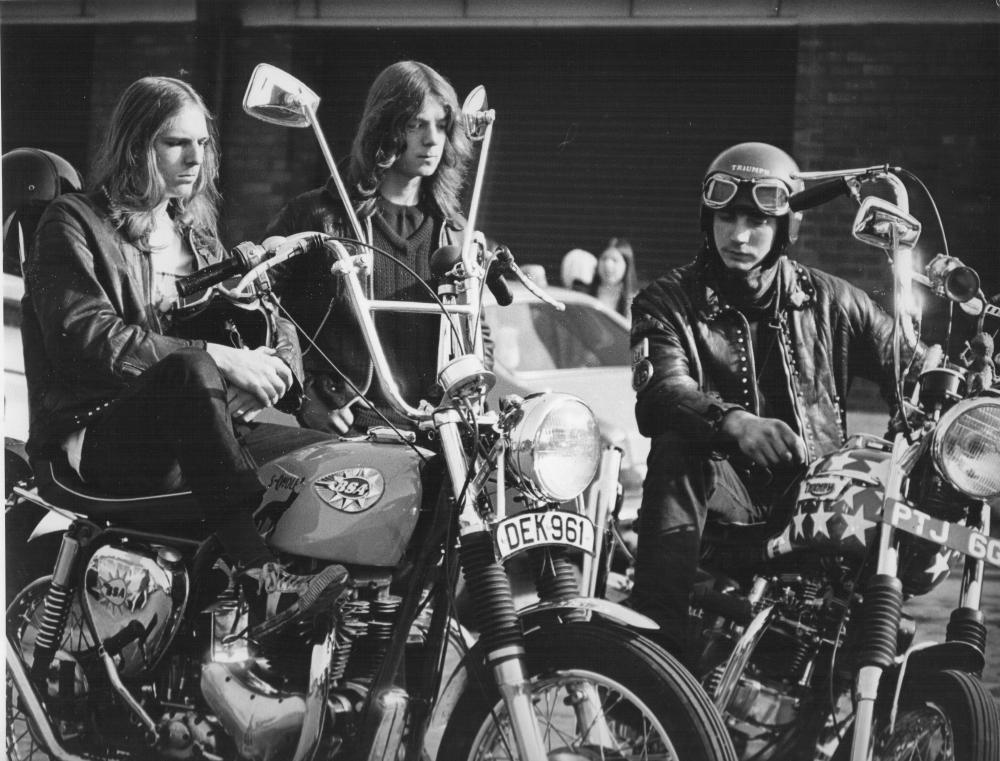 Wigan Bikers
Photo: Andrew Lomax
Views: 4,068
Item #: 23975
Friends on the Market Square 1971, photo taken unawares. John Parr, Allan Lomax (died 73') and Joe "Bonnie" Johnson.
Comment by: Stew on 27th September 2013 at 22:32
Comment by: Lizzie down under on 27th September 2013 at 23:25
What groovy looking lads.....love the hair and the leathers..... :)
Comment by: Mick on 29th September 2013 at 03:05
I remember seeing Joe Johnson's bike around UpHolland a lot, in the early 1970s.
Comment by: Andrew Lomax on 29th September 2013 at 17:09
Is he still around Mick? Never met the guy would be interesting...
Comment by: tony higham on 29th September 2013 at 18:07
i work with allan lomax i was stone mason with him he was only 19 when he died july 8th 1973 so sad
Comment by: Margaret s on 29th September 2013 at 19:43
oh how nice to see a picture of Allan we went to beech hill school together.we were in the same class and sometimes sat next to each other. after we left school we would catch the same bus and walk down wallgate. he would go to his job and I would carry on farther down to my job. I always liked Allan and was really upset when he died I very often think of him and sometimes visit his grave when I go to the cemetry
Comment by: Mick on 29th September 2013 at 21:42
Andrew Lomax - sorry Andrew, I don't really know anything about him, apart from the fact I used to see him passing through UpHolland on that bike in the '70s. A biker friend at the time told me who he was.
Comment by: Joan Beckett-Wilding on 30th September 2013 at 10:50
Great pic, but very sad, what happened to Alan Lomax.
You would see Joe around Upholland, He lived at Roby Mill.
I was Pal's with his Elder Brother John,(also a Biker) and didn't know Joe personally, only by reputation!!! but my Husband who is younger than I, knew him quite well.
John and I rode before the days of helmets. Happy days!
Comment by: Andrew Lomax on 30th September 2013 at 18:54
Yes Joan it was sad - my nan was never the same again unfortunately. The one that got away we think.
Joe is still around and well, still lives in Roby, still very much involved with classic bikes
Comment by: josie on 25th October 2013 at 22:59
Andrew, how nostalgic is this pic its beautifull it just captures that wonderfull time, so sad about allan,these lads just depict them days, wonderfull, I got married in 1971 age 20 we are still together now and have a son and a daughter and three grandchildren x love this pic x
Comment by: carl johnson on 9th February 2014 at 02:05
I remember Allan Lomax wasn't he from Beech Hill?.I remember they all used to go to Newtown British Legion, Joe Bonnie was a Legend everyone in the biking circles knew him. Allan Lomax Head Stone is near my Mum & Dads at Ince Cemetery,, only 19 when he diedin 1973, Big Shock.