Photos of Wigan
Photos of Wigan
Album Contents
Album Contents
Wigan Album
TOWN HALL
13 Comments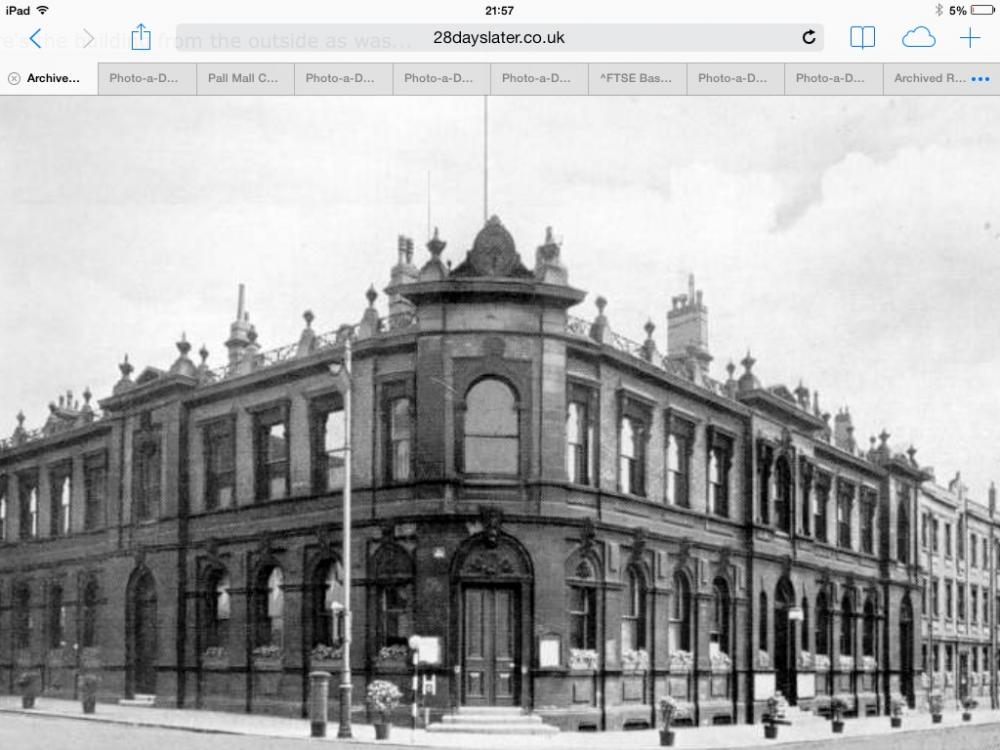 OLD TOWN HALL
Photo: TOM WALSH
Views: 2,857
Item #: 23973
Photograph of the Old Town Hall and Police Station which have recently been demolished
Comment by: Maggie K on 27th September 2013 at 01:58
A disgrace that this was allowed to be demolished.
Comment by: Ernest Pyke on 27th September 2013 at 04:35
Do you know when this was taken, Tom?
Comment by: Ernest Pyke on 27th September 2013 at 05:03
Tom; Have you seen the two photo`s of the Old Town Hall taken by Paul Green in May 2003? They are in Wigan Streets, King Street
There are photo`s in Album, Places, King Street & King Street West.
Comment by: Albert. on 27th September 2013 at 10:49
Tom. I wish I had a pound for every time I walked up those steps, of the entrance, to the right. They lead into the main central police station. The magistrates' court was to the right of the police station, and it was on the second floor, and the magistrates' clerk's office was on the opposite side of King Street, facing the police station.
Comment by: derekb on 27th September 2013 at 14:59
Should have been demolished years ago - a hideous building. While they are at it, instead of spending millions on it, take a wrecking ball to the Town Hall in Library St and start over - another Victorian or Edwardian architectural monstrosity!
you know the old saying dont you MONEY TALKS VOLUMES
Comment by: Shirl on 28th September 2013 at 00:02
A beautiful photograph of a majestic building, and how clean and tidy does the surrounding area look. I always wish I was born 20 years earlier to enjoy what was a great town in all its glory. Thanks Tom.
Comment by: Albert. on 28th September 2013 at 11:07
Tom. As asked by Ernest. Do you have the date when this photograph was taken?
Comment by: Stuart Naylor on 28th September 2013 at 12:28
I didn't like the building and I didn't like going in it, because I don't think it looked like a Town Hall and the Magistrates Court was in the same place and I didn't like that either.
Comment by: Thomas(Tom)Walsh. on 29th September 2013 at 16:21
Ernest,Albert ,I'm sorry I haven't got a date for the photograph, but below is a commentary on the site, there are lots of photographs of the inner shortly after it was abandoned .

The old town hall in Wigan closed down in around 1990 has been left boarded up ever since. Its a great building and is Grade 2 listed but the council have somehow managed to leave it to fall into disrepair all this time. Its long been thought around Wigan that they've wanted it to fall into such a bad state that it has to be demolished and lo and behold as it becomes apparent lately how bad a state its in , there's been announcements by the council that its to be knocked down and made into 'apartments'.

Anyway, have long wanted to get into this but have never managed to find a way as its very secure and its on one of the busiest streets in town. Anyway was on the way back from another explore tonight when we went past this and spotted a way in. Its such a nice surprise when that happens! Its a total mess inside and the floors are all rotting, its pretty hard to get around but there were certain parts of it where you could picture what it was like in its prime. Its criminal that they've let it fall into such a bad state but its doesn't surprise me seeing as they've been gradually ruining and demolishing Wigan for the past 30 years.

Interestingly though there was talk of a bunker underneath this place, and I've seen bits of evidence of it online. There were parts of the main floor with holes in that you could see way down inside what looked too deep to be a basement so I think this is worth checking soon.
Comment by: Ernest Pyke on 1st October 2013 at 04:43
Thanks, Tom.
Have put following comment on your 28th September 2013 P-a-D at 20:20 :-
Tom; Have read in the Wigan Reporter that a Jersey based company own this site and have paid for the demolition.
Comment by: jim12 on 17th November 2013 at 16:24
the building had ceased to live upto the inflated position that wigan councillor s see themselved and thus had to goa similar event happens in george orwellswigan pier when a local labour council in the thirtie sbuilt anew town hall instead of badly needed housing althoug the existing hall being perfectly adequate
I have a similar photograph of this magnificent building - a post card by H S Lea of Standish St, Burnley, Theres no date on it but there's a large square tower behind the town hall, two pitched roofs on the left and right of the facade - and there are trolly bus poles and wires. Either side of the entrance are posters with what appears to be the name W Whelan.