Photos of Wigan
Photos of Wigan
Album Contents
Album Contents
Wigan Album
MAKINSON ARCADE
15 Comments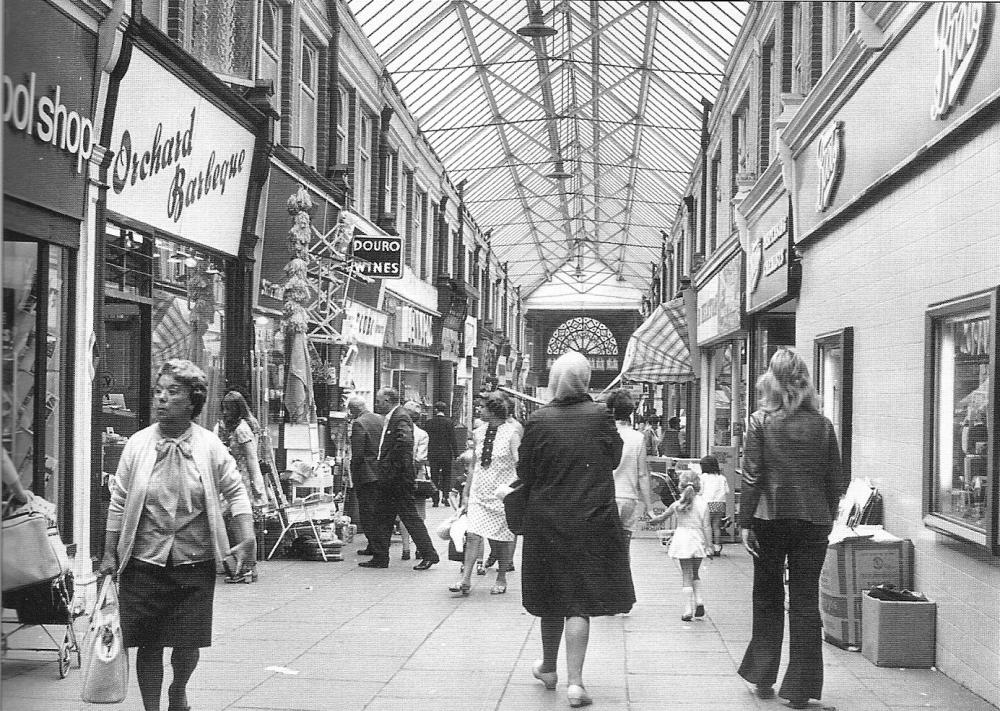 Scene from Makinson Arcade 1970s
Photo: JohnAlan
Views: 4,713
Item #: 21955
A scene familiar to us all, a stroll down the arcade when there was paving flags lining the floor not the fancy slippery tiles of today.
Comment by: aggi on 18th November 2012 at 21:22
Comment by: David Simm on 19th November 2012 at 01:04
A long lost and wonderful landmark of Wigan. Oh the folly of the unholy trinity that pit together the monstrosity that replaced it
Comment by: Al's on 19th November 2012 at 01:29
Remember all this too well and the old day's are better..
Comment by: Helen on 19th November 2012 at 08:32
Surely the Makinson Arcade is still there ? I took photos of it not many years ago on a trip back to Wigan.
Comment by: irene roberts on 19th November 2012 at 10:28
Yes it is Helen; it has been re-vamped since the photo above. Personally, unlike most of the so-called improvements to Wigan, I quite like the Arcade as it is now....it looked lovely when the Union Jacks were hung up for the Queen's Jubilee and The Olympics, but it does have a floor that tends to be slippy in wet weather now, compared with the flagged floor on the photo.
Comment by: Cyril on 19th November 2012 at 11:25
I always found those paving flags to be very slippy when wet, especially so outside of those greasy chicken rotisserie shops, Douro wines was a little shop but stocked an excellent range of products, also remember the awful Dewhurst butchers where they had very nice packs of meat on display, but you had to have one from the back, on unpacking back home it was found to contain meat full of fat and gristle, no wonder they went bust.
Comment by: Cyril on 19th November 2012 at 15:08
David must be thinking of the Market Arcade. I'm sure that the roof of this arcade was replaced along with the original arched stained glass windows.

Must have been the soles on the desert boot shoes that I tended to wear at the time with only me finding those old paving flags to be slippy.

I also remember being sent by the dole office to Leonard's shoe shop for an job interview, but was asked to leave as I was wearing demin jeans and trainers.
Comment by: winnie on 19th November 2012 at 18:11
i have seen this photo in a book before and my mum thinks the little girl in the spotty dress next to the pram is me !!
Comment by: josie on 20th November 2012 at 21:36
i had a hair cut like the girl on the right and similer clothes could be me ha.
Comment by: alan wink on 23rd November 2012 at 23:38
that's how it should be today all shop's occupied.
Comment by: Mike Sherrington on 18th December 2012 at 12:53
Thats my Dad's shop between Duoro Wines and Orchard BBQ.
Sherringtons Hardware. Great Photo, will print 1t for my Dad
Comment by: Dilys Haworth (nee Arkwright) on 26th March 2013 at 12:58
these were the days i remember all to well, there was always plenty people around.
Mike, your Dad must be David Sherrington. I worked for him at his hardware and ironmongery shop in 1970/71. He was one of the nicest people I have ever worked for!
I worked at Metro cleaners in Makinson arcade in 1959/60 Winnie Philps was the manageress also Freda and Kathleen Gilligan,lots of memories
Comment by: David Woods on 29th September 2017 at 21:00
In the 1950s David Sherrington was a noted cycle time trail isn't and member of the Ince Premier Wheelers