Photos of Wigan
Photos of Wigan
Album Contents
Album Contents
Wigan Album
Market Square
10 Comments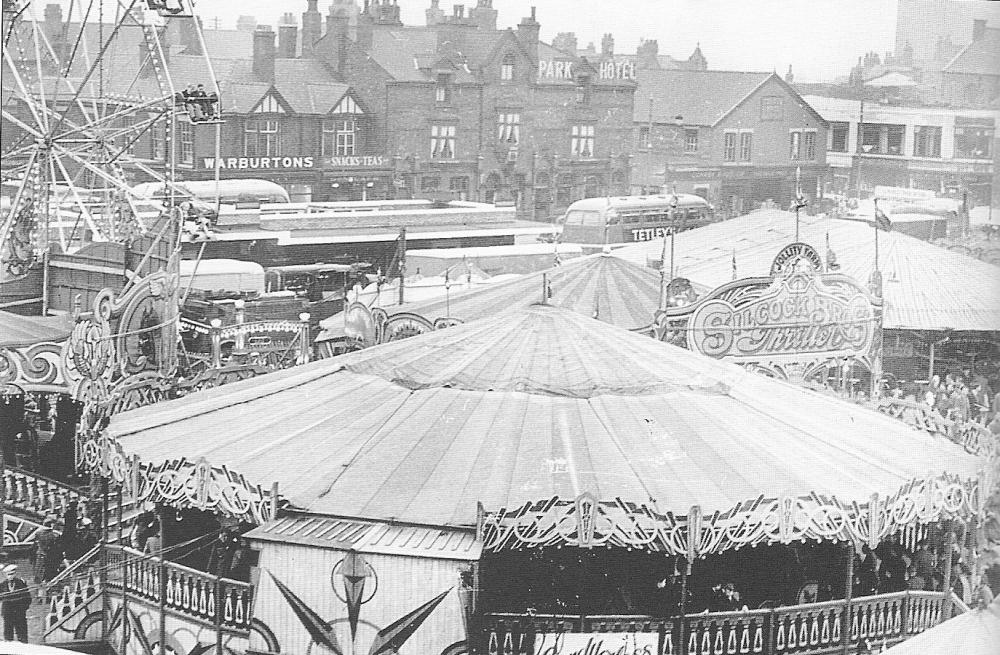 Silcocks Fair 1960s
Photo: JohnAlan
Views: 3,187
Item #: 21954
Looking towards Hope St and Roy Cafe from and elevated position. Brings back woderful memories and smells, sounds, screams of the girls on the Waltzer. So atmospheric and nothing like it today.
Comment by: Ellen on 18th November 2012 at 21:11
Now there's a scene I really remember!---Although on reflection, my memories would have been slightly earlier. (late 50's)
this photo bring back a lot of pleasure i use to go on wigan fair every time there black peas was the best in the land only us wiganers no how to cook um & 8 um
Comment by: Helen on 19th November 2012 at 08:38
That brings back great memories of the fair. It was all noise, lights, smells, excitement, candy floss & chips. One of the pics posted is the spot where I watched the man at the china stall selling a dinner service. The whole service ended up in a wicker basket lined with straw...he seemed to just chuck the stuff in....wonderful.
I wonder if this was the last fair I went to as we flew out to Australia in '64!!! Yes the memories are still strong, noises screams and all that goes with the excitement of going to the fair!! Cheers
Butterworths black pea's, beltin!!! Then on to waltza
Comment by: josie on 20th November 2012 at 21:28
i used to go there every time it came to wigan in 60s like you say john theres nothing like it today, i remember going on that big wheel and the waltzer mmmmm toffy apples and candy floss and the cobbled market square,do you remember the pot fair at the same time i loved listening them shouting about what they were selling my dad bought a lovely dinner service and they always started with a higher price then it would keep going down,who will give me 3 quid happy happy times.
Comment by: alan lad on 24th November 2012 at 12:25
If we could turn back time .
Comment by: Lizzie down under on 24th November 2012 at 19:04
Ah Alan but we can't turn back time. I went to that iron bar gate in Pepper Lane on Google Maps and it is a new shiny steel one!! Another bit of progress, cheers Alan :-)
Comment by: paul dutton on 24th December 2012 at 15:20
thats the first picture ive seen of it since i used to go there.wish i could turn back time and walk round there again if only eho
Comment by: john on 28th July 2020 at 20:47
lovely 2 see i would wake school to go and work on the fair got a job with old h silcock when i was ` 10 now i still work for them at 65 thanks for the meroes i think i was there when the pick was taken