Photos of Wigan
Photos of Wigan
Album Contents
Album Contents
Wigan Album
Empress Ballroom
25 Comments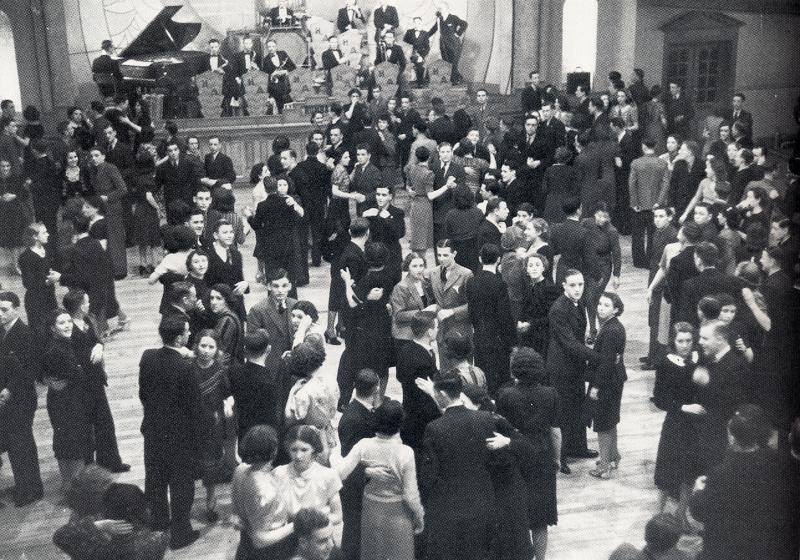 Empress Ballroom 1939
Photo: RON HUNT
Views: 5,023
Item #: 21755
Photograph of the dancers at the Empress Ballroom in 1939. There was dancing every evening from 7.30 to 10 30. The charge was 6d, and 1/- on Saturdays
Comment by: Loz on 1st November 2012 at 12:40
Those dancers probably knew that WW2 was about to start, and that many of the men would soon be fighting.
Comment by: irene roberts on 1st November 2012 at 13:29
Great pic, Ron. Thirty years later, in the late sixties and at The Monaco in Hindley, it was 3/- admission on a Monday night and 5/- on a Saturday. Hands up everyone who did The March of The Mods to Jess Greenough and his band?!
ron absolutely brillant, my mum worked at the empress mill and thats was where my dad first met my mum before going off to war in 1939 in the chindits. if its possible ron, if i leave my email address could you send me a copy, if i'm not being to cheeky.
Comment by: LDB on 1st November 2012 at 18:34
Tony can you not ask Ron if you may download it from here
Comment by: Maureen Andrews nee McGovern on 1st November 2012 at 18:50
Brilliant shot..I was there in the late fifties..absolutely loved the place..every night except Wednesday..went to very ball there was Police..Electricians..Plumbers Engineers..you name it I was there..after we came out we would walk around King Street,all having fun just talking about the evening and who we'd danced with..then come 11 0'clock the bobby would say "come on let's be having you all go home"..and we went,can you imagine that happening today..I honestly think we lived in the best era..that's only my opinion but it's there..thanks Ron for bringing the memories back.
Comment by: RON HUNT on 1st November 2012 at 18:55
Hi Tony I've sent you a copy of the photograph.
Comment by: JohnB on 1st November 2012 at 19:08
How well turned out everyone is, if we took an equivalent photo today of our modern youth I wonder if we'd say the same 73 years on.
Comment by: tony on 1st November 2012 at 20:11
LDB even though its a clear photo, just thought i could get a better quality photo from the email.
Comment by: Al.C. on 2nd November 2012 at 10:12
Great photo, does anybody know who the band where?
Comment by: derekb on 2nd November 2012 at 13:38
Maureen, like yourself I remember going to the Friday night late dances - I think Eckersleys Mill was the most difficult to get tickets for. Then we thought it was wonderful going to an event where the bar was open until one in the morning!! Remember the late night buses lined up in Station Road? Everybody moaned bacause Wigan Corporation charged a flat fare of 1 shilling in proper money (5p) wherever you were going.
Comment by: Albert. on 2nd November 2012 at 14:35
Just makes you wonder how many of those young chaps on the dance floor, and possibly some of the girls,never lived to see the end of the war,because of what happened to them during their military service, and to those who did succumb to this, because of service to their country," MAY THEY REST IN PEACE"
Comment by: Maureen Andrews nee McGovern on 3rd November 2012 at 14:16
Derek,and a good time was had by all wouldn't you agree..I wouldn't have missed it for the world..happy days.
Comment by: Fert on 3rd November 2012 at 17:26
If Elizabeth who is usually on WWC saw this, she may be able to give some insight in to the youth and times.
Also, there is a link on this site to the poetry of Kathleen
Oliver, one poem which is entitled A Lost Brother Wigan Empress 1942. It made me cry when I read it a few years ago.
That is a very poignant photo, what was to come.
Comment by: Maureen Andrews nee McGovern on 3rd November 2012 at 18:11
Fert, I have just read that poem of Kathleens..and it is very sad indeed..I am going to read the others later on.
Comment by: aitch on 4th November 2012 at 09:58
I never went to that place as well as anywhere else with dancing, as I had the legendary 2 left feet, it was the bane of my wife's life as she was a really good dancer and I could never partner her, I still cant dance, and with being 73, I think it is a bit late to worry about it now, I used to take the wife to dances and I was the one who sat in the corner looking after her handbag, we usually went with friends so at least she had some partners, I just wasn't one of them.
Comment by: Albert. on 4th November 2012 at 11:10
Aitch. Although I could dance, of a sort, when I went up to a girl,instead of saying "Can I have this dance please" I really felt like saying " Forgive me".
Comment by: LDB on 4th November 2012 at 16:53
i never caught the bus home did not want the night to end
Comment by: Albert. on 5th November 2012 at 09:59
Met my wife at the Wigan Emp., 1959. St Patrick's (Friday Night) dance.
Comment by: allan wood on 5th November 2012 at 22:19
Had some great times at the emp (rock and roll).
Comment by: mw on 6th November 2012 at 10:42
happy times at the Emp, jiving to Bill Unsworth band, think that was his name,
Comment by: Maureen Andrews nee McGovern on 7th November 2012 at 17:06
mw..it was Bill Unsworth..and of course we also had Ivy Benson the all female band.
My Mum and Dad danced the night away at this great ballroom. I remember her telling me when I was a little girl. Mum had a wardrobe full of ball gowns, they took their dancing very seriously. Arthur and Dorothy Hayes (nee Birchall) and all their friends always had a great time at the Empress. Cheers
Comment by: Gerry on 10th November 2012 at 07:34
Irene I still have the joe loss 45 of march of the mods and bet I can still dance it too. It must have been the easiest dance to learn for me to do it any road.
Comment by: dickie on 26th March 2013 at 12:49
I remember woodbine nights in the fifties and i think philip morris nights, when they would throw hundreds of packets of fags onto the dance floor, they were little packets with two in.I loved the Emp,but would the kids of today like it, I dont know, there was no drinking during the week,only on a friday and saturday. I had to dash for the twenty to eleven last bus to Upholland ,no taxis in them days, only had ten bob pocket money ,we all tipped up in them days.
Comment by: Colin ferguson on 23rd April 2014 at 19:10
Where there two ballrooms in the emp? I was there in the late 60s when Freddie star and the delmonts appeared. I remember a particular comment that he made about cliff Richard.