Photos of Wigan
Photos of Wigan
Album Contents
Album Contents
Wigan Album
Market Square
12 Comments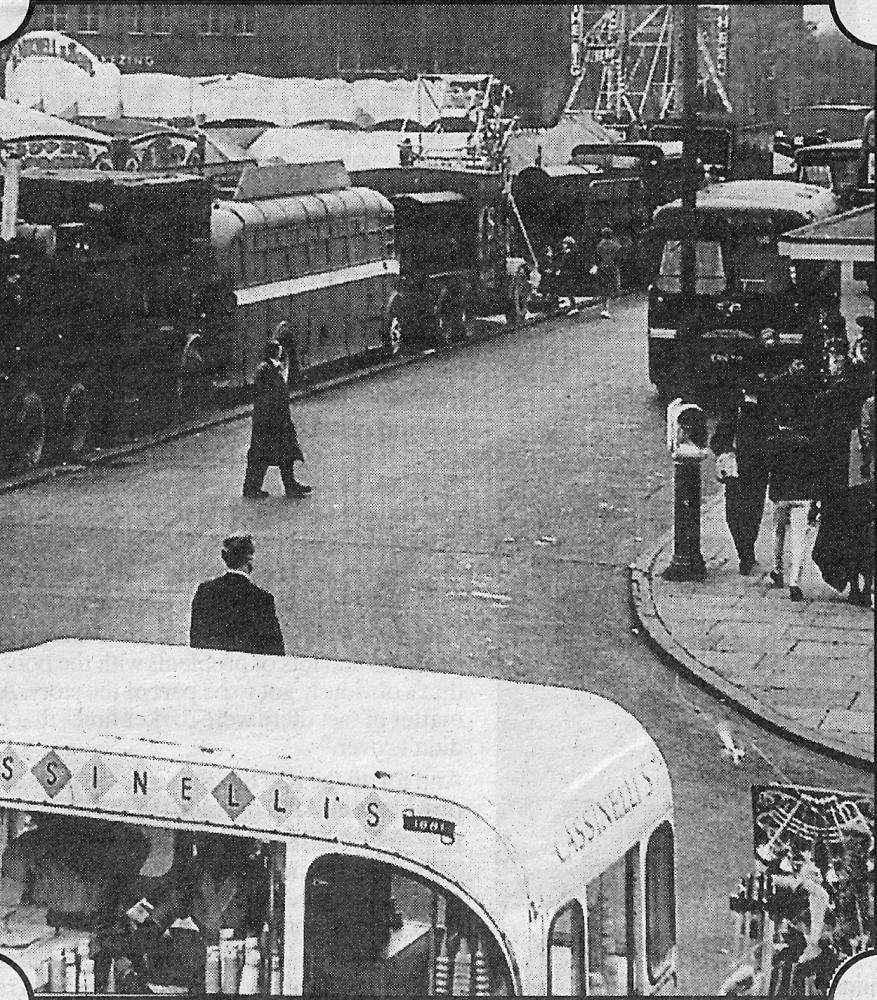 Wigan Fair - Market Square circa 1950s
Photo: JohnAlan
Views: 2,388
Item #: 21283
Another nostalgic look back to our childhood and teenage years. Wigan fair with all the thrills, smells, screams of enjoyment and laughter. Anymore memories of these wonderful times to share with us all?
Comment by: Thomas(Tom) Walsh on 13th August 2012 at 20:36
I remember the Black Pea Saloons,there were two different , familys Butterworths and Hollands,I was told that a yong lad threw a Dolly Blue into one of the open vats,I don't know the truth of the story,but it was enough to
make sure I never had the desire to try the fare.
Comment by: JM on 13th August 2012 at 23:00
Tom is there a Barbara in your family?she was a bridesmaid at my wedding but lost touch her name is or was Walsh.
Comment by: JohnAlan on 14th August 2012 at 08:38
I loved the black peas and the rest of the experience. Looks like a "Ribble" single decker standing at the bus stop. Anyone remember where that stop was for? Lancashire United buses I know had a depot in Leight (Atherleigh) and served that side of Wigan. When I was an apprentice at UKAEA Risley I had to attend Warrington College for my ONC and before we had a car caught the No 60 Lancashire Utd bus at Scholes Crossings to travel to Warrington. Used to take about an hour. Still takes about 50 mins or so these days.
Comment by: rolo69 on 14th August 2012 at 11:29
I think that bus went to Shevington on the low bridge rout
Comment by: Alan H on 14th August 2012 at 11:39
That side of the bus station was Chorley, Blackburn and Preston.I seem to remember there was a bus stand for Wrightington Hospital and also a Wigan corporation bus to Old Engine via Kitt Green on the other side near New Market Street, next to the Liverpool bus stop.
Comment by: derekb on 14th August 2012 at 16:25
Alan, the Ribble 180 service to Cleveleys also ran from the same side as the services to Chorley, Blackburn and Preston. Ribble services on the other side were to St.Helens and Southport and the Ribble 320 joint service with LUT, Wigan and St.Helens corporation buses. The only local Wigan Corporation service operating from the bus station was, as you say, the 21 route to Kitt Green.
Yes Rolo, buses to Shevington and Appley Bridge did leave from the stand where the bus in the picture is, at least in 1965.
Comment by: Thomas(Tom)Walsh . on 14th August 2012 at 21:55
J.M.I am sorry but there are no Barbaras in our family,possibllity someone
veiwing the this site may come up with an answer for you.Good luck.
Regards,Tom .
Comment by: rolo69 on 15th August 2012 at 09:44
Wigan Corperation did run a service, with single and double decker buses through Shevington "Plough and Arrow" down to Whitters lino factery in Appley Bridge from that stand.It also ran a bus to Wrightington hospital from there as well.
Comment by: JohnAlan on 15th August 2012 at 14:19
Isn't it just brilliant how the most insignificant remark generates so much information. Great.
Comment by: JM on 15th August 2012 at 23:44
Tom thanks for your reply.
Comment by: Lizzie down under on 18th September 2012 at 05:09
I remember the fair so well. My mum and dad had a stall in the car park, so when the fair was on we couldn't set up so we just went round the fair and had a really great time my sister and I. Oh the memories!!!