Photos of Wigan
Photos of Wigan
Album Contents
Album Contents
Wigan Album
Greenough Street, Wigan
5 Comments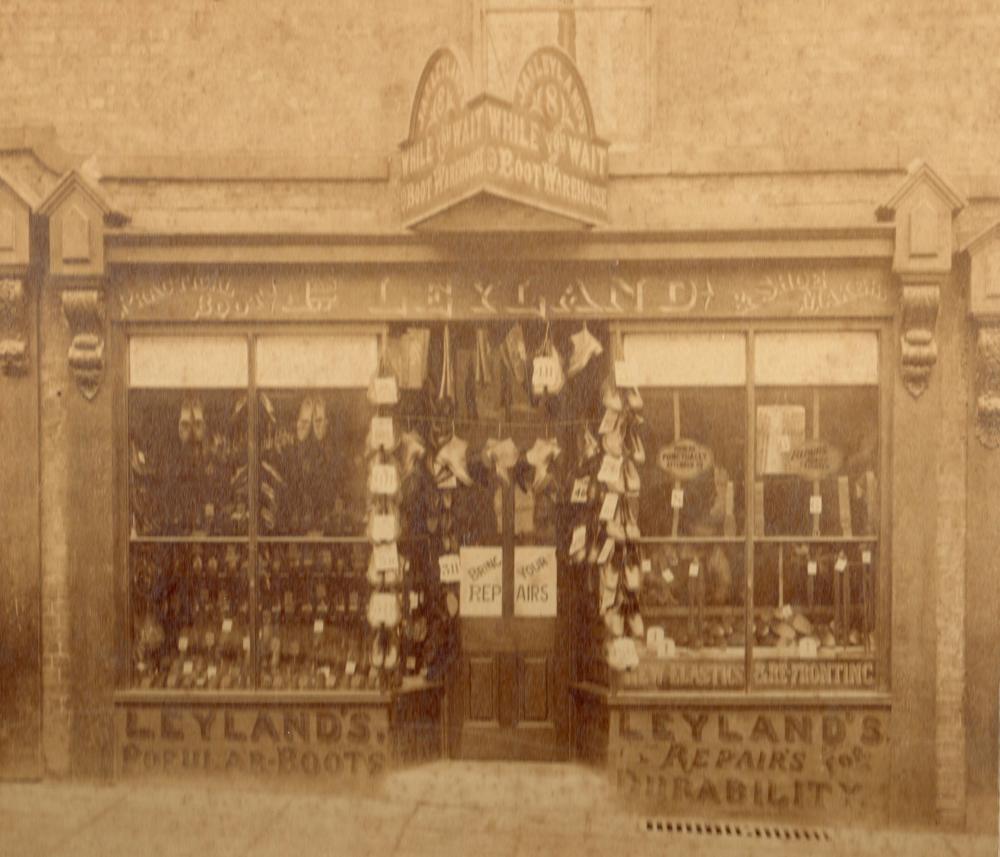 LEYLAND'S SHOE SHOP GREENOUGH ST.
Photo: RON HUNT
Views: 3,700
Item #: 21235
Photograph submitted by Marguerite Isherwood. showing a view of LEYLAND'S SHOE SHOP which was located in Greenough Street.
Comment by: Kath Arkwright on 11th August 2012 at 10:05
My Great Grandfather John Leyland was a shoemaker at 38 Greenhough Street between 1880 and 1898 before moving to Wigan Lane. He also had a shop in the Market Hall.He was James Leyland's uncle, the brother of James' father William.

William and John were two of the nine sons and one daughter born to John Leyland and Ellen Schofield who were married 3 February 1822 at St John's RC and in keeping with the law, at the Parish Church on the 4th.This John Leyland was also a shoemaker/cordwainer,as were nearly all his sons, with some being Catholics but most CofE.

Shoemaking in this family goes back to George Leyland born 1703 and buried aged 90 in 1791. Keep it in the family!
Hi Kath I amjust a bit mixed up I think we may have out Family Trees mixed up as James Leyland was the son of William and Jane Leyland nee Tickle on the Eighteenth day of Feb 1867 at Latham's Yard Millgate.
Kath plz email me and will chat Leyland stuff...
Comment by: Kath Arkwright on 11th August 2012 at 15:25
I am not saying that James Leyland was the son of John, but that his father was. William Leyland son of John and Ellen born Millgate 2 Feb bap 20 March 1831. He married Sarah Atherton 3 October 1853 at Wigan All Saints and then 12 September 1864 at Christ Church Ince he married Jane Tickle with whom he had several children including James born in 1867.
Comment by: MARGUERITE ISHERWOOD on 11th August 2012 at 17:11
I see how you are related John would be the younger brother of William Did you get any further with John Leyland and Ellen Leyland nee Scofield 1806?..