Photos of Wigan
Photos of Wigan
Album Contents
Album Contents
Wigan Album
Market Square
16 Comments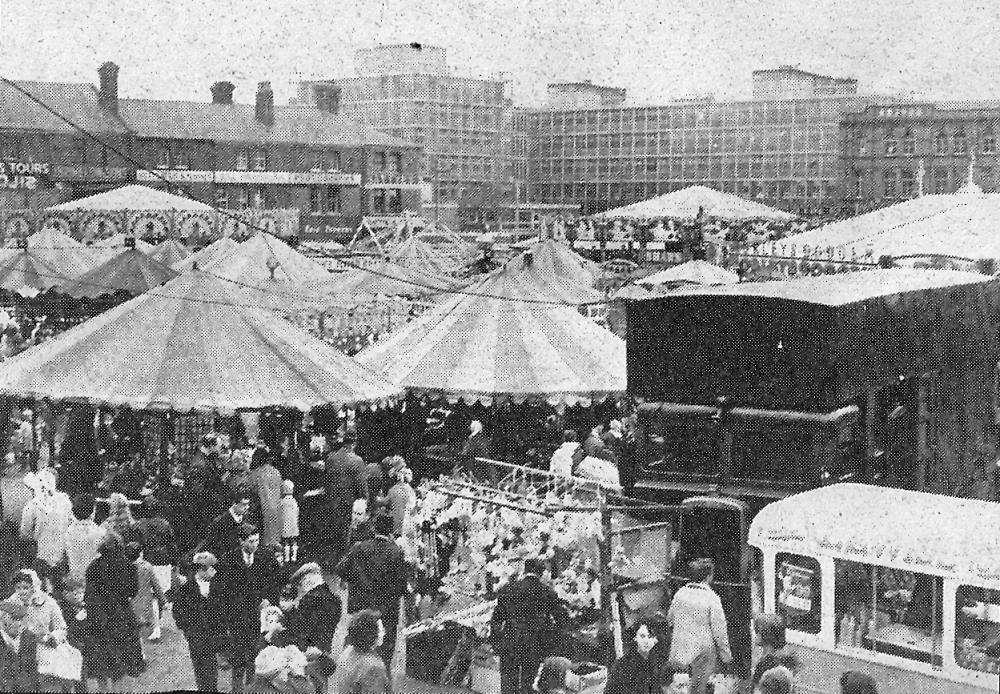 Wigan Market Square - Fair
Photo: JohnAlan
Views: 4,615
Item #: 21208
Taken in the 1960s, possibly early 70s I would think, judging by the Technical College being in shot. I am sure we all have great memories of the twice a year fair on the Market Square. The rides, candy floss, black peas, winning a gold fish or coconut on the stalls. The big wheel, cyclone, caterpillar, the list goes on. The patter of the fairground attendants whilst showing off courage(?) and balancing skill riding without hands and collecting fares whilst the ride was in motion on the Waltzer and Caterpillar. The girls screams as the top comes over and the walter cars are spun round even faster by the lads. What are your memories?
Comment by: Albert. on 7th August 2012 at 15:36
I remember the delicious bowls of black peas.the taste was wonderful. No dishwasher, after use,a quick dip in a greasey tub of water,and ready for the next customer. I never heard of anybody ever catching anything, The taste was worth it. Also remember the linoleum stalls, and men carting their purchaces home on their shoulders, pleased with their bargain.
Comment by: Dave Marsh on 7th August 2012 at 16:35
My memories are watching the dance of the seven veils,twice,in one of the sideshows.
Comment by: Maureen Andrews nee McGovern on 7th August 2012 at 17:42
Dave you naughty boy..the waltzer was my favourite ,and the black peas and the side shows and the caterpillar ,shall I stop now,I loved all of it,every May and October wasn't it? the atmosphere was second to none..happy happy days.
Comment by: irene roberts on 7th August 2012 at 19:11
Stepping over snaking coils of wire from the generators, the fair lads on the Waltzer, Black Peas, Toffee Apples,and the Dodgem Cars, with "Cathy's Clown" Del Shannon's "Runaway", or Bryan Hyland's haunting "Sealed With a Kiss" reverberating over the Maket Square.
Comment by: irene roberts on 7th August 2012 at 20:03
Oh, Maureen, just when memories seemed to have calmed down a bit, you and I are off again! What it is to have like-minded Wigan World friends! Thanks, JohnAlan for these pics.
what a good picture i use to go wigan fair a lot in the 60s the black pees where the best every time i went i use 2 come home wi a gold fish time i done i use to av a bole full them where the days wiss thay where back
Comment by: irene roberts on 7th August 2012 at 21:06
Hello Les, How right you are! I have menioned this before.....you used to chat to my Mam and Dad, Bob and Tizzie Griffiths, in the pubs in Platt Bridge; they thought the world of you! Happy Days, Les.
Comment by: Jean J on 7th August 2012 at 23:42
My Dad won me a big doll dressed like a bride but her head was made from pot and it broke. Remember the tarpolin tent you sat in to eat the black peas, with benches all around the edges. Was nice to go in if a cold and wet evening and it would be all steamy. Mum said we hadn't to tell Dad we'd had any because of the cups being used over again without being washed and most where chipped too. When you lived in the Scholes teraced houses, 2 up,2 down, with an outside loo and a cold tap, it didn't seem to much of a big deal to use these cups.
ya irene i remeber yr mam & dad very well we use to av a good time when thay use to come in vic & platt bridge inn me dennis hunt & peter meddows yr dad was allways aving a joke wi us yr mam use to like a sing song in vic pub how u going on not seen u for a long while do u still live near by
Comment by: Maureen Andrews nee McGovern on 8th August 2012 at 12:47
Irene..I always enjoy a chat alongside you..and you know what they say.... great minds think alike...that's my version anyway.
Comment by: irene roberts on 8th August 2012 at 13:03
I live in Abram, Les. I still see Dennis Hunt in Platt Bridge sometimes, and he never fails to make me laugh! I can see Joe Greenwood on the piano with a pint on top of it and a cigarette, (more ash than cig!),hanging out of his mouth! Yes, Mam and Dad loved a sing-song, and thought the world of you lads.
All-thanks for the input. It is great to chew over the good times and share memories with like minded folk. There's nowt like it. I grew up in Scholes in the 50s and 60s and was horrified what was done there (late 60s and early 70s)in the name of progress, completely ruined the lives of folk and destroyed the society that many said was parochial but there's nowt like it these days. The great thing about the Wigan fairs bringing us all together in relatively hard times to have a good time and enjoy the atmosphere. God forbid if the elf and safety brigade had been around those days, Killed it dead they would. Same with all the old pubs. My Gt Aunt Annie Doran ran the White Swan in Lower Ince for many years and my Granddad, Jack Critchley, regularly played the piano there for free ale, (and also in the Mount Pleasant in Scholefield Lane). He couldn't read a note of music but boy could he play. Could change key for all the part time singers no problem. He only had to hear a tune once and he could play it! Just like your memories I can see him now ciggie in his mouth or on top of the piano burning down with the ash getting longer and longer to fall off onto the keyboard. Wish I had half his talent but alas I haven't. Great shame but those days have gone for good me thinks.
I remember it well, my uncle used to pick me up from school to take me,could not wait to ride the big wheel, he would swing the chair when it stopped at the top
Comment by: irene roberts on 8th August 2012 at 21:05
What wonderful memories, JohnAlan. Yes, it's good to share them with like-minded people. Long live Wigan World.....I don't think there's anything like it anywhere else. Keep the memories coming!
Comment by: june ashurst ,fleetwood on 10th August 2012 at 20:29
loved the funfair my mum and dad always took me,what awonderfull smell black peas engine oil candy floss and best of all the sound of laughter, magic, happy days,
Close to tears with the memories that you've all brought back. Drives me mad when I think of all the good stuff that the young ones have missed about Wigan. It has no soul now. So sad.