Photos of Wigan
Photos of Wigan
Album Contents
Album Contents
Wigan Album
Market Square
7 Comments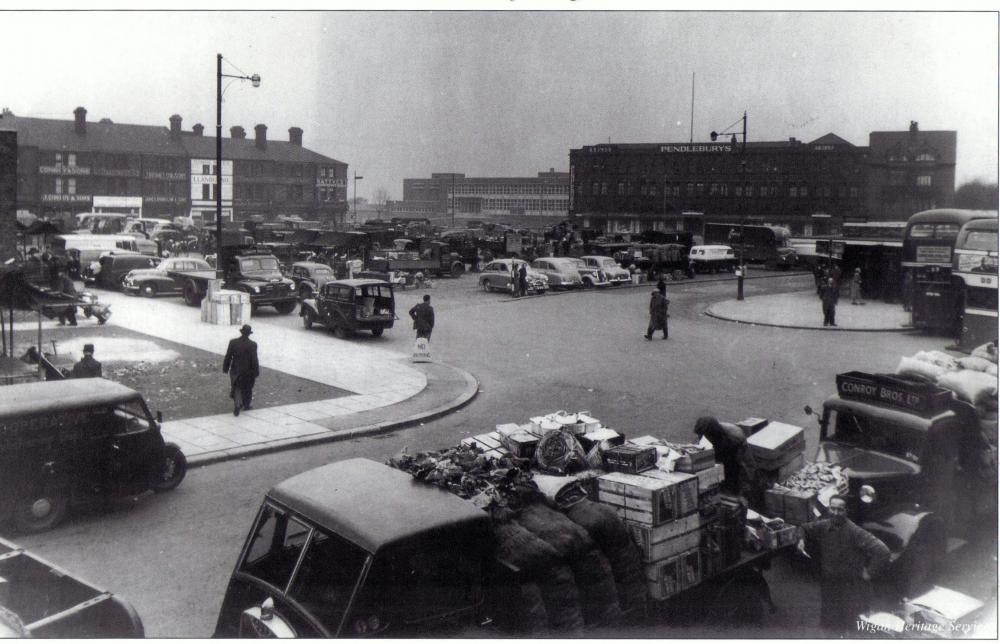 market square
Photo: aitch
Views: 2,816
Item #: 20278
A shot of the Market Square just after Pendleburys had taken over the Gas showrooms
Comment by: Dave C on 27th March 2012 at 10:50
Looks like Conroy Bros. were doing brisk business back then, judging from the wagons laden with fruit and veg parked up outside.
I worked there during the late 1960's as a schoolboy, before they moved out of town with the rest of the wholesalers, to Marus Bridge. It was an early start, about 4.30am, butthen again most of the deliveries had finished by 2.00 pm. Used to cut the hanks of bananas up in the basement, where they had been ripened, box them up and wheel them across to the Market Hall on trolleys.
Comment by: derekb on 27th March 2012 at 11:36
Is my memory playing tricks or did Pendlebury's take this building over from O G Rushton's and the Gas Board subsequently take over from Pendlebury's?
Comment by: Roy on 27th March 2012 at 14:26
Yes, i think that,s correct DB.
Comment by: aitch on 27th March 2012 at 15:09
The building was originally Rushton's, the name is still there on the side I think, at one time Rushton's was one of the biggest shop chains in the north, and that building was their head office, there used to be one in Ince at the corner of Manchester road and Humphrey street, opposite Ince Green Lane, as to when the gas showrooms took over I cant really say
Comment by: ntwainright on 30th March 2012 at 23:00
Was not the top floor used as an annex to Wigan Tech in the 1960's?
Comment by: Mick on 31st March 2012 at 08:42
ntwainright - The Tech. were still using it in the 1980s.
The reason Pendleburys were using the building was that their own store had been destroyed by a fire and moved here while it was rebuilt.I think it would have been mid 50's.The Market Square was where the fair used to be held.