Photos of Wigan
Photos of Wigan
Album Contents
Album Contents
Wigan Album
Dorning Street, Wigan
13 Comments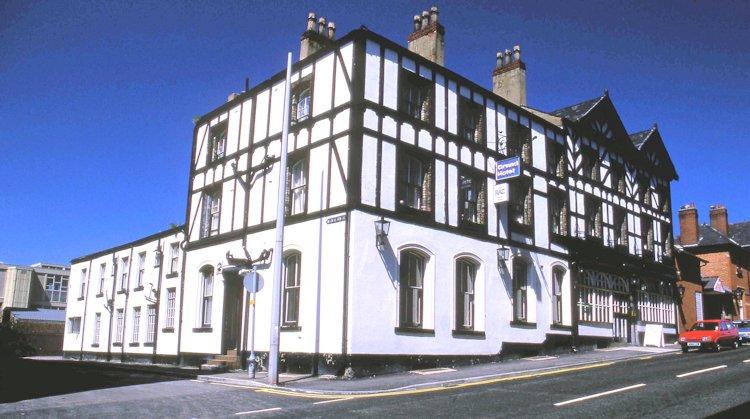 Grand Hotel
Photo: Tom Sutch
Views: 5,034
Item #: 20269
Grand Hotel Dorning Street in better times. 12 June 1988.
Comment by: Bernard on 22nd March 2012 at 14:47
The Kinks stayed there, after their first T.V. appearance in Manchester. Still got the autographed menu somewhere?
Comment by: Tom Walsh on 22nd March 2012 at 16:46
It's quite strange, I referd to The Grand. Hotel earlier this week ,regarding The Brocket Arms photograph as mentioned then it's in a sorry state now .It is to be hoped that something is done soon , it gives a poor impression of Wigan,particularly being so close to the bus station. In its hay day it was the premier hotel in the town.
Comment by: winder on 22nd March 2012 at 20:04
Buddy Holly and the Crickets stayed there as well!
Also, I had my wedding reception there, in 1973.
The Grand used to be a nice place.
Good pic, Tom.
The Grand Hotel had the right name GRAND. We had our wedding reception there in 1961.
Comment by: Dave C on 23rd March 2012 at 09:15
This is where I met my wife, on the 6th February 1981.Brings back a lot of memories. So sad to see it in the state its in now. Drinking in the lower bar (was it called the Colliers Bar ?), you were a bit posh back then. Having said that, you really were posh if you took your date for a drink upstairs in the Cocktail Bar on the Clarence (now Harrys Bar). How times have changed.
Comment by: David Simm on 23rd March 2012 at 11:27
Very Sad to see such a fine place so badly managed, I used to go there every week as a member of Wigan Round Table 78, in 1960s, we held our meeetings in that cellar dining room until one day we saw a pretty big rat crawling inside of one of the overhead light diffusers.
Comment by: steviegoko1958 on 23rd March 2012 at 11:46
next door , what is now the anvil was the all saints tavern , first pub i ever bought a pint i was 14 and it was a sat afternoon , then mates dad followed us in and turfed us out
Comment by: John B on 24th March 2012 at 16:15
Played our first ever gig in here, around 1978. I was with Katch5 - and I bet not a soul remembers them?
Comment by: irene roberts on 25th March 2012 at 14:13
There are pics of Katch 5 on the album; under "Assorted", then "Abram Pop Groups".
Comment by: John B on 25th March 2012 at 15:57
Hey you're right Irene. I'd forgotten about them. The brain cells are dwindling fast now !
Comment by: Linda Massa on 4th February 2017 at 14:50
Been to Wigan today and out of curiosity walked down Dorning Street where I worked in the 60's, The Grand Hotel is completely different today to the one in the photograph. Such a shame.
Comment by: Vickie Bumby nee McKenna on 28th July 2018 at 17:39
My mum Diane Winstanley new McKenna used to work here in the early 90's behind the reception. I used to love going to visit her at work but the stories of the building being haunted scared me as I was only about 5 or 6. Y mum and step-dad had their wedding reception held in the room downstairs in May 1993. I can still remember the smell of the hotel now!