Photos of Wigan
Photos of Wigan
Album Contents
Album Contents
Wigan Album
Plantations and Plantation Gates
11 Comments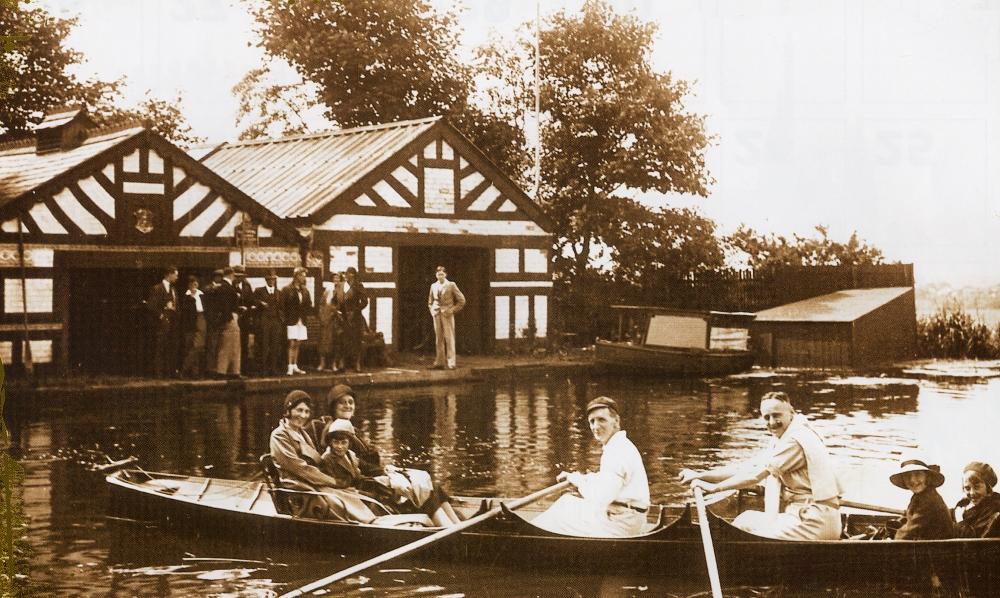 Wigan Rowing Club c.1930's
Photo: RON HUNT
Views: 1,601
Item #: 19834
Photograph taken in the basin off the L.&.L. Canal. The boat houses were demolished some years ago
Comment by: Maggie on 8th February 2012 at 13:26
I know this little pond well and never new there was a rowing club there - how rich must they have been? Shame it it had to go.
Comment by: Sam Bar on 8th February 2012 at 15:10
original photo or out of a book?
demolished? destroyed by fire I thought
Comment by: panc on 8th February 2012 at 16:30
The boathouse was burnt and vandalised in the '50's.
My friend rowed there and he was certainly not rich.
Comment by: billy g on 8th February 2012 at 16:38
Boathouse just left to go to rack and ruin, we used to watch the rowers usually on a weekend.
Comment by: carol on 9th February 2012 at 08:01
For the benefit of the 'younger' members, where would this be located on a modern map? Ta.
Comment by: History Bob on 9th February 2012 at 09:10
It was at the end of Hall Lane off Leyland Mill lane
Comment by: Mick on 9th February 2012 at 10:49
Carol - walk through the Plantations up the main drive to the hall, and when you reach the bridge over the canal, turn left onto the towpath, towards Red Rock. The basin is only a short distance along.
Comment by: Ron Hunt on 9th February 2012 at 12:11
If you go to; PLACES. HAIGH. There are a couple of pictures of the Boat House. You can see, in relation to the canal bridge, where it was
Comment by: Maggie on 9th February 2012 at 14:47
Hello Panc - your friend may not have been rich but those in this 1930's photo don't look poor. Still it's a nice photo.
Comment by: Art on 9th February 2012 at 14:49
That water was known as "The Basin", which gave an alternative name to Hall Lane...Locally, "Basin Lane"
In 1956 I was a cox (age 14) for WRC. No one was particularly rich. Tom Malone, the Club Captain, was a teacher. The club membership was dwindling at that time because the basin was too silted up for boats to get in and out easily. We had to launch the fours bow first and shot them through the bridge so the crew could get in at the canal bank. Only skiffs and dinghies could use the club dock properly. There were no funds for dredging and little to maintain the boathouse. The club was unable to attract serious rowers because the canal itself is too narrow for racing; it is only usable for training to race elsewhere. The boathouse became a target for vandalism and eventually was destroyed, but it was in poor shape for a long time before that.