Photos of Wigan
Photos of Wigan
Album Contents
Album Contents
Wigan Album
Whelley
11 Comments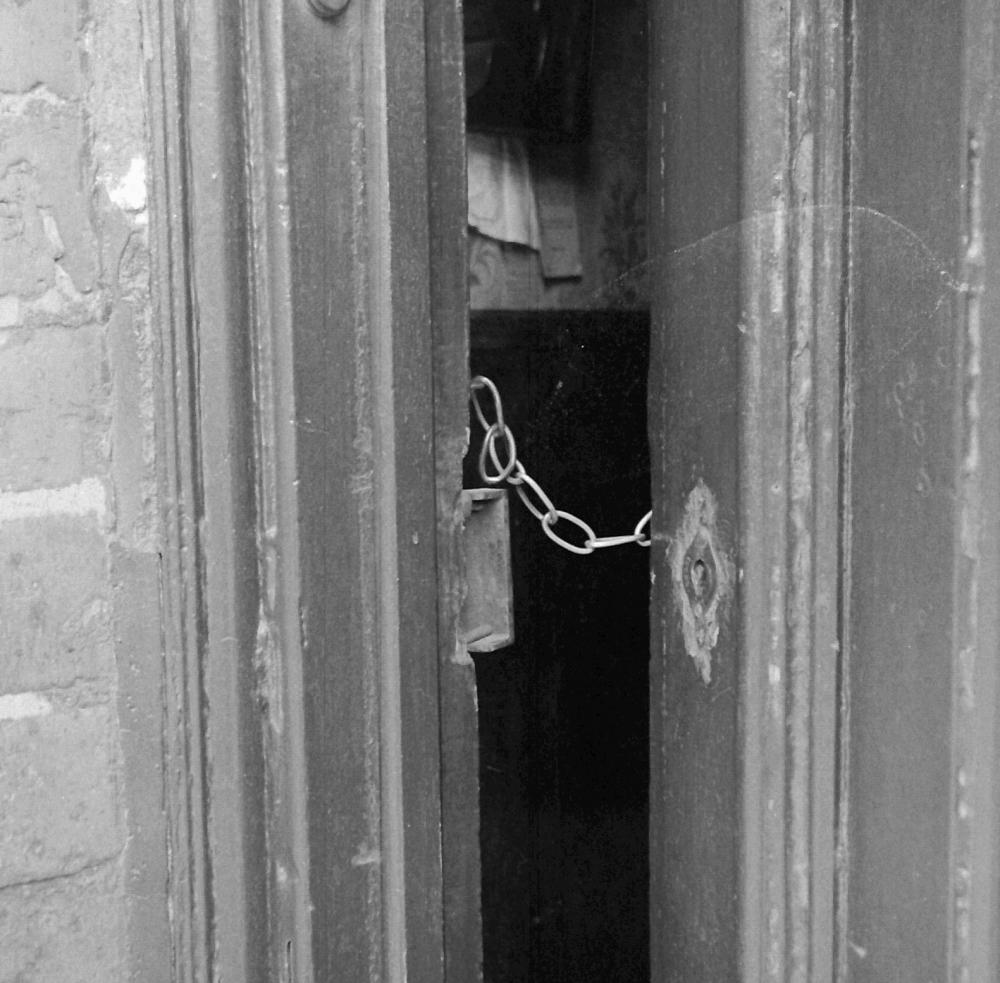 The door was always open at 15 Whelley
Photo: Stuart jarvis
Views: 2,011
Item #: 19004
My grand parents had this chain on the door at ho 15 Whelley so family, friends and neighbours could just walk in. Would you do it now?
Comment by: Mick on 24th November 2011 at 18:14
We used to have a secret key danging on a string behind the letter box so we could let our selves in.
Comment by: Dennis Forshaw on 25th November 2011 at 13:23
In the street where I live some neighbours still leave their front door unlocked. Neighbours pop in and out daily.
Comment by: irene roberts on 25th November 2011 at 14:24
So did we, Mick, and everyone knew about it! Nevertheless we were never burgled.....nothing worth pinching, I suppose; but neighbours could have found the door wide open and never dreamed of taking anything in those days.
Comment by: Helen on 25th November 2011 at 21:12
Irene, you are so right, people never locked doors because most people were honest, sad state of affairs today when an open door is ripe for the picking.... I am always saying in the evening...Have you locked the back door ?.....
Comment by: Gerry on 25th November 2011 at 21:24
We too left our back door open till a dog run in and pinched my dads tea off the table........ We thowt it really funny... mi dad ner laughed at the time... but then after a few years it became folklore, and he told the story at every oppertunity.... me and our Bill still laugh at it yet
Comment by: Ellen on 26th November 2011 at 07:14
We are fortunate,in our small town,that the only reason we ever lock our doors is to placate the insurance company!
Comment by: Maureen Andrews nee McGovern on 26th November 2011 at 13:11
My Mam used to leave the door open and money on the sideboard for the butcher's lad,or anybody else that needed paying who would call when she and my Dad were at work and my Brother and myself were out..they were very honest folk then.
Comment by: roy thompson on 31st January 2012 at 03:31
you have all forgotten the thugs who robbed the gas meters. you could tell who they where as they paid for everything with shilling pieces
Comment by: AP on 9th January 2013 at 20:34
Yes! I recall that we did leave our door unlocked.

And yes, I recall that we did get robbed (money) in the late 1950's and then stopped doing that.

However, that door is on a chain: I still leave my door like that so that postman can leave packages without disturbing me.
Comment by: Stuart Jarvis on 19th May 2013 at 16:22
Just spotted your comment AP. yes the door is on a chain but it was not secure it was only on a hook and stopped the door from blowing open.
Comment by: Al on 4th December 2014 at 16:42
I think the idea that people left their doors open in the old days because it was safer back then than now is quite honestly a load of rubbish. If you look back at crime you'll find that crime and burglaries were quite common and that today are actually less so. The fear mongering of crime today has been caused by the media, newspapers and TV by large. People don't leave their doors open like this today simply because we have lost that connection and communication with the people next door, the neighbours and people in the local area we once knew like they were part of the family. How many people today really know their neighbours? not many I can imagine. People are too closed off in their own worlds and reliant on the modern trinkets and luxuries with their flatscreen TVs, ipods and busy work lives to be interested in the people nextdoor and having a good old friendly chin wag. Certainly happier times than today, know iphones but we had each other.