Photos of Wigan
Photos of Wigan
Album Contents
Album Contents
Wigan Album
Plantations and Plantation Gates
10 Comments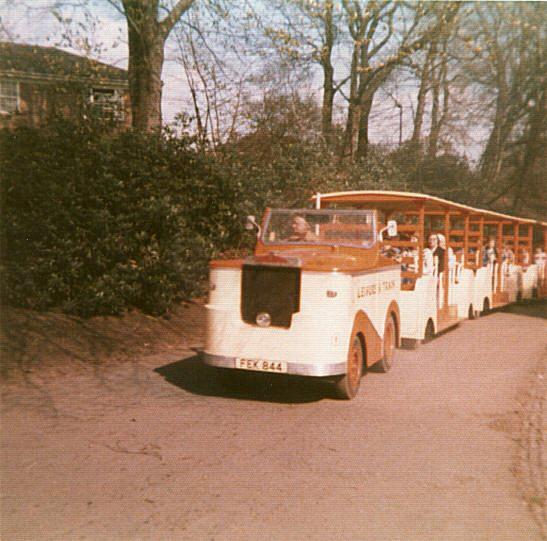 Haigh Hall tractor
Photo: Ian B
Views: 4,183
Item #: 18838
Any idea what year the council stopped running it?
Comment by: Ste Wigan on 4th November 2011 at 17:59
Comment by: Big Dan on 5th November 2011 at 11:13
From what i can see on the DVLA site Mercury Tractor FEK844 is still taxed until Aug 2012... al be it painted green now.
From what i have read it ran until the early 80s.
I think it maybe in private ownership with a collector now
Comment by: dave c on 5th November 2011 at 20:48
I was once told that Wigan Borough Council obtained the tractors and the trailers from Burtonwood Airbase after the War. They were used to transport Bombs from the munitions dump to the planes on the runway. The seating areas for the passengers were added to the originsl chassis bases, which formerly had half round cradles so that the bombs spanned from side to side. I have seen somthing similar on Historic archive footage of the RAF in the Second world War. Can anyone verify this ? Nice nostalgic photo anyway. Spent many a summer Sunday on these travelling up to Haigh Hall. Sadly missed
Comment by: Big Dan on 6th November 2011 at 09:12
This one is showing as first registered in 1959, which coinsides with the closure of the base, so it could have passed into civi use and been registered at that point. They where used in a lot of bases and aiports at the time so its more likely that this was bought new as a leisure train rather than a modified airside vehicle, and the closure of the base, with its appearance at Haigh Hall led someone to add 1 to 1 and get 3, and then its become a bit of a local myth!
i could be wrong though
Comment by: Big Dan on 6th November 2011 at 09:14
Actually, found some info and more pictures of it -
http://freespace.virgin.net/neil.worthington/tractor.htm
Comment by: Justin Pennington on 2nd March 2013 at 00:47
I just looked on DVLA and its now taxed until August 2013 and its colour is listed as green.Would'nt it be great if the current owner brought it back for a nostalgic re-run from the plantation gates to the hall
The Tractor lives in Aspull
and is now in its original green and cream livery.
Comment by: Barry Cusick on 29th March 2014 at 14:47
does anybody know who owns this Tractor now
Comment by: steve on 11th May 2014 at 20:45
The tractor is in Aspull
near the gerrard arms at the bottom of Bolton Rd.
Comment by: Mr X on 3rd June 2018 at 21:29
How many tractors were there? I remember FEK844 and JEK128 I think.