Photos of Wigan
Photos of Wigan
Album Contents
Album Contents
Wigan Album
Market Arcade
8 Comments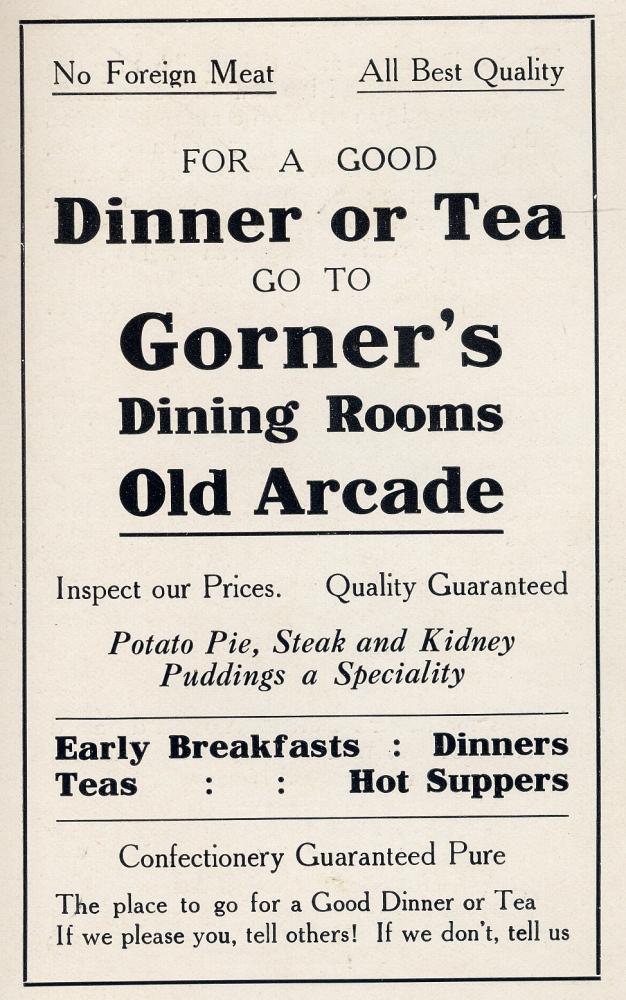 Advert for Gorner's Cafe c. 1914
Photo: Ron Hunt
Views: 2,400
Item #: 18748
Advert for the much loved Gorners Cafe, which was located at the bottom of the Market(Little) Arcade. I can smell it now...
Comment by: irene roberts on 23rd October 2011 at 16:58
Comment by: Chris on 23rd October 2011 at 17:10
Wow Ron that conjures up some good memories, like the no foreign meat bit, wish we had those adverts in cafes today telling you where the meat comes from. Can't get a steak & kidney pudding like Gorners used to sell today.
Comment by: irene roberts on 23rd October 2011 at 17:15
PS: And I love how it says "dinner or tea"; WHY have people in Wigan started saying "Lunch"?! You hear it everywhere these days. I come from Wigan where the mid-day meal has always been "dinner", and mine always will be. I am probably going to get it in the neck for this but I am proud of my heritage and getting fed up of this trend for copying people from other places, as if they are superior, although I suppose "lunch" is tame compared to "twenty-four -seven", "you guys" and all the other Americanisms/Australianisms that have crept into our language. Why can't we just be who we are?
Comment by: beowulf on 23rd October 2011 at 17:21
"No Foreign Meat": definitely no Angus Burgers then!

(Only jokink)
Comment by: Ken R on 23rd October 2011 at 18:45
Had a few dinners in there and then went to the weighscale opposite to see how much I had gained
Comment by: Helen on 25th October 2011 at 09:02
Quite right Irene...I with you !
My pet hate is people being interviewed on TV/radio who keep saying.....absolutely...... !!
Comment by: Gerry on 25th October 2011 at 09:12
My Uncle Willy (god bless his soul) was taken to this cafe aged about seven by his dad (my Grandad) it was a Friday lunch time and they ordered meat pie and chips. Half way through the meal Grandad realised it was Friday and as good catholics they should not be eating meat. Grandad said to Willy "When we get home, if yer mam asks what we had for dinner tell her it was apple pie" Of course when they arrived home mam asks "Have you had a good day? what did you have for yer dinner"? Willy says "Apple Pie....................with meat in".
Comment by: IRENE ROBERTS on 25th October 2011 at 09:32
THANKS, HELEN, I'M WITH YOU ALL THE WAY. GERRY, YOU NEVER FAIL TO COME UP WITH A GOOD STORY TO MAKE US LAUGH!