Photos of Wigan
Photos of Wigan
Album Contents
Album Contents
Wigan Album
Greenough Street, Wigan
22 Comments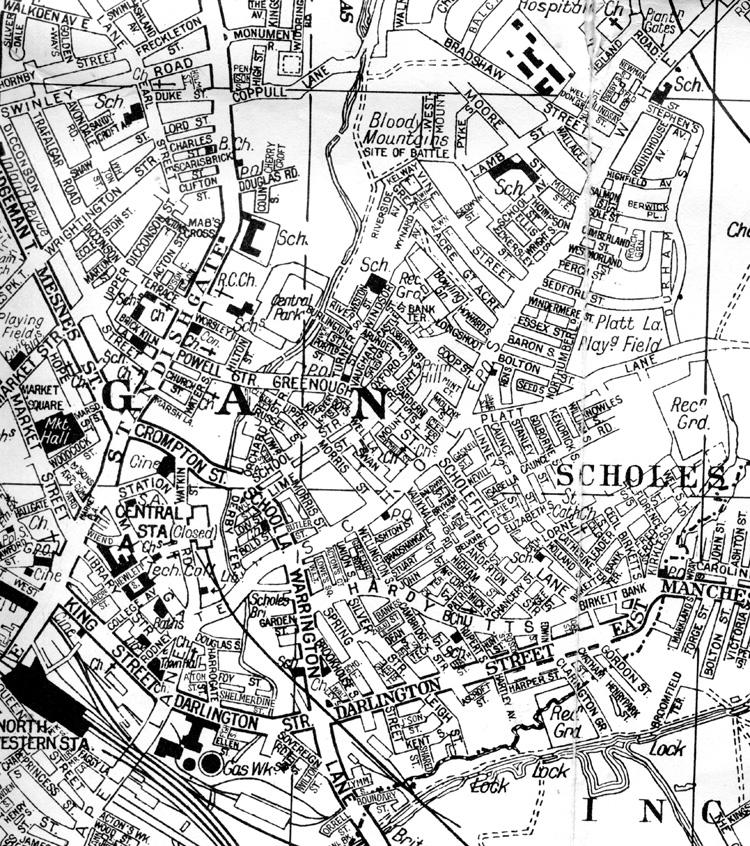 Greenhough St area - street map
Photo: Jim Banks
Views: 9,111
Item #: 18293
Scanned image of an old street map of Wigan focusing in on the Greenhough Street area.
Comment by: Jim Banks on 18th August 2011 at 18:25
Not sure date this map was printed - lost the front cover and there's nothing on the map. Maybe bought it in the late 1960's. I thought it might help to answer some of the questions about the names of the streets off Greenhough St. There are one or two abbreviated names that might be difficult to read such as Westminster St.(between Portland Street and Burlington St
Comment by: Kenee on 18th August 2011 at 19:10
Bloody Mountains - site of battle.
I haven't seen that on a map before. Which battle ?
Comment by: irene roberts on 18th August 2011 at 19:29
Comment by: marieg on 18th August 2011 at 19:31
I believe it was the "battle of Wigan lane" 1651
Comment by: tricia on 18th August 2011 at 19:40
It was the Civil War, Cromwell's lot v The King of England.
Cavaliers and Roundheads.
Longshoot was so named because Cromwell's canons fired canonballs down to the Parish Church from there. I think the marks can still be seen and someone will correct me if I am wrong but I think there is still a canonball lodged there to this day (???) The town was a Royalist stronghold , hence the Motto 'Ancient and Loyal'
Comment by: Mick on 18th August 2011 at 22:58
Also heard Longshoot got its name from being a site where archery was practiced, when it was compulsory.
Similarly Hardybutts.
Comment by: tricia on 19th August 2011 at 09:06
Yes, Mick I heard that too. Also that Bonnie Prince Charlie spent the night in the Tower at the Parish church and also in a house at Bridgeman Terrace. There is also the Monument at Monument Road in connection with the events.
Comment by: Scholes Malc on 19th August 2011 at 10:18
Never known as Bloody Mountains as a kid but as 'Camels Hump'!
Comment by: tricia on 19th August 2011 at 11:16
That is right, too , Malc, says my O.H.
Comment by: DerekB on 19th August 2011 at 15:15
Malc, when I went to St. Georges School the Camel's Hump was where we were taken to play our weekly game of football. Thinking back on it, I don't know how we ever managed it as I don't remember it being level anywhere.
Comment by: micky east on 21st August 2011 at 15:42
map probably dates from 1965/66.states on map wigan central station closed.last trains november 1964
Comment by: flaggy delf on 22nd August 2011 at 12:31
Regards Bonnie Prince Charlie see plaque on building across from Anvil pub by bus station
Comment by: Jimmy R on 23rd August 2011 at 15:40
To Scholes Malc, Dont know where you lived as a child , I was born in the scholes area 71 years ago, The Camels hump was also well known as the Bloody mountains, Houses on there now, Site of Civil war battles,
Comment by: TONY on 11th October 2011 at 18:46
IT WAS ALSO KNOWN AS WYNARDS HILLS
my grandparents lived in Platt lane nr Jane Street spent all my young days at Scholes park and camels hump!!
used to love playing on the camels hump also the little jungle down the water side
Comment by: Barry M on 17th September 2013 at 15:26
Camels Hump never in the memory of man was it called Winnards hills,