Photos of Wigan
Photos of Wigan
Album Contents
Album Contents
Wigan Album
Ince
22 Comments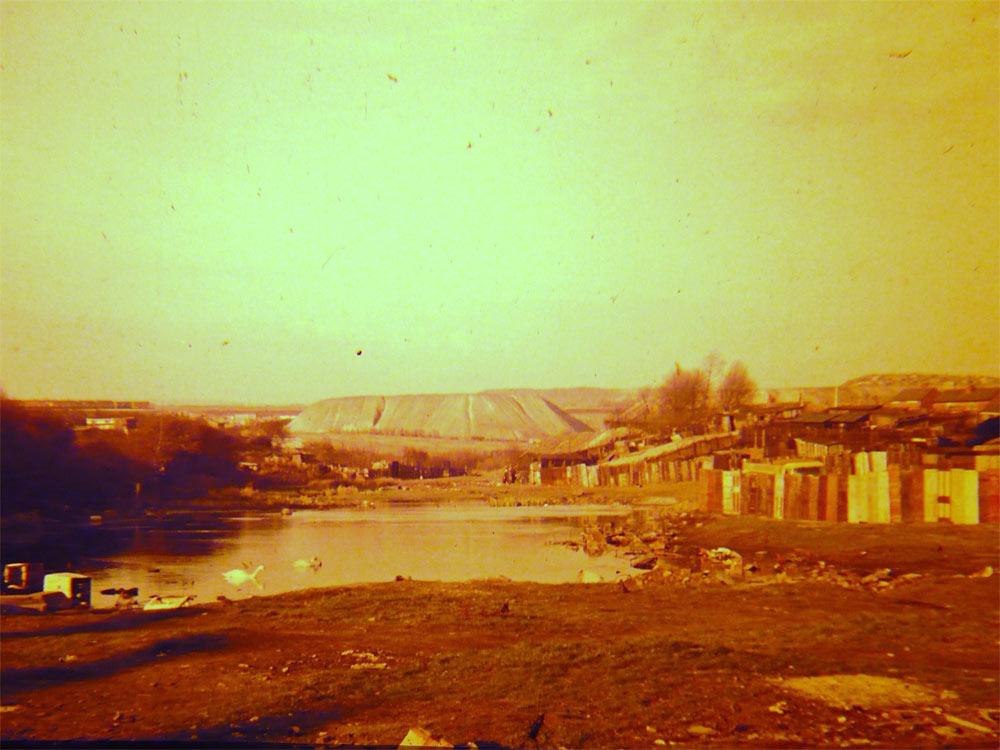 Clarry
Photo: Bill Bithell
Views: 4,817
Item #: 15959
This is a photograph of the pond, known locally as the 'Clarry', into which the Clarington Brook flows, a view which is no longer to be seen. In the background are the slag tips from local collieries which now form part of the playing fields of Rose Bridge High School. On the extreme right background the hill is composed of slag from the Woodshaw Colliery at Top Lock, Aspull. To the right of the pond is to be seen fenced areas. These were known locally as 'Pens'. It was behind these which local men had allotments or kept pigeons. Originally the pond was a sizeable lake liable to flooding. Now it is a shadow of its former self virtually overgrown, although Clarington Brook still drains water from the outlying fields, flowing underneath the main road from Wigan to Hindley and then down through the fields alongside Darlington Street, to cross underneath Warrington Road before entering the River Douglas. It was this stream which formed the boundary between Wigan and Ince.
The brook originally ran along the northern side of Boundary Street, and the turned south-westward in the direction of Westwood - whence it flowed into the headwaters of the Glaze Brook, which flows southwards into the Mersey. When the Wigan Flight was constructed to carry the Leeds and Liverpool Canal up from Westwood to Aspull the brook had to be diverted across the watershed, to drain into the Douglas, which flows northwards into the Ribble. However, water from the Douglas is diverted into the upper Poolstock pound of the L&L, at the junction of the Main Line with the Leigh Branch. The water then can be used either to provide for lockings down into the Leigh Branch (i.e. eventually to reach the Mersey via Runcorn), or onto the Main Line (i.e. eventually to reach the Ribble via Burscough, or the Mersey via Stanley Dock.
The imaginary line of the brook is still, however, the official boundary between Ince and Wigan. The Church of England finally caught up with this anomaly last year, and made the canal, not the old line of the brook, the boundary between St Mary's Ince and St James with St Thomas, Poolstock.
Comment by: Barrie Winrow on 9th October 2010 at 09:36
Thanks for putting this photo on here. I spent many an hour playing round the clarry when I was young. My dad used to fly his pigeons from the pens to the right. We used to have a bonfire here every year, happy times.
Comment by: JohnB on 9th October 2010 at 12:23
I can only speak about the Brook in connection with its dividing point in Clarington Grove. I was told that after the damage caused by Zepellin bombing in 1918, the Brook was culverted underground. Unfortunately the culverted walls gradually eroded over time and caused, eventually, the demolishing of the Grove, where my grandmother and mother lived.No houses remain in the Grove.
Comment by: XXSTUARTXX on 9th October 2010 at 16:23
Threw many a stone in there eh Barry?
Comment by: Scholes Malc on 9th October 2010 at 20:29
spent many an hour by the 'Clarry'and we often raided your 'bommy' Barrie - We were the 'Brooers' and you were the 'Clarriers'- grey hills in the background with wagons on the Whelley loop line - the Clarry used to be our skating rink in Winter - can always remember swans on it but I can't for the life of me remember anyone fishing in it
Comment by: roy thompson on 10th October 2010 at 02:21
my childhood was spent around the clarry and the clay pit in platt lane also the slag heaps from the disused mine side of the canal i remember the clarry being a lot bigger than the picture without the floating debris and yes there where swans and malards and water hens with an abundance of bullrushes and reeds with frogs and lizards of all kinds infact i used to play on the slag heap and the disused mine and i marvel that nobody fell down the shaft as it was still accessible with no safety precautions how our lives where filled with adventure playgrounds in those days tom sawyer and huckleberry finn had nothing on us
Comment by: JohnB on 11th October 2010 at 09:00
Woud that be Roy Thompson who went to St Catherine's school in the early 1950's by any chance?
Comment by: Barrie Winrow on 11th October 2010 at 14:53
Your right stuart thrown many a stone in there, and sailed/raced many stick down the small brook that lead into the clarry. The brook ran from the bottom of ashton street along the edge of the pens to the right.
Malc, you don't kow how many times I ran home and say them lads from top of broo are nickin our bommy. I wish we could go back to those times. Stay well dudes.
Any of you boys get your legs stuck through the irons bar of the water outlet,,a kind of brick built structure with curved bars,forming a barrier to stop lafge bit of debris being washhed down the "brook",,,there seem ed to be never ending lads getting there legs stuck,,,.word would go out and loads of us would go and gawp at the unfortunate person,,,,,was a "Birky Banker " misel(well near enuf,lived at Clarington Brook,,last house in darlington st east,,,but yes adventures on the grey hills and rockies,,,,,in the wagons on the sidings over Platt Lane Fields,,,,walking the Iron Bridge,,,you right roy about the dangerous escapades but what the heck,,,,dont ever think we vandalised owt to the extent what happens today though or hasseled folk,,,,tap latch but that was about it,,,
Comment by: xxStutartxx on 14th October 2010 at 22:04
Didn't get trapped myself Jim, but remember a lad called Morris Hill getting stuck. Remember Morris, Barry?
Comment by: Barrie Winrow on 15th October 2010 at 15:48
Jim, was the culvert at the bottom of Ashton street?

Stu, intit funny after all this time I'd forgot people but I now remember Morris.
Comment by: XxxStuartxx on 16th October 2010 at 00:43
Barry,
A few more names from that era you may remember:
Brian Jarvis, his older brother William (Bill), Peter Foster, David Hyde, Paul Mcgrath and a lad called Burrell, can't remember his Christian name.
The culvert was at the bottom of John Street.
Comment by: teresa on 16th October 2010 at 15:57
in reply to jon b about clarington grove. there is actually 1 house left on clarington grove, right at the top as you turn in from darlington street. it is called brookland house, 2 clarington grove. i used to lived there for 3yrs until 2006.it is still there.
Barry,,,it was bottom of Kirkless St,,,just down the broo ,,or taking the view from the picture it was on your left,,
I remember Brian Turner and Leslie Peet both from Birkett Bank,,both getting a leg stuck,,different occasions and if I,m not mistaken David Morris who lived in Kirkless St was another one,,,
Comment by: roy thompson on 18th October 2010 at 03:55
yes JohnB tis i the original RT from Thickness Row Platt Lane also St Catherines and Whelley i love to visit these pages and photographs that have the magical power to transport my mind to my golden youth, when i read some of the names and photo,s i am back playing in the woods or along the canal, no one could understand unless they have lived the time
Roy,, you nailed it one there,,about being transported back in time ,,,thats just how i feel,,,maybe its the age of us,,,who knows,,,,i think you where a couple of years older than me at St Catherines but i do remember you,,,
Comment by: roy thompson on 27th October 2010 at 16:05
sorry if i can,t put a face to the name jim which is another age related thing, maybe i will bump into you on one of my many visits back in time and play hide and seek on the rockies (rabbit rocks)or play pops or skilly or throw out can or any of the 1000,s of street games we played although i could,nt beat any of the girls at skipping or hopscotch. i think one of these days i will stay there and not come back
Comment by: Barrie Winrow on 30th October 2010 at 19:07
Stuart: The names that come to mind beside my relatives from Ashton St and John St (Swain, Taylor, Foy, Higsons) are Paul Mcgrath, Peter Foster, Malc Bamber, Phil Dumican.
Comment by: del on 7th December 2010 at 20:28
my grandad was a foy he lived in leader st my mum is mary i remember clarry
Comment by: melvyn clarke on 12th February 2011 at 17:43
me and danny aspinall had a fight at the side of the clarry first day at rose bridge 1964 became good friends after
Comment by: Barrie Winrow on 21st November 2011 at 20:26
Del your grandad paddy lived is Ashton street when I was a kid . Your mum was always in our house and looked after me when I was a baby.Give your mum my regards wizzerwin.
Comment by: Sharon Farrell ne lowe on 13th January 2014 at 14:35
I lived in john street the very end house which flooded every time it rained me and my sister Karen used to love getting our fishing nets out and sitting on our stairs and fishing . All the neighbours used to come to the houses and move all the furniture upstairs including rolling up the carpets , mum and dad ....Brian and Doreen Lowe ... Used to then claim on the insurance for new carpets etc we lived next door to the party's does anyone remember us or them .... Many happy days catching newts and taddies int clary ....