Photos of Wigan
Photos of Wigan
Album Contents
Album Contents
Wigan Album
Ince
35 Comments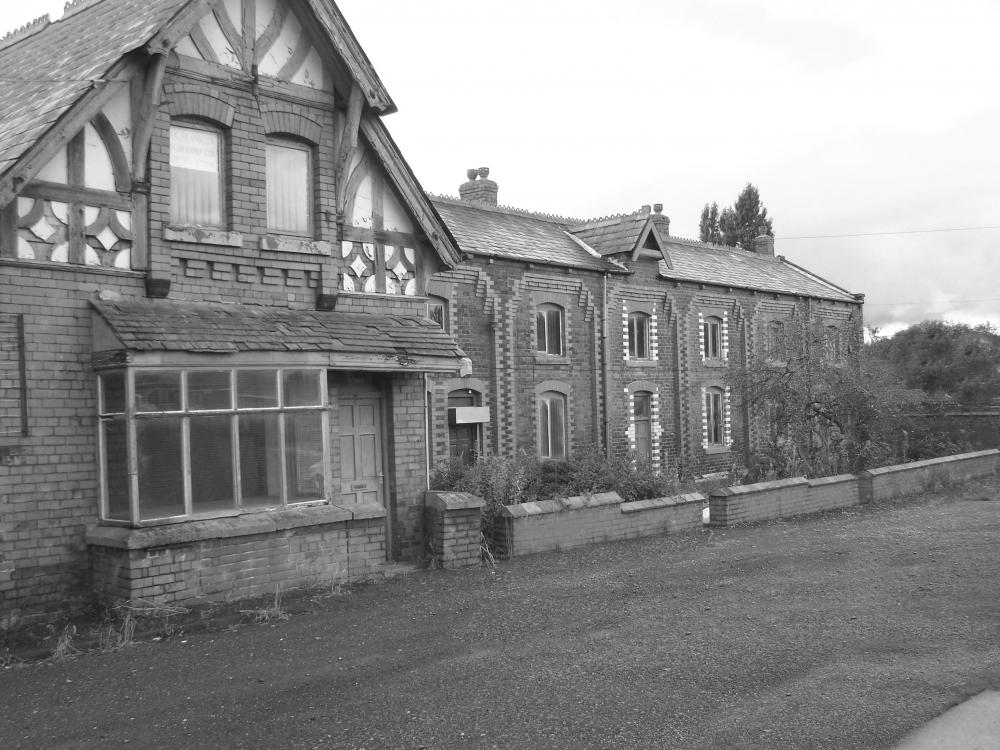 Cottages in Ince
Photo: Gerry
Views: 4,304
Item #: 15833
Probably, only true nosey parker Incers will know where these are. If you know, send me a note at cloggy1@live.co.uk .. lets see how many know where it is. I will reveal all in a couple of weeks to those who don't
Comment by: aitch on 23rd September 2010 at 17:43
Its a shame its falling into ruin, seen better days, when I worked close to the place in the 50s
Comment by: Gerry on 23rd September 2010 at 18:48
I just knew the stalwarts of INCE would know this place aitch but unless you were very brave to peep in here they were a top secret
Comment by: Moz on 23rd September 2010 at 21:46
Is this inside Belle Green Industrial Estate just up from Donald Bradley Nortons Hardware Shop Gerry?, may be way off, My best mate at school did his school work experience at Belle Green Engineering on this estate, and there were some none descript houses like these on the left hand side as you walked in. Did my school experience at Gullicks 1991, even though I asked to work in a cushy number in a bank somewhere or other ha!
Comment by: tony on 23rd September 2010 at 21:50
is it smiths dairy of belle green lane
Comment by: dave on 23rd September 2010 at 22:21
its old smiths dairy just of bellgreen lane
Comment by: Gerry on 23rd September 2010 at 23:35
Thanks to the last three spoilers who did not read the first comment................
Comment by: John on 24th September 2010 at 09:28
It's an easy one this....
Comment by: janet on 24th September 2010 at 12:53
I don't know Ince at all, apart from going to the Crem at Lower Ince..I just think it's such a shame the cottages are in such a state of disrepair..I bet they were lovely at one time...
Comment by: tony on 24th September 2010 at 13:17
sorry to spoil your fun gerry but i'm going away in a couple week's
Comment by: Moz on 24th September 2010 at 22:04
I messed up there Gerry giving the game away, Soz, but tha come on ere and challenged true Incers into not knowing pal, we caunt wait a week fort answer, I was like a cat on a kipper on that photo!, walked past them houses everytime I went to my Grans in Battersby Street.... Keep these coming. It is very interesting to us Ince folk, make them tougher though next time matey!
Comment by: Gerry on 25th September 2010 at 10:22
Hey up Moz did you contact Sandra And Brian R
Comment by: Moz on 25th September 2010 at 11:48
To'reet Gerry, was with Brian a couple of weeks ago at a christening, he remembers you and chucking up in St Williams midnight mass. Sandra's son came up visiting us from London with his baby last week, I showed him the
Coops foto you posted on here of you and her, he laffed and emailed it to her. Also spoke to Christine and my Grandma about the bywash foto near the Rabbit Rock's that's on here and when she fell in. She's never forgot it and said if you hadn't gone in and plucked her out, she'd have drowned for sure, Hat well and truly doffed to you for that.
Comment by: Gerry on 25th September 2010 at 22:57
Me and My mate Maurice Ashurt had gone out for Christams eve when we were about 16 we could not get into pubs but got into the Beachcomber under the Casino (it was for the under 18s) we walked home from Wigan to Ince, Maurice had his new Christmas suit on that his mum had let him wear on Xmas eve. we did not want to go hone a 11:30 so decided to go to Midnight Mass we sat about 4 rows from the back in St Williams church a few mins later enter Brian,.... He was Younger than us but managed to get into a pub earlier in the evening when he arrived a St Bills church he sat just behind us.. Awrret Brian I said as he answered he belched farted and threw up all at the same time Maurices new suit copped the lot.. Me Mam will kill me says Maurice.. dont worry says I, I've got the key to work in my pocket.. so we walked back to Wigan and with the key I opened up Johnsons Cleaners shop in Wallgate Wigan. Maurice took his suit off while I started up the boiler and the dry cleaning machine by this time it was about 01:30 on Xmas morning. all the lights in the shop were blazing away when there was a rat a tat on the front Window coz the lights were on we could only see our own reflections and could not make out who was knocking. when I opened the door two coppers were stood there demanding to know what was going on Maurice sat there in his under pants supping tea and me dealing with the dry cleaning machine. I am working overtime I says.. WHAT on XMAS morning says the copper you must have a harsh boss.. He then threatened to ring the boss to see if I was allowed to be on the premises (I was coz I had the key to open up at 7:30 in a morning, the ladies in the shop only came in at 9:00 After the copper had seen me operate the machine he was convinced of our story and let us off and telling us to lock up when we had finished we got home about 3:00 in the morning after walking back to Ince for a second time. Brian R never knew this part of the story coz we never saw him again I hope you will pass it on to him..
Comment by: Gerry on 25th September 2010 at 23:00
Moz forget to say Your Aunty Christine lives opposite my brother on W........... Grove
Does St William's have a Parish Magazine you can send your hilarious story to?
Comment by: Gerry on 26th September 2010 at 16:06
Moz, You have heard the saying what goes around comes around, hows this for co-incidence. In around 1926 my dad aged 6 was sailing a raft on the Deep pit at hindley with a few older boys, nearby a chap named Jack Gill was walking, my dad fell off the raft and could not swim Jack Gill jumped in and rescued him. Jack Gill later recieved a Certificate from the Liverpool shipwreck and Humane Society for saving my dads life. I went to School with Marlene Gill (Battersby St) she was the grand daughter of Jack Gill so I had a lot to thank her grandad for, so you see without Jack Gill there would have been no dad for for me, no me, and from what you say no Auntie Christine Either.
just shows that everything we do has a knock on effect on everyone else.
Comment by: Moz on 26th September 2010 at 19:06
Gerry, a very humourous and articulately put story, like you said your memory must be razor sharp. I'll print screen this page and hand it too Brian to read and laugh about. It's certainly true about that life saving comment, my auntie couldn't swim and remembers going into panic mode when she went under, luckily for her and us you were there :-) Things always happen for a reason as with your dad's story, that's why I'm a firm believer in fate, and it has served me well throughout life. My Gran still refers to you and your brother as 'Gerald and William', she's still stuck in the 50's in that sense... To which my auntie exclaimed don't let Bill hear you call him that!
Comment by: Moz's Missus on 26th September 2010 at 19:24
Gerry i found this story hilarious, especially as it was Christmas Eve-Morning too. Newt time i see uncle Bri i will remind him of this and take the mickey out of him too. It really tickled me you opening the shop to clean your mate up ha ha :-)
Comment by: josie pennington nee beckett on 26th September 2010 at 23:13
FUNNY STORY CUZ, IS MOZ MAURICE FURLONG?. THOSE WERE THE DAYS I WOULD GO BACK TO IT IN THE CLICK OF A FINGER NO TROUBLE.AND MAURICE IF ITS YOU DID YOU LIVE IN FRANCES ST OR ON BELL GREEN LANE?I THINK FRANCES ST.
Comment by: Gerry on 26th September 2010 at 23:19
Please ask your Gran Alice if she remembers the Big Rocking horse in the Garden shed at 14 that us kids along with your dad and aunty used to ride on (Only me mam is allowed to call him William these days)she is still around and doing great at 85
Comment by: Gerry on 27th September 2010 at 09:54
Hello Josie sorry this Moz is not Maurice Furlong I will explain when I see you as I dont want to identify Moz on here.. sadly Maurice Furlong died some years ago, last time I saw him he was playing Bass in a group in Wigan Casino
Comment by: Moz on 27th September 2010 at 20:31
Hi Josie, no I'm not the original Maurice unfortunately, In fact my name nowhere near resembles that. I 'DID' in fact choose this name tag as a tribute to my good friend Maurice B at work, whom I still work with after 12 years and is a salt of the earth guy, always helped me in the job from being alot younger and still to this day... that and a bit of anonymity on here. Gerry I'll post back when I ask Alice about the Rocking Horse and the 'Sugar Butties', which really really don't sound appetising atall ha!!
Comment by: Gerry on 27th September 2010 at 21:21
Moz... Tha cawnt be a true Incer uless tha were browt up on suger butties, brown sauce butties, dripping Butties, tomato sauce butties and treacle from a tin butties... Oh aye and Carnation milk butties.. thee ask thi fayter and thi grandma. what does that think made thi Fayther such a good goal keeper... coz he were allus diving to catch a sugar butty fawing of't Table.
Comment by: Moz's Missus on 27th September 2010 at 21:53
Gerry, we love reading your comebacks about our families and ince, we are true Incer's and it goes to show that TWO Incer's have got together from being young and you know both of our families, I'm a st billser, he werent but our parents were, Oh and Moz wouldn't mind telling you his real name is Kevin - you know his surname. You come across as a sound fella, probs loadsa stories to tell :-)
Comment by: irene roberts nee griffiths on 28th September 2010 at 08:14
Gerry, you are a natural at telling stories.....I am sore with laughing! Trouble is with me, I tend to remember things at times when I shouldn't laugh, such as in church at a wedding, and am fit to burst with laughter. Next time I'm in a solemn situation, I guarantee I'll think of you in the dry cleaners!
Comment by: Gerry on 28th September 2010 at 08:50
You Know, Irene the funniest stories are always the true ones, (when people say "you couldn't make it up") I was in a comedy band for quite a few years and the tales I could tell about those days would fill three volumes, I never get tired hearing stories from our old days in Ince. this is why Wigan World is so unique. I dont think any other town has a website like this, it so addictive, I have to log on each day to find out the next installment...
Comment by: Gerry on 29th September 2010 at 09:16
Irene I have just put another true story on Schools- Cardinal Newman -Bold Pit
Comment by: Mercury on 29th September 2010 at 10:55
I've just read this and I have tears rolling down my face! That was so funny!

Nev Buchanan
Comment by: irene roberts nee griffiths on 29th September 2010 at 14:53
Read the Bold Colliery story, Gerry.....Priceless! And yet sobering to think of young lads and even children working there. My Dad went down the Maypole Pit in Abram at twelve. Have just been to Wigan on the bus and kept chuckling to myself, and trying to turn it into a cough as I was getting funny looks! I have posted the Dry Cleaners story off to two friends, it was SO funny!
Comment by: DAVE C on 30th September 2010 at 12:25
seeing as everyones let the cat out of the bag I too would like to suggest that these buildings were on the left as you went into Smiths Dairy yard. As far as I recall it was a former brewery. My Gran lived at 114 Belle Green Lane for most of her life (Besie France) with my Uncle Joe and Auntie Nellie Moore and family a few doors up.
Comment by: Gerry on 30th September 2010 at 18:44
Yes OK you are all quite Correct. They are in the yard of what was Smiths Dairy in Belle Green Lane Oddly enough they are still there. when I was a child they were occupied. I dont know who lived in them, were they Dairy Staff? At the time the dairy was operational you could never see this view because of the amount of lorries coming and going to the Dairy, If you did manage to get yourself in through the gates some bloke would chase you out. The back of the cottages where in the entry that runs down the side of the then Vicarage, you could walk down there and shelter from the rain under the wooden balconys that these cottages had. walk further down and you were overlooking the Caravan site on Careless Lane.
Comment by: Gerry on 30th September 2010 at 18:50
Hello Dave C Do you remember a girl of about 10 years old in 1962 coming over from Singapore (she was English) and staying at her grans at number 100 Belle Green Lane. She attended St Williams with our class for a while then went back to Singapore a few months later. I remember the girl but not her name
Comment by: Dave C on 1st October 2010 at 08:32
Sorry Gerry, only spent the first six months of my life as an "Incer" then moved on to Worsley Mesnes in the mid-1950's. I only visited my Grans on Sundays and didn't go to school there in Ince. Back then Sundays consisted of Church, Lunch, Sunday School,a Walk, Tea, Radio luxemburg and then home. No playing out in your best clobber ! I rember people sitting out on Chairs on a nice evening, doors left wide open and the "lamp-lighter" coming round as there was a gas light outside my grans which lit up her hallway. Happy days.
Comment by: josie on 23rd November 2012 at 23:41
aww dave that story brings a tear to my eye as that was just how my childhood was ,im'e so sad that we can never have them days again theres only yobs on the streets today but at least we had them days and teenage days as well our own kids can only hear our stories they will never know what we had we were priveliged and didnt need the stuff they have today.