Photos of Wigan
Photos of Wigan
Album Contents
Album Contents
Wigan Album
Ince
10 Comments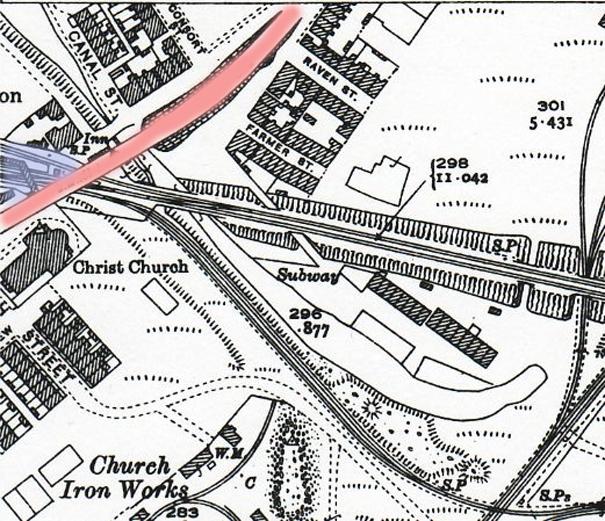 Viaducts or "Viredocks for Irene"
Photo: Gerry
Views: 2,286
Item #: 15514
Map of Ince Green Lane (in red) and Ince Station (in blue) It Shows Raven St and Farmer St and the subway leading to viaduct row, although it is not named as such
Comment by: Dennis Miller on 13th August 2010 at 12:01
Also shown is the small branch of the canal that ran along Foster's Playing fields, under the main road where it says Canal Street... and then along the front of Viaduct Row.

Up until a few months ago I had no idea this branch had existed. Thanks again Winder!
Comment by: irene roberts nee griffiths on 13th August 2010 at 12:07
Ee, tha't a good lad, eauwr Gerry!
Comment by: irene roberts nee griffiths on 13th August 2010 at 12:25
Dennis, the bit of the canal that ran in front of Viaduct Row was known as "Th'owd Arm".
Older maps show that the arm continued back under the railway, parallel with the Springs Branch Line, and went almost as far as Manchester Road, to serve pits there - for which it was originally built.
Comment by: Gerry on 13th August 2010 at 15:19
There was another "Owd arm" that my dad used to fish at top lock in Ince you turned right instead of left. Granted it petered out after about 40 yards but it was supposed to continue to meet the Lancaster Canal but it was never finished
Comment by: aitch on 13th August 2010 at 16:08
That one is still there Gerry, it is part of Warrington anglers waters, but it is that overgrown, I doubt if any one uses it, especially as there is a better one across the lane from it also run by Warrington, what price Wigan anglers, all our waters being snapped up by other clubs
It WAS the Lancaster Canal. The section from Top Lock to Walton was built by the Lancaster Canal Company, and it was intended that it should continue to Westhoughton, eventually to link up with the Bridgewater Canal. Of this extension, only the section, and bridge, you now see to the right of Top Lock were built. At Walton, goods were transferred from barges into wagons which crossed the Ribble valley on a tramroad to join the Northern Lancaster Canal at Preston. This section went as far as Kendal, but is closed beyond Tewitfield, near Carnforth.
Comment by: Tom Clancy on 13th August 2010 at 17:05
At the front of the houses were pens.At the rear two sets of privies,always immaculate. never knew the overgrown pond at the rear of the pens was part of the canal.My grandparents lived in the end house second block,near the railway line and forge,later Gullicks.
Comment by: Brian Barrow on 13th August 2010 at 18:34
Thanks for the map. My grandfather lived at no 11 Viaduct row in 1901 and married the girl from no 12 viaduct row. Her father was reecorded as a "furnace man, iron smellting works" now I can see where the works was!Grandfather and great grandfather were "boat people" and lived on the barges up to this point.Grandmothers brother was William known to many in Wigan as Jimmy Lastic, my dads uncle.
Comment by: tony on 13th August 2010 at 20:14
i was born in the house at the corner of canal st and ince green lane the second house from the end at 188 my mother pregnant with my younger sister fell from top to bottom down the flight of steps opposite our house