Photos of Wigan
Photos of Wigan
Album Contents
Album Contents
Wigan Album
Spring View
9 Comments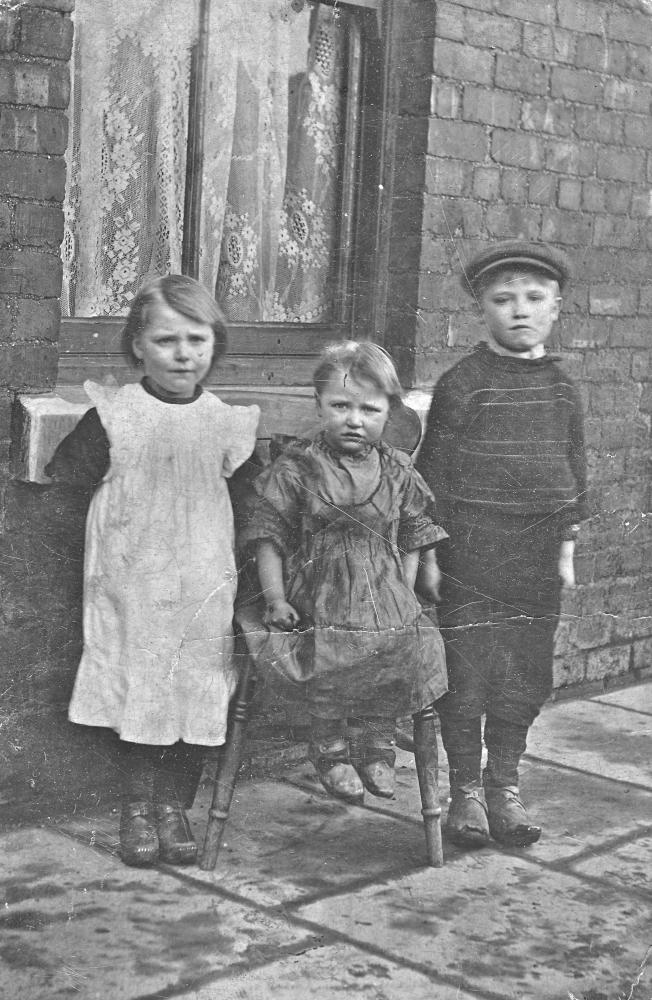 Pic from John Mosley of some of his mother's family (Banks)
Photo: Rev David Long
Views: 1,967
Item #: 15488
Edward, Lizzie and Maggie Banks outside their home on Railway Terrace, Spring View. Another row missed from the 1925-6 Ince Directory - it stood parallel to Heywood Street, off Hope Street, against the sidings south of Springs Branch. It would be about where the gardens of the end houses in Elizabethan Drive are now.
Comment by: Maureen Andrews [nee Mcgovern] on 9th August 2010 at 11:10
God luv em,folk didn't have much then,but they did look well fed.
Comment by: Peter on 9th August 2010 at 12:54
It's wonderful to see all of the children in clogs. In my day, all children in my area had clogs - the lads had clasp fasteners and the girls lace-ups, The lads used to try to make a spark but the girls usually had rubber soles.
Great picture- taked me back
The local cobbler made me a pair of child-sized clogs (laced up) back in 1954. I then bought a "new adult-sized pair" back in the 1980s when I was over for a visit. I wore the adult-size clogs one day when it had snowed - and what fun I had when the shoes "clumped" the snow about 6 inches! I then had high heeled clogs! I still have both pairs.
Comment by: irene roberts nee griffiths on 10th August 2010 at 09:37
I had clogs as a small child in the mid-fifties and bought them for my son Jamie in the seventies. They are so supportive for the ankles and good for the feet in general. When my daughter was born in the eighties I couldn't afford clogs for her, but Ashley had some made for herself when she was 18, at Walter Hurst's. She left them behind when she married and they now stand on my old-fashioned fireplace and have been on the stage in Wigan Little Theatre's production of "Hobson's Choice"!
Comment by: lanky11 on 10th August 2010 at 22:59
Comment by: janet on 10th August 2010 at 23:41
I used to wear clogs,40s early 50s, I always had septic ankles because I kept kicking my ankles when walking..My skinny legs musn't have been strong enough to lift up my feet..lol...
Comment by: fred foster on 11th August 2010 at 14:48
It looks like the boy has done some "porrin" with his right clog, the front is stove in.
Hi, Irene Roberts " Maggie Scott`s " chippy you refer to
occasionally. well the little girl sitting is the same Maggie Born 1907 in Spring View she died 1977