Photos of Wigan
Photos of Wigan
Album Contents
Album Contents
Wigan Album
Ince
17 Comments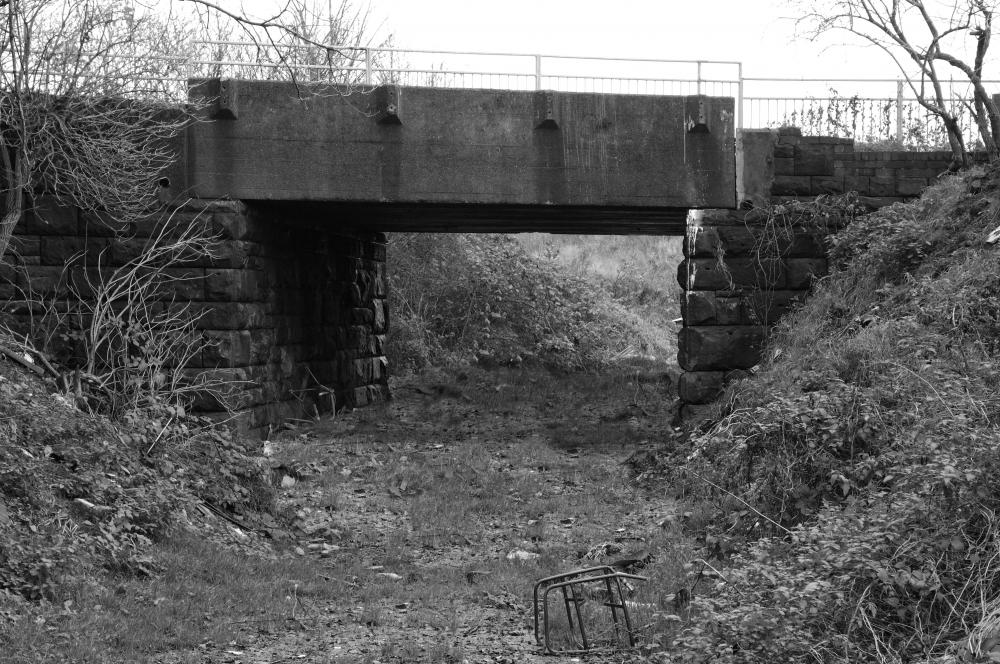 Bridge
Photo: Gerry
Views: 3,689
Item #: 15398
This is the Bridge at the top of Petticoat Lane in Ince Just under here on the left were a few little houses and then just beyond was Barons Pigs on Hemfield Road
Comment by: aitch on 25th July 2010 at 15:21
It doesn't look like that now Gerry, I was up there the other week and it is full of every type of rubbish possible, and the row was called Bee Cottages, they were accessed at one end by 4 or 5 steps and at the other end were the slag tip was it was level
Comment by: josie on 25th July 2010 at 15:57
me and alan did a bit of courting under that bridge i remember the houses further up .
Comment by: Gerry on 25th July 2010 at 21:29
No wonder there was a big dent in the Wall Josie
Comment by: josie pennington nee beckett on 25th July 2010 at 21:54
alan must av done it with his scooter.
Comment by: tony on 26th July 2010 at 21:41
walked under the bridge every morning going to work at john englands and remember the three or four little houses and barons wood yard and the slagy
Comment by: Colin Harlow on 27th July 2010 at 09:09
The bridge looks low because it's been filled in with rubbish, but when the line went across it, you could drive a small truck through it. The 4 or 5 little houses to the left after the bridge known as the Bee Cottages never had electricity at all, you could see the gas mantels lit through the windows and the gas lamp column outside, and the toilets was in the back yard. The was a cornfield at the rear of the houses that stretched to De Trafford Drive, and later, the field became the site for Storage-network warehousing co. The Beehives were kept Opposite the houses down a little valley, and always remember seeing the Bee-keeper out and about. John England Tubes got bigger and bigger and later became Martland and England, and there was only one road to get to it and that's Belle Green Lane, well before Makerfield Way was built.
Comment by: tony on 27th July 2010 at 20:17
colin you could get to john englands 3 roads by car under the little bridge or top hemfield rd passed barons farm or top of ladys lane enfield rd
Comment by: Colin Harlow on 28th July 2010 at 12:29
Tony, I was commenting about the Long Articulated Heavy Goods Vehicles going to and from John England's works. Remember, power assisted steering on HGVs was unheard of, especially the MK1 Atkinson's they uesd at that time. It would have been almost impossible to take the Hindley route. The little bridge at the top of Petticote lane was again not suitable for a 32ton HGV. So at that time only Belle Green Lane was the most sensible and direct road to take for the lenth and weight of those HGVs.
Comment by: aitch on 28th July 2010 at 19:19
can anyone remember when John Englands was the Admiralty paintworks ????
Comment by: Gerry on 28th July 2010 at 19:45
We are all, nor as owd as Thee Aitch
Comment by: tony on 28th July 2010 at 20:07
sorry colin i misread what you meant as for the navel paint store aitch i was told by the older end that it had been a paint store long before i'd worked there
Comment by: Colin Harlow on 30th July 2010 at 21:03
Looks like no takers Aitch, so when was John England's a Admiralty paint works?
Comment by: John on 2nd August 2010 at 19:37
Looks like aitch don't know ?
Comment by: John on 5th August 2010 at 11:11
Are you asking or do you know the awswer to John Englands paint works Mr Aitch?
Comment by: aitch on 19th October 2010 at 21:14
It was still called the admiralty paint works in the late 40s early 50s
Comment by: Bryan Winstanley on 13th January 2011 at 16:33
I remmember the old gas lamp, I think it was the last working gaslamp in the area.
Comment by: Elizabeth on 19th October 2019 at 19:44
I remember the cottages,my Mum always called that little road Cinnamon Brow.There were families that lived there called McCabe and Eastham,it always looked really pretty then.