Photos of Wigan
Photos of Wigan
Album Contents
Album Contents
Wigan Album
Ince
20 Comments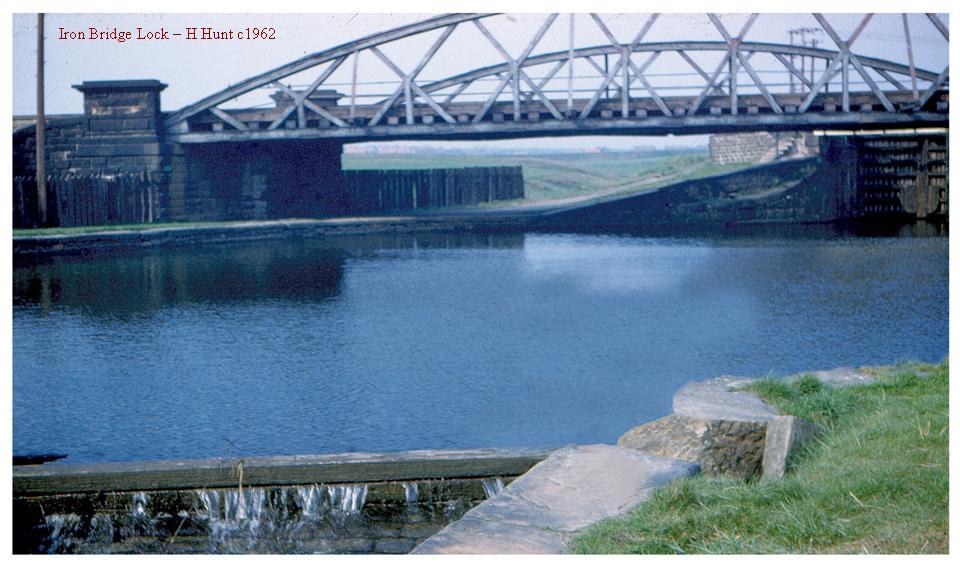 iron bridge lock
Photo: dk
Views: 3,842
Item #: 15386
A damaged transparency rescued by opensource Gimp program of the iron bridge lock in Ince taken about 1962. This was a famous gudgeon bywash and the scene of at least two falling-ins (good hiding for each one) as well as previously mentioned scaling of the bridge.
Comment by: Jimmy m on 24th July 2010 at 10:18
Is this bridge still there? If it is where is it?
Comment by: Stuart Naylor on 24th July 2010 at 12:46
The bridge is where the Whelley Loop Railway Line crossed the Leeds & Liverpool canal about halfway up the Wigan flight of locks in between the canal bridge on Manchester Road at Higher Ince and Top Lock, New Springs.
The Iron Bridge is no longer there, but the road bridge in the back ground is still there, this carries Kirkless Lane over the canal and Kirkless Lane runs from the top of Belle Green Lane at Higher Ince, to Cale Lane at New Springs, it is no more than a dirt track and you could drive along it up until the mid 1980's but now it is blocked off to motor vehicles, but you can still walk or cycle along it.
Comment by: watchalot on 24th July 2010 at 12:49
i think it was on whelley loop line near rabbit rocks
Comment by: Cyril on 24th July 2010 at 14:13
Jimmy M, DK has put a few photos of this line which was at Higher Ince on the Wigan Album, the line ran behind where Morrisons is; it's now a footpath, type Iron Bridge Ince in the Search box above.

If the bridge was still there over the canal there would be a lot more falling in's, it looks very enticing and beckoning for children to climb over it.
Comment by: aitch on 24th July 2010 at 14:55
Comment by: Joseph. on 24th July 2010 at 19:05
Aye, but did any of you Incers walk over the top (and back)to become a true Lad of Ince? A sort of right of passage it was.
Comment by: watchalot on 24th July 2010 at 19:16
bridge was near rabbit rocks on whelley loop line
Comment by: Dennis Miller on 25th July 2010 at 05:47
I took these photographs on the 4th June this year...

http://s1.zetaboards.com/Footsteps/topic/3447710/1/#new
Another good picture DK, of another vanished bit of the railway in the area. Nice to see the bridge abutment on the Whelley side of the canal intact (thoughtfully removed by the MBC in the early eighties!). I find this bridge intriguing, as it is so out of keeping with all the others on the line. It is so spindly in its design, particularly when one considers the length of the span, as to be almost effeminate! Most of the original underbridges between Platt Bridge and Whelley Jct. were replaced in BR days with pre-stressed concrete prior to its use as diversionary route for the electrification of the WCML between Bamfurlong and Standish Jct.
I presume that this bridge remained intact until the lines demise in the early/mid 1970's? Can any of the locals confirm this please? Thanks, Dave
Comment by: Jimmy m on 25th July 2010 at 11:37
The 'other' bridge mentioned in these comments in not visible in this photo.
Also, most of the road referred to as 'Kirkless Lane' is Farm Lane at the New Springs end and probably the top of Belle Green Lane and the Ince end.
I dont think 'Kirkless Lane' exists....in this area anyway.
My apologies.
Looks like 'Kirkless Lane' did and does exist at the Higher Ince end.
I'm usure to were it ends and Farm Lane begins..
Comment by: aitch on 25th July 2010 at 15:34
Joseph, I did all that, as well as firing locos over it
Comment by: Gerry on 26th July 2010 at 09:44
Moz, I think this is the part where your auntie C fell in and I pulled her out...have you asked her about it yet??
Comment by: Moz on 26th July 2010 at 19:20
Gerry, uncanny, when I read this thread this morning and dk mentioned that this bywash was the scene of a few fall-ins I instantly remembered your story of saving my auntie, then you left that message for me. I've been away so not had chance to ask her, but I will do, mi Dad does remember it though. Again well done on the heroics there.
Comment by: Gerry on 26th July 2010 at 20:23
It were all done to help one of our litte gang. I think we were probably told off when we got home for being near the canal but it were like a magnet to us, as was playing around the top fields near the black tank etc.. a real adventure playground.

after all that life saving.......... Ah ne'er getten a medal ner nowt. just a tellin' off fer gerrin weet.
Comment by: Moz on 26th July 2010 at 20:56
Gerry, It's good to hear stories of the past, me and her indoors often venture up the Top Lock and the Rabbit Rocks re-tracing the route of the Whelley Loop Line and that, fascinating. My Grandad Sammy past on in 1996 but my Grandma Alice is still going strong (if you remember her) in Falkirk Drive - 87 years old she is now and fitter than me, I'm 34 ha- keep your input to the site going pal :-)
Comment by: Gerry on 27th July 2010 at 13:15
I remember both Sam and Alice she sometimes made us a sugar butty on a summers day Sam let us in his huge (to us) shed where a great big Rocking horse lived. ask yer dad if he remembers it
Comment by: sharratt on 8th May 2013 at 23:30
I was born in kirkless lane at top bgl I remember black tank
i walked over big arm and little arm ov bridge in sommer 1976. look down to little arm next ta lock gates scary as hell.