Photos of Wigan
Photos of Wigan
Album Contents
Album Contents
Wigan Album
Marsh Green
13 Comments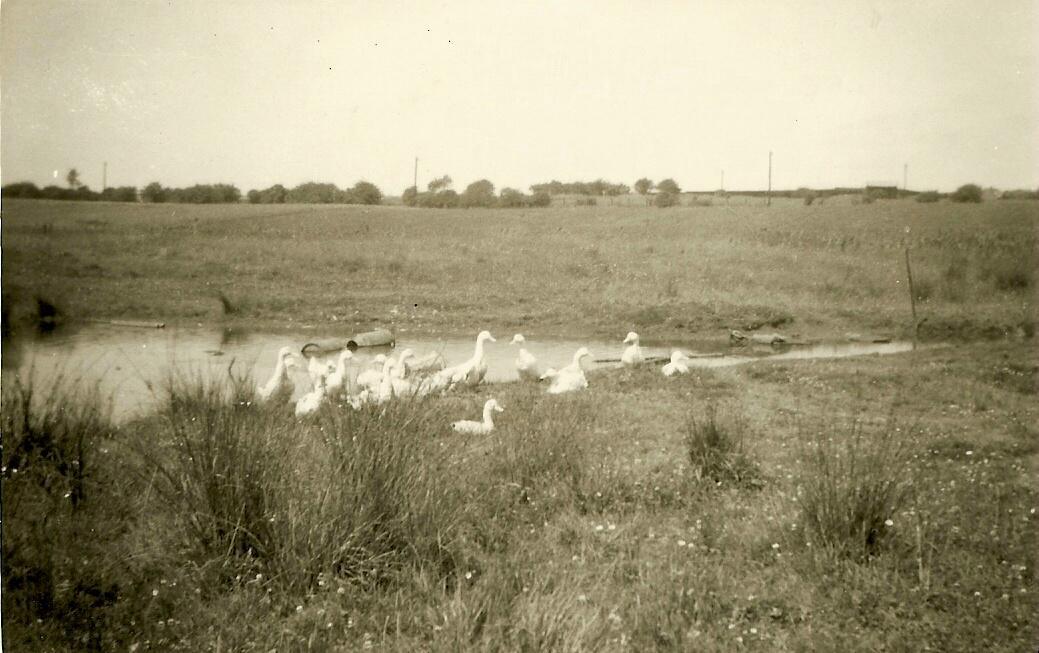 Duckpond at Stonehouse Farm, Marsh Green, 1964.
Photo: Cyril Barnett
Views: 4,810
Item #: 1505
Duckpond at Stonehouse Farm, Marsh Green taken in 1964. All the land you see is now covered in units of the Martland Business Park off Scot Lane.
Comment by: Linda on 2nd August 2007 at 22:02
woah I know this pond well.. I fell in it enough times..collecting frog spawn!
Comment by: Linda on 2nd August 2007 at 22:03
I used to call out for these ducks and they all used to waddle up the path from the farm house to our fence and I would feed them. One once ate my new hair slide!
Comment by: John Bowman on 23rd February 2010 at 23:00
I used to catch newts in this pond. Richer pickings were to be had though a mile away in the disused quarry infront of Kingies wood and GUS. Not sure whether GUS was built at the time (1977)
Is this pond near what used to be the white farm, at the back of Kings Wood? I used to live near the front of the quarry in Marsh Green- anyone else live there. I'm going back now to the 60's.
Comment by: Linda on 20th April 2010 at 09:06
It was located more or less behind where the petrol station is now, on Scot Lane. The petrol station stands on the spot where the farm house stood (Stonehouse Farm)
Comment by: LesE on 1st November 2010 at 16:08
I used to live in Prefect Place just off Beverly road back in the sixties.
Comment by: Julie, Wigan on 2nd September 2011 at 21:06
I used to live facing the Duck Pond on Lancaster Road. Spent may a summer playing there.
Comment by: james rudd on 4th October 2011 at 08:52
I was born on the Marsh Green estate in 1960 / Viscount Rd. Had great times. Norley Quarry/ Brick Works/ Kings wood / Summer raids on Worsely Hall to mention a few.
Hi I used to live at the farm there it was called stone house farm the other one which was in the woods was philbins farm we got move for the new road to be built
My grandad William "Bill" Heyes lived in the house that was to the left of the doctor's surgery at the bottom end of Marsh Green road. When we were little (1960's) the farm house for Stonehouse Farm still stood at the back of grandad's house. We would play in the field (nettles) around the old house, I think it was empty by then. Later when the farm house was pulled down we grew hay for the horses that grandad kept in his smallholding behind the row of houses on the north side of Marsh Green road. Grandad died in the 1970's and grandma in the early 1990's so there's been many years since a Heyes lived there. I remember the old post. Uncle Tommy Heyes used to tell us "get out a yon water".
The Rencontre Family from Burma once lived there and we spent many happy hours there with the family. I came back to live in Wigan in December 2020, and would love to catch up with Sharlene, Charlotte, Linda, Stephen and Roger. Please email me if you see this.
Comment by: Cyril on 5th March 2021 at 21:33
I do remember the Rencontre family, they lived in the part of Stonehouse that faced the Bridgewater Arms on Scot Lane, the other part of Stonehouse was reached by a driveway off Martland Mill Lane. Whether it had always been been two separate houses or previously one very large house I don't know, but when I knew it in the 1950s and early 1960s it was always two separate dwellings and when the Rencontre family moved out this part fell into disrepair and remained empty.

Quite sad for the Burmese people, 73 years of troubles along with the many refugees and troubles flaring up yet again.

Just beyond this pond on the photo and between two fields was an extensive Horsetail reedbed which was not only a haven for wildlife but also provided groundcover for a lot of birds, the brook that fed this reedbed ran through Kings Wood and was heavily polluted with aluminium and lead metallic substances from the mine workings of the former Orrell Coal Company, which had by then become the Partington Howard Brick Works. When the water from the brook eventually emerged from the reedbed it was crystal clear and pollution free.