Photos of Wigan
Photos of Wigan
Album Contents
Album Contents
Wigan Album
Ince
23 Comments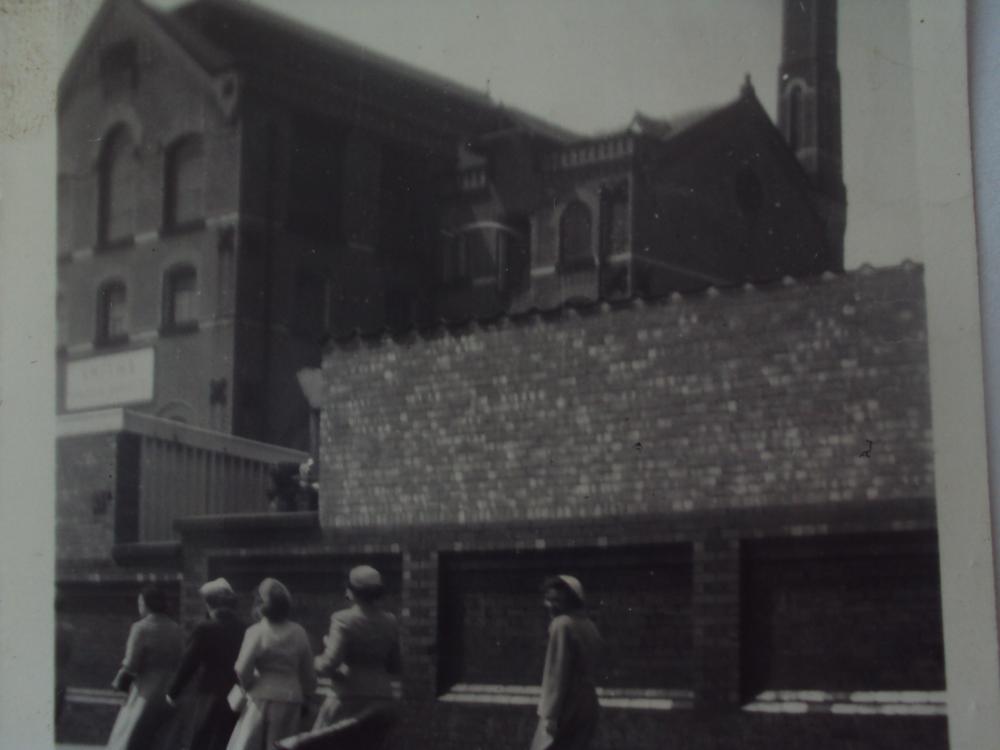 smiths dairy
Photo: jam
Views: 4,000
Item #: 14957
smiths dairy.... pennington lane/belle green lane?
Comment by: dave on 30th May 2010 at 17:35
long time no see all i remember of this building is the big chimney. an awfull smell of tripe.
Comment by: kath meadwell on 30th May 2010 at 19:07
every monday morning sutcliffes tripe works cooked the tripe, the smell hung over belle green lane like toxic fumes, it dispersed about thursday to come again monday, i can smell it now.
Comment by: Gerry on 30th May 2010 at 20:03
The Dairy used to be Cunninghams brewery years ago the tripe works was in Pennington lane
Comment by: aitch on 30th May 2010 at 21:08
I worked there for a few years, 2nd mate on a delivery wagon with old Ted Bracegirdle, also worked in the dairy with May and Bill Heaton, my next door neighbours when we lived in langdale ave, To pose a question, I was always told the brewery was The Lawrence brewery, I may be wrong, but even that was before my time.
Comment by: Gerry on 30th May 2010 at 22:13
Aitch I too cant argue the point about the brewery, Cunninghams was the name my dad told me it was.. perhaps there is no one alive now who will remember it being a brewery...........lets see..... watch this space
Comment by: aitch on 31st May 2010 at 00:30
Why do I think I know you Gerry, you seem to a lot about my home area
Oh... very interesting. I live just around the corner from there. There are still some building in the yard, like a row of cottages (although obviously not residential), they have the look of a rail station... and the wall is still there.

I will nip out later and grab a photograph.
Comment by: Gerry on 31st May 2010 at 20:17
Aitch I lived in Ince all my life till I got Wed then moved to Howfen we lived in Battersby St Opposite the Bush then Kendal Road
Comment by: Gerry on 31st May 2010 at 20:21
Between the Dairy and the Vicarage (down an alleyway) there used to be some little houses with wooden balconys you could walk under. I sometimes sheltered from heavy rain under these whilst coming home from school
Comment by: aitch on 1st June 2010 at 00:03
Do you also remember Harrisons caravan site below the houses
Comment by: Gerry on 1st June 2010 at 08:54
I certainly do aitch and I watched the inhabitants build a new toilet block too. I often walked up careless lane to pennington Lane just for a change of scenery to get to Battersby St
Comment by: Moz on 1st June 2010 at 12:48
Gerry, showed my dad this, he lived in Battersby Street growing up too, facing the Bush, well just a bit down. Some great shots of Ince are turning up on here - keep them coming.
Comment by: Gerry on 1st June 2010 at 19:01
Ey-up Moz wots thi Fayther's name? ah mit know 'im

Sorry to all the english speaking world but when writing to an Incer we have to do it in our native tongue)
Comment by: Moz on 1st June 2010 at 19:36
T'Oreet Gerry, Tha'll know him, without putting his name on, he lived at number 14 Battersby Street from the 50's onwards
Comment by: Gerry on 1st June 2010 at 19:58
Hiya Moz was 14 the last in the row or not? did he then move to Belle Green Lane and had a CB radio, was your gran a scout leader? if these are right then I know exactly who it is, Is his first intial R. if not I need another clue please
Comment by: Gerry on 1st June 2010 at 20:02
Owd on Moz Was it B.S his sister were C.S. their dad were S.S
Comment by: Moz on 1st June 2010 at 21:51
Gerry, You're last comment was spot on, it's Baz, collect 2 house points and move to the top of the class - ha!! :-)
Comment by: Gerry on 2nd June 2010 at 09:18
Your Dad was the best Goalkeeper that our school had ever had ...ask him !! Your Aunt C lives opposite my Bro in W Grove .... Ask aunt C about her falling in the bywash in Ince Canal and I helped to pull her out..
Comment by: Moz on 2nd June 2010 at 19:35
What a great comment Gerry, I know 'The Cat' was a good goalie, and he showed me the ropes from a young age, all throughout school I was the keeper too.., this until I followed my heart and my mates and pursued a long and decent Rugby League career. Thanks for saving my Auntic C too, I'm gonna ask her about it, very interesting :-)
Comment by: Paul Smith on 6th March 2014 at 10:04
I lived in one of the terraced houses in the dairy yard, they where very small, I still have a cine film, that my Dad too around 50 years ago showing inside and out.Don't know who owned the place when it was a brewery, but there was a rumour that a gangster from the US holed up there during the prohibition era.I remember the row of houses just down from the dairy, I used to go along with my dad when he went to collect the rents.
Have come across a few old milk bottles from this dairy over the years. They were quiet big in bottling steri (long keeping) milk and also cream. I also have an pre war disc top half pint with SMITH'S HYGIENIC DAIRIES around the neck and MANCHESTER on the base. Any ideas?
I've recently found a couple of Smith's Hygienic dairies bottles from an area near Skelmersdale. I wondered where they originated from.
Comment by: Bury person on 12th December 2021 at 22:06
I dig up old stuff

Dug up an old bottle, looks 1930s-ish to me, "Smiths Cream Wigan" embossed.