Photos of Wigan
Photos of Wigan
Album Contents
Album Contents
Wigan Album
Ince
13 Comments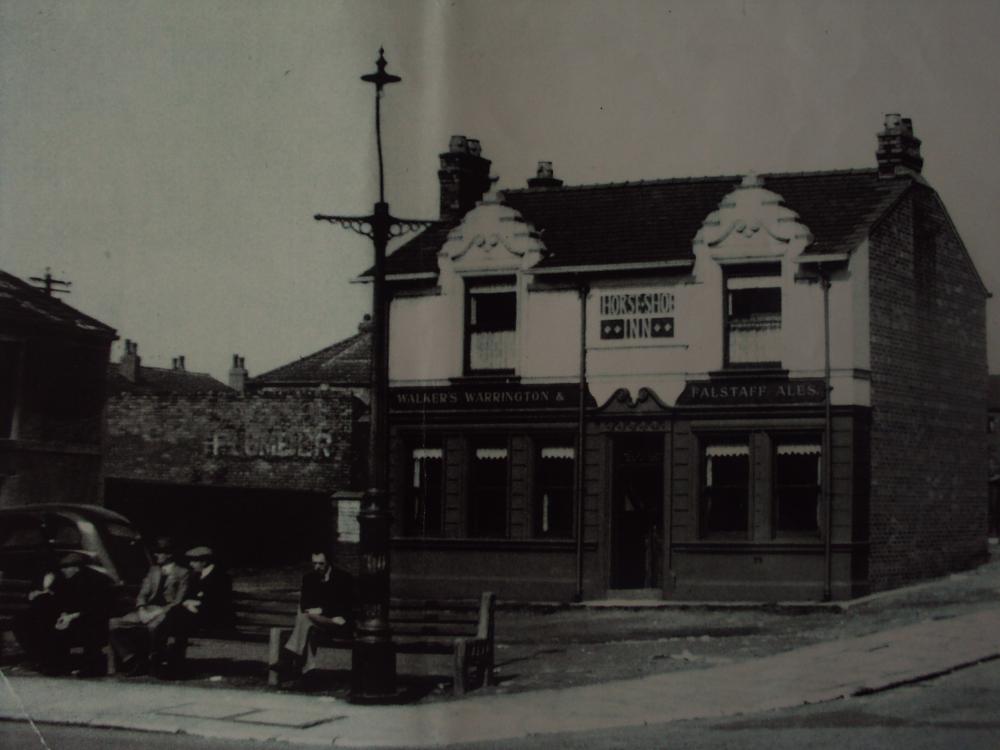 Horseshoe Inn...(Ince)
Photo: jam
Views: 2,866
Item #: 14956
The Horseshoe Inn at the bottom of Belle Green Lane. Date unknown.
Comment by: aitch on 30th May 2010 at 21:03
Beltin photo, you wouldn't happen to have one of the other side of the road, namely Joe Gaskells shop, wher we had all our batteries and accumalators charged up for the old radios
Comment by: Gerry on 30th May 2010 at 22:16
I remember buying parrafin from Joe Gaskells and was fascinated athe the hand pum he used to draw the parafin into the can.. also when you bought a 100watt bulb from him he always tested it by putting it into a socket whilst still holding it
Comment by: Stephen on 31st May 2010 at 11:00
Great photo. I didn't even know there was ever a pub on that spot. It had been knocked down when I was born. I too remember going into Gaskells for parafin. The shop always smelled of it. I was born in No30 Belle Green Lane in '55 so the photo must have been taken prior to, or just around that time.
Comment by: dave on 31st May 2010 at 11:28
was pub on one way nr clinic
Comment by: Bill G on 31st May 2010 at 11:43
My guess is the pub was demolished in the late 1950's --so in our time but beyond our recall, Dicey. I do remember the derelict site that remained after the pub was demolished, and a gents urinal( a remnant of the Horseshoe Pub, perhaps) which stank man's height. ( That'd be a few years before the also now demolished public conveniences were built on the same spot.)Directly opposite the pub gable in Belle Green Lane was Sally's chippy, with Ashurst's Confectioners - as the sign on the door said - just above( ex- Kane's pie shop) and Joe Gaskell's below on Manchester Rd.
Comment by: josie pennington nee beckett on 1st June 2010 at 01:58
hi bill, i remember the stinky pettys but they werent mens only round other side were womens just as smelly only used them if desperate remembere the ones in ince park ha ha
Ah... thanks aitch, I have just seen your comment on Communicate mentioning Royce's Gym in the Horseshoe thread.
Comment by: Gerry on 1st June 2010 at 19:07
I remember playing in the cellar of this pub, but after it had been demolished. they shifted everything above ground but left the cellar in tact for quite a few months.. then they moved the lot and built these concrete faced pettys it took about two years to build them and they seemed to stink from day one... strangley though the mens always smelled like lavender the stink was from the womens. I'll bet it were Josie and her mates after boozing in the Pingy.
Comment by: irene roberts nee griffiths on 8th June 2010 at 16:52
Only just got back from hols and seen this. We used to rent our telly from Joe Gaskell, and if we had to send out for him because the picture was "looping the loop", as it frequently did in those days, he used to show us where to hit it to stop the picture jumping.....very technical! Wish I could find a pic of Cain's/Ashurst's pie shop as my friend's grandad, Jimmy Cain, ran it.
Mygrandad who ran Cain's shop at 10 Belle Green Lane used to like a pint here and a game of dominoes. Forgot time once and left his wife and my dad Jack waiting like lemons in the Imperial at Rose Bridge.
Comment by: josie on 1st March 2013 at 00:53
pig off gerry my supposed favorite cuz x
Comment by: Enty on 28th March 2013 at 21:34
I used to live next but one to Joe Gaskells and the family that lived in the Horseshoe pub was Kelsey i think,they had 2 sons 1 same age as me and 1 a coupleof years older.