Photos of Wigan
Photos of Wigan
Album Contents
Album Contents
Wigan Album
Ince
11 Comments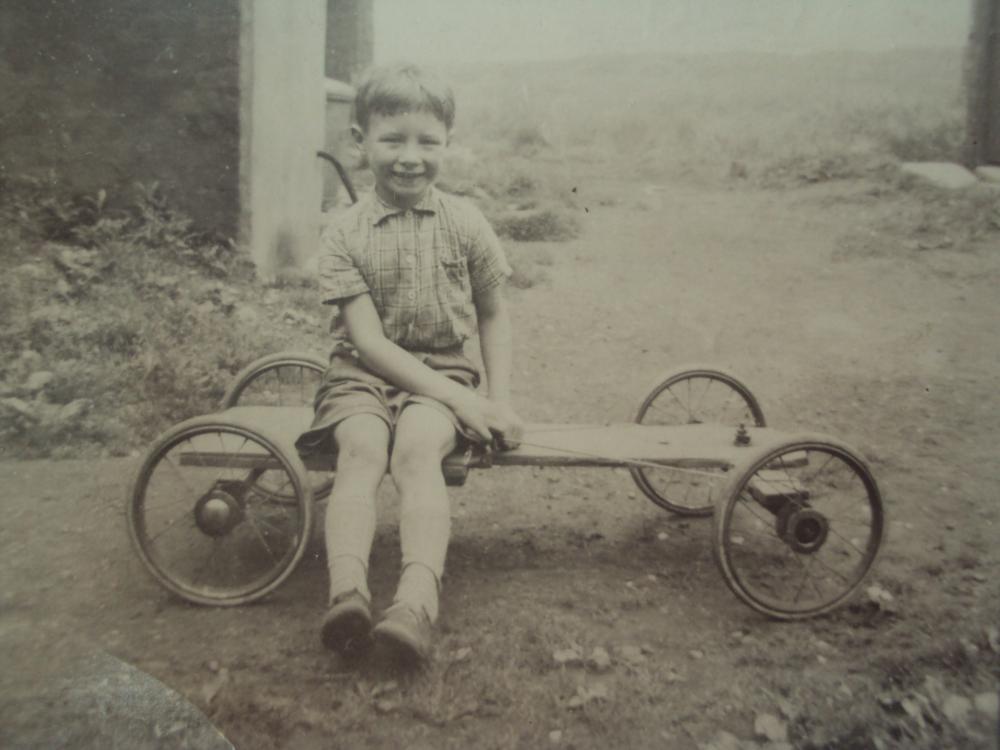 belle green
Photo: jam
Views: 2,395
Item #: 14849
my dad somewhere in Belle Green Lane.... (1958ish)
Comment by: Gerry on 18th May 2010 at 09:13
We all had these trolleys Belle green lane and Petticoat lane were ideal to ride on because of the gradients.All you needed were a few bits of wood and nails a big bolt to hold the front wheels and act as a pivot a piece of washing line to steer a bit of carpet to kneel on and the summer holidays were sorted. Your shoes dragging along the ground were the brakes I have some pram wheels at the back of my shed I think I will make a trolley for the grand children
Comment by: josie pennington nee beckett on 18th May 2010 at 13:18
i remember our raymond makeing a great big long one but it had bigger wheels at the back the ones off those big old prams we had so mutch fun on that well when he didnt know as we sneaked it out,one day there was about 6 of us on it and sheila asply was the driver and us girls didnt really use them same as lads did, so we started at top of lane and going dead fast past bush we couldnt stop and the 3e bus was coming up towards battersby st,sheila didnt know what to do so she must have pulled the rope to one side and we all went flying ,laghing our heads off.
Comment by: irene roberts nee griffiths on 18th May 2010 at 15:23
We used to rode down the cobbled streets going "AHHHHH", so our voices would shake!
Comment by: jam on 18th May 2010 at 19:25
Irene, we do that now when we go over a cobbled road in the car!!! kids love it!! haha
Comment by: irene roberts nee griffiths on 18th May 2010 at 20:11
Good to hear that,jam. Kids seem to be so sophisticated these days). good to hear of them enjoying simple pleasures. (I suspect our Gerry still has a trolley hidden away somewhere.....what a lovely man he is!)
Comment by: Gerry on 18th May 2010 at 21:11
When I have made my trolley Irene, I am going to ride it past your house going AHHHHHH !!!! then I'll take you for a ride on it to R Josies for a brew...
Comment by: tony on 18th May 2010 at 22:33
i made a few trollies as a lad had no drills for the bolt for the steering used a red hot poker to burn an hole in the wood heated it on the living room fire glowing running though the house (health and safety)
Comment by: josie pennington nee beckett on 18th May 2010 at 23:41
yes tony alan said the red hot poker was the future, u had to run pell mell to the wood put as much force as u could on the wood then fly back to the fire for more heat he said the drill was invented in ince.
Comment by: josie pennington nee beckett on 18th May 2010 at 23:59
gerry&irene, ime sorry but we may not be in when u call on ur trolly as alan has found a piece of corrugated tin and we will be having a 7 day sking holiday on the wutchie, followed by a 7 day cruise sailing from the top lock , calling at the deep pit the three corners, the flash,and the nuddy,and for those with a bit of extra cash a sight seeing tour of peggy spout including drinks, thats if u av ur own bottle.xx
Comment by: Gerry on 19th May 2010 at 08:37
and if you you dont have your own bottle of water you can share a communal one and watch other peoples crumbs floating around in it
Comment by: kath meadwell molloy on 19th May 2010 at 15:35
i remember sharing a bottle of water with jam butty crumbs in it when we went to ince park for a picnic, one bottle of water between six of us, funny though nobody was ever ill