Photos of Wigan
Photos of Wigan
Album Contents
Album Contents
Wigan Album
MAKINSON ARCADE
5 Comments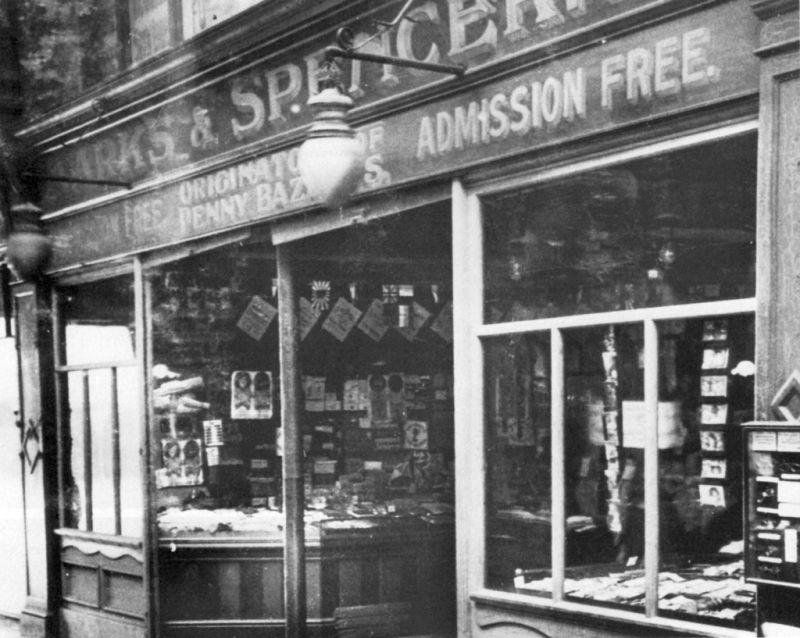 The Original Marks and Spencers in the Makinson Arcade
Photo: charnock
Views: 5,914
Item #: 14341
Michael Marks moved to Wigan from Leeds in 1891.His first store was at stalls 82-83 in the Market Hall. Thomas Spencer bought the company in 1894 and established the company headquarters in Wigan.The company occupied 19-21 Makinson arcade from 1900 to 1931 before moving the store to Standishgate
Thomas Spencer did not buy Michael Marks out, he invested as a partner. Their first store in partnership trading as The Marks & Spencer Penny Bazaar was on the Cheetham Hill Road in Manchester in 1894. I agree that when Marks was in business by himself he had a stall in Wigan, but he had stalls all over the North West of England... Wigan was not unique.

It is a common misconception that Wigan was the site of the first M&S store, it suits Wigan to let that misconception stand. Leeds also lay claim to having the first M&S store, but the fact is, the very first store to bear the name 'Marks and Spencer' was in Manchester.

Now okay, I am perhaps misinterpreting your words, you could mean this is the original site of the Wigan branch of M&S? I apologies if this is the case.
Comment by: vic on 4th April 2010 at 12:43
i looked on m&s website at their history and there is no mention of wigan at all, just Leeds when Michael Marks worked on his own as Marks Penny Bazarr, and Manchester when he first worked with Thomas Spencer.
Comment by: David Simm Photography on 7th April 2012 at 20:43
I have no memories of this as Marks and Spencer, but I did make some six foot by four foot enlargements of the M&S Arcade store that hung in the little fast food cafe that subsequently stood in That location.
David Simm my sister remembers seeiing one of your photo enlargements of my mother standing alone, she did try to find you at the time but was unsuccessful can you help? Mother is the one second from the left in the photo of the four girls.Hope you can help.
Comment by: Colin Moffatt on 6th October 2020 at 04:13
In 1894 it states Tomas Spencer bought the company and set up headquarters in Wigan. Later it states that he didnt buy Michael Mark's out but became a partner. So he bought into Michael Mark's buisness which became Mark's & Spencer's with all stalls in markets being named M&S.