Photos of Wigan
Photos of Wigan
Album Contents
Album Contents
Wigan Album
Lower Ince
3 Comments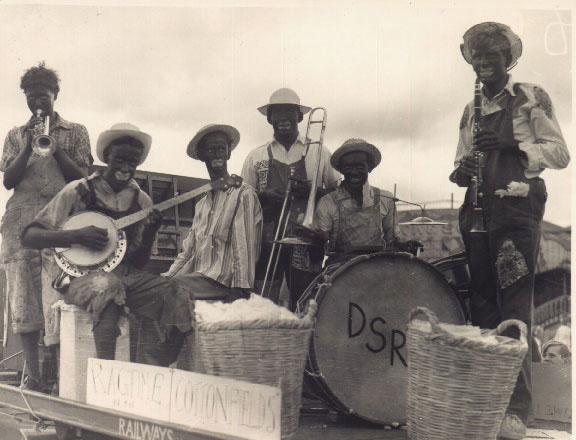 "The Darktown Strutters Ragtime Band", Lower Ince Carnival... not very PC these days.....
Photo: Rev David Long
Views: 1,384
Item #: 14026
From the left: Ronnie Blakely, Brian Marriot, Graham Worthington, Eric McPherson, Bob Heyes, Terry Sloan. About 1954.
Mostly ex-Spring View School (see recently uploaded pics from 1946/7). Eric McPherson is the researcher and compiler of 'Roll of Honour', which records the details of all the WW2 casualties whose names are inscribed on a War Memorial in the Borough, published in 2001 by Anzio Publishing.
Comment by: Moz on 16th March 2010 at 20:19
Hi Rev, third from left is Graham who lives nextdoor to us, you cannot mistake him, nay changed. As you know he still has a big involvement at St Mary's Church. He still plays his brass instruments even though he hasn't been too well for the past few months. He's a maestro playing the theme tune from the kids programme 'Johnny Briggs' for us. How freaky is that... the missus has just nipped to show him this - Brill!!
This is a nostalgic picture for me. I remember the day well in 1954. The Dark Town Strutters were a traditional jazz band organised by Graham Worthington (third from left). Brian was responsible for the make up. Traditional jazz started in the 19th century in the Deep South of the USA. Interest in it revived in the 1950s and as teenagers we were interested in it as the latest craze. It was before the days of rock and roll when guitars became popular. We were depicting the cotton pickers from the Southern USA who were almost all African Americans - hence our makeup and dress. The baskets contained white fluff to signify the picked cotton.
Comment by: Gillyb on 10th February 2012 at 12:48
I love this photo my dad Brian Marriott looks much the same today, minus the make of course. I wish i could have heard the band play I used to love sitting listening to dad practice his singing when i was younger.