Photos of Wigan
Photos of Wigan
Album Contents
Album Contents
Wigan Album
Lower Ince
8 Comments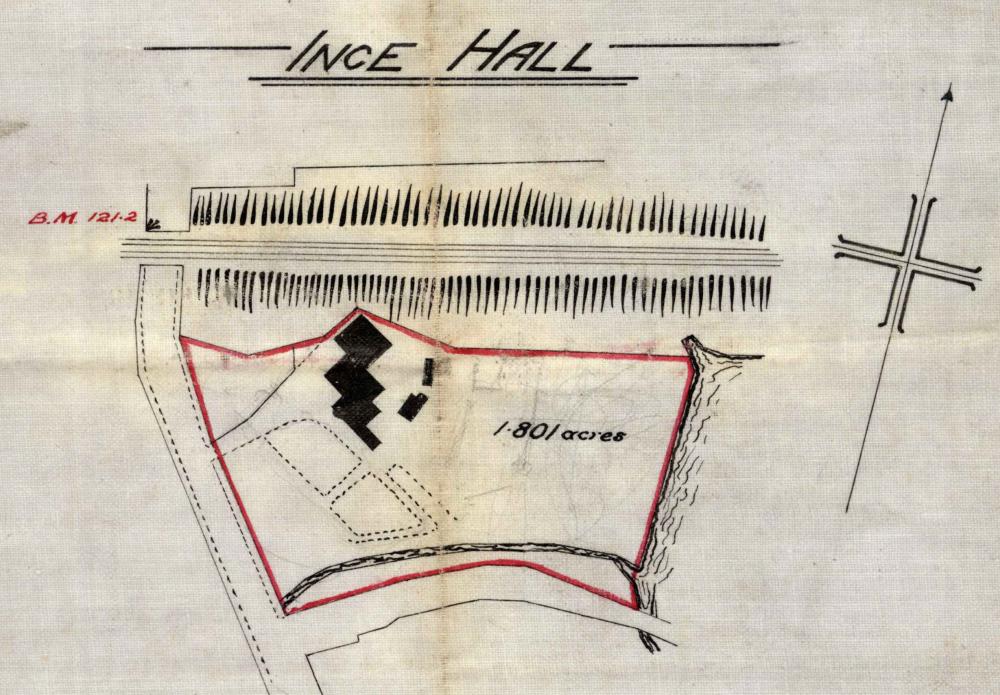 Plan of the Hall of Ince
Photo: Rev David Long
Views: 2,423
Item #: 13677
Confusingly entitled "Ince Hall", it may be seen from its location that this is indeed the Hall of Ince. Warrington Road runs down the left-hand side of the plan, and the embankment of the Pemberton Loop Line runs across the top, with a bridge over Warrington Road. The opening from the drive onto Warrington Road was only extinguished when the road was resurfaced in 2001.
Comment by: tony on 18th February 2010 at 10:41
i think i know where this is, laycocks is on the other side of the line going to wigan, the hidden detail lines on the map could these be previous existing buildings, are all the photos posted the same hall? great photos
Comment by: RON HUNT on 18th February 2010 at 12:02
I think the lane at the side is locally called the 'Donkey Lane'
Comment by: josie pennington nee beckett on 18th February 2010 at 17:18
where did it actually stand,was it near westwood cemitary?
It was opposite the former St Mary's Schools - my Vicarage is on part of the school site, and St Mary's Church is now in one of the school buildings. Next door, to the South, is Lower Ince Cemetery. Westwood Cemetery is at the top of Westwood Lane, which goes off due West just the other side of the railway bridge. The lane at the bottom is indeed stillknown as Donkey Lane.
Comment by: josie pennington nee beckett on 18th February 2010 at 23:56
thanks david for that information i live in spring view three doors from mrs batch who i know allways attends st marys well shes not to well at the moment , so i know now where u mean i cant ever remember the hall ,sad its gone
Comment by: Dennis on 19th February 2010 at 05:27
Rev Long... I have posted a section of the OS map of 1929 of the area in the Album - Places - Lower Ince.
It wasa opposite the school, and my grandmother lived in a part of it. I travelled from Platt Bridge to have lunch with my gran every school day. It was brilliant to play in the gardens, sunken,- stream , a railway line, putting green and a strawberry patch
Comment by: June Smith on 19th August 2012 at 22:25
My family moved into part of the hall in the early 1940s i was born there in 1943. Rev. S. Bryson and later Rev.J.Bebb lived in the middle section which was the vicarage.I was baptized at St.Mary's, my brothers and sister went to St. Mary's school.