Photos of Wigan
Photos of Wigan
Album Contents
Album Contents
Wigan Album
Ince
15 Comments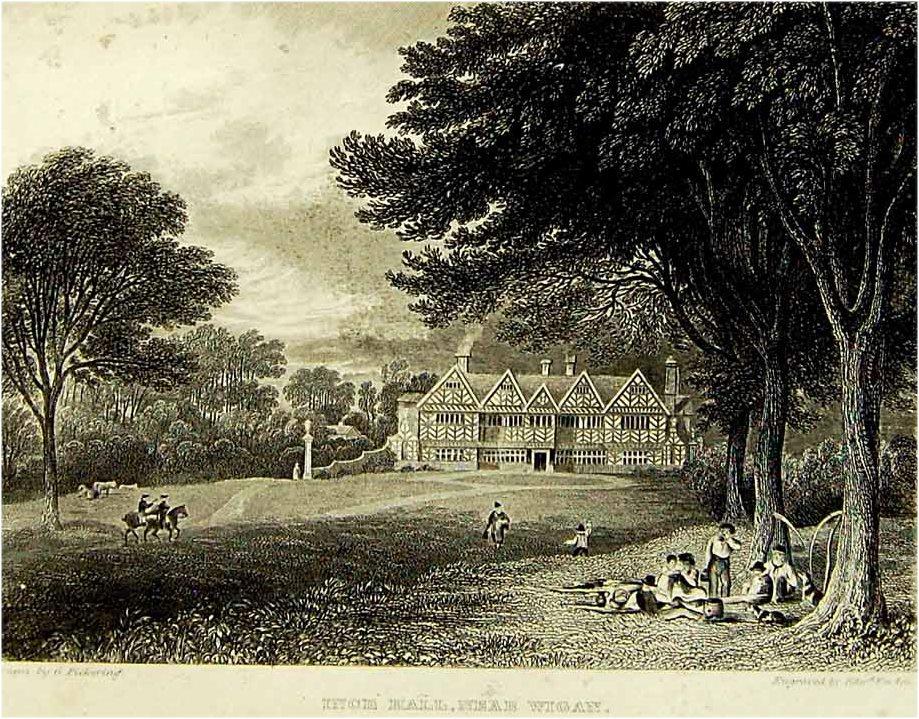 Ince Hall. Wigan 19th cen.
Photo: Ron Hunt
Views: 5,281
Item #: 13643
An early 19th cen. print showing a view of Ince Hall
Comment by: Peter on 16th February 2010 at 15:06
Comment by: harold on 16th February 2010 at 19:22
i don't know where it was but i think the Black Diamond pub's real name was Ince Hall Hotel whether it was near there i don't know
Ince Hall is down Pennington Lane, off Belle Green Lane in Higher Ince. Part of the building still stands to this day. The gardens are now a football field use by (*I think*) Rose Bridge School.
Comment by: winder on 16th February 2010 at 20:03
There was a Hall of Ince at Lower Ince.
It was off Warrington Rd across from Burgess St.
Comment by: Geoff on 16th February 2010 at 20:17
According to the 1929 map it was off Warrington Road opposite Burgess St, at the side of the old railway line
Comment by: irene roberts nee griffiths on 16th February 2010 at 20:20
If you were going to Wigan from Ince Bar, just before you get to Rose Bridge, Ince Hall Avenue goes off on your right, leading to Ince Hall,(you can see it from the main road), and which is now divided up into apartments.There is a legend of a ghost, Kitty Beawt Yed, who is supposed to haunt it. The hall nearer to the Black Diamond pub was opposite Lower Ince Cemetary, and was called, not "Ince Hall", but "The Hall of Ince".
Comment by: Adele on 16th February 2010 at 20:37
There is an 'Ince Hall Avenue' in Higher Ince. Presume that is where it was.
Comment by: vic on 17th February 2010 at 15:11
i used to visit a family in one of the apts in ince hall last year..would have been a grand building in its time..to a point still is.I was shown many pictures of the hall in its original state while i was there.Coming from wigan its the immediate left after going over rose bridge..then down a long winding road..hall at the end
There were three Halls in Ince. This one, in Higher Ince. Then there was the Old Hall - that was on the site down Phoenix Way opposite where the new Clinic is; Old Hall Street, off Ince Green Lane, is named after it. I don't know of any prints or photos of this building. Then there was The Hall Of Ince... which was also known as Ince Hall. I'll post some pics of that which we have in our archives. To further confuse matters, the Black Diamond pub was originally called The Ince Hall, and the Coaching Inn was originally known as The Old Hall. The Church Schools opposite the Hall Of Ince were known as the Hall of Ince Schools.
Comment by: Springer6 on 17th February 2010 at 17:24
The stone gateposts for the original Ince Hall driveway can still be seen in Clegg Street Hr Ince . They now lead only onto the football fields, which cover the gound shown in the foreground of this painting. Access to Ince Hall is now via the appropriately named Ince Hall Avenue ( turn sharp left immediately after crossing Rose Bridge going towards Hindley).
Comment by: jacqueline on 1st October 2012 at 00:09
Could any tell me if peel hall was in ince and where it was
i was brought up at the bottom of the field on hall st. going past it at night was proper spooky. it was rose bridge school field used go there.
Comment by: roy on 16th April 2013 at 22:37
Jacqueline Peel Hall is stil standing in Ince.Its in Georges Lane of Holt street that runs along the side of Rose Bridge school
Comment by: tony on 25th January 2014 at 17:31
hello paul been a very long time we used to play together in hall st for everyone else hall st was called hall st because it was the start of the road leading up to ince hall if you look down hall street you will see two stone pillars at the entrance to the field that was the entrance to ince hall
Comment by: KEVIN HUGHES on 24th November 2015 at 15:15
There is a burial plaque in Chester Cathedral over the remains of Sarah Holt of Ince Hall,county of Lancaster,who died July 1796.