Photos of Wigan
Photos of Wigan
Album Contents
Album Contents
Wigan Album
Lower Ince
6 Comments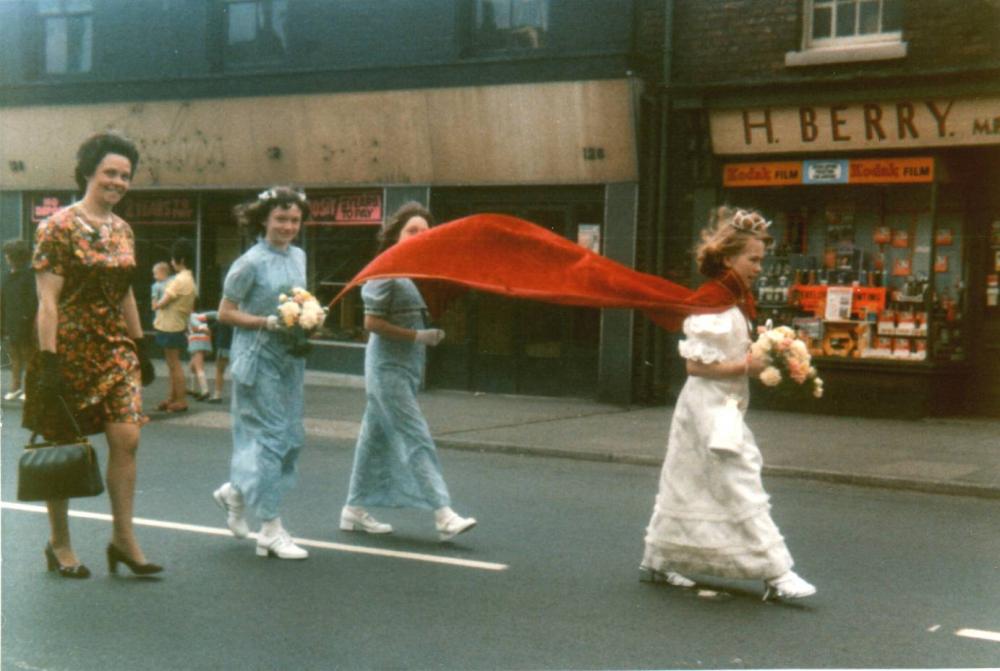 Taylors' shop in Lower Ince
Photo: Rev David Long
Views: 3,713
Item #: 13389
Although taken to record the Walking Day scene (St Mary's - Jean Santus on the left), some of the photos in the church archive are also useful for the backgrounds. This not only shows exactly where the branch of Taylors was on Warrington Road, but it also shows it had closed down when the shot was taken.
Comment by: irene roberts nee griffiths on 26th January 2010 at 11:55
You can still make out the name above the door. As you say, walking day photos often contain interest in the background as well as in the procession. Thankyou!
Comment by: John on 26th January 2010 at 13:16
Another interesting pic' David. I didn't realise that churches kept archives of walking day pic's - you learn something every day.
We had a nucleus of photographs in our records, gathered over the years, mainly of the church buildings, fixtures etc.. When we marked the 30th anniversary of the move from the old St Mary's to the new one in the refurbished school in 1978, I asked people to bring in their photos, and we held an exhibition in the church hall. From that came the idea of publishing an Album of photographs to mark the Millennium, so we kept collecting photos... and still do. Thanks to this technology, it is possible to scan the originals quite promptly, so the owners get their photos back as soon as possible - so more folk are willing to search fresh pictures out for us.
Concerning, this pic, if you look in the 1925 Ince Directory under 'Stuff' on this site, you'll find it recorded that the Chemist and Alf Taylor both moved premises at some point. There Alf's listed at 130, and the Chemist, one Ruric (sic) Watson, was at 126. The shops would have been in front of the Labour Club, along from the chippy.
Comment by: Andrew Fishburn on 16th October 2010 at 17:24
David, is this Walking Day, or could it be May Queen parade?
Just searched internet for my grandfather's unusual name, Ruric Watson, and this looks like it might have been his chemist's shop. Is there anywhere I can find out more information?
Comment by: dorothy sharpe on 16th May 2013 at 22:21
remember going to this chemist for my granma (she lived at 24 Frederick st. until 1967/8) around Christmas time, sherry was sold (from a huge wooden cask). Customers took their own bottles to purchase a little "christmas tipple".